Last Updated on 04/14/2021 by Inside Tailgating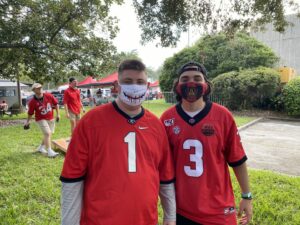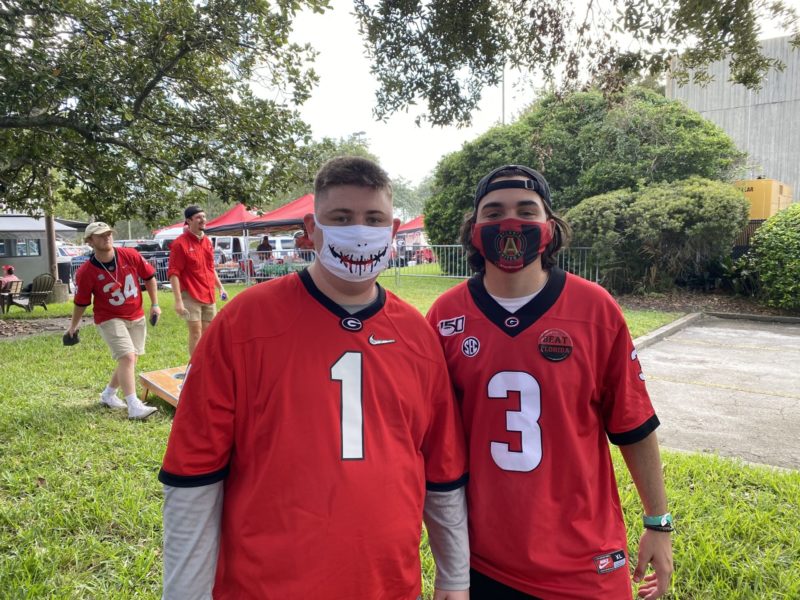 An in-person tailgating party is a rarity during COVID – even at what's formerly known as the World's Largest Outdoor Cocktail Party – but it is still possible. Party Shack, the portable VIP suite manufacturers based in Jacksonville, proved that while hosting the Georgia Bulldog Club's tailgate and watch party for the annual rivalry game between Georgia and Florida earlier this month.
While the city of Jacksonville prohibited tailgating on public property, the Georgia Bulldog Club of Jacksonville continued its annual tailgate tradition at a private property near Metropolitan Park.
To pull it off and do it safely amid COVID restrictions, the Georgia alumni club turned to Party Shack, a company both their alumni club and Inside Tailgating know well.
"You can (host a tailgate) in such a manner that's safe and still deliver a great fan experience to folks," said Aaron Carn, business development manager for Party Shack.
Party Shack created a tailgating "village" for Bulldog fans by spacing out six of their portable units – four VIP suites and two "Porta Bars" – each with limited capacity. They encouraged guests to spread out over the entire area while also gathering only in small groups in and around the suites. In doing so they could still safely accommodate more than 150 guests.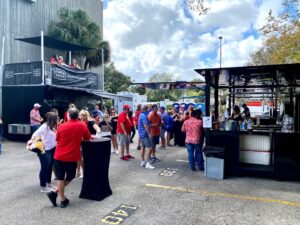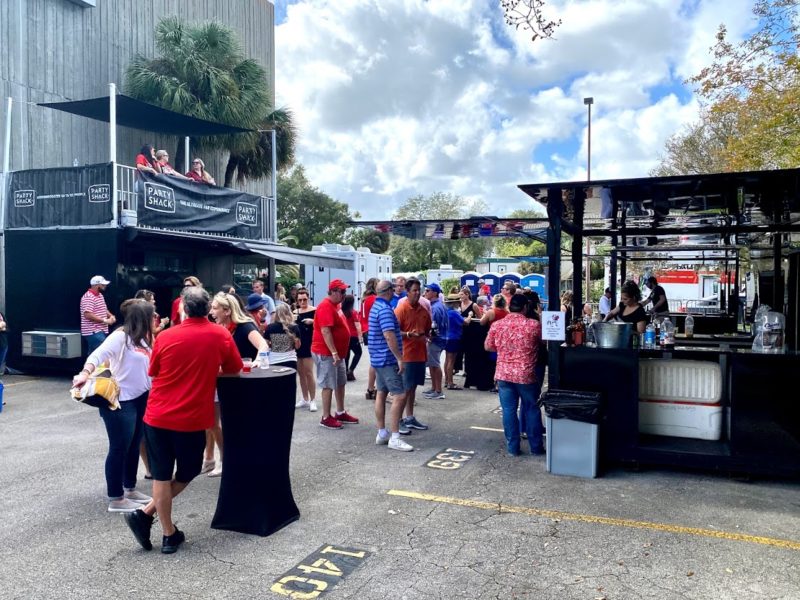 That's about half of what they traditionally had at this event, but a big number given the times. They managed to divide people into small enough groups, however, that the Georgia faithful felt safe. All of the partygoers had their temperatures checked and were required to wear masks upon entry.
"Everyone had a great time and appreciated being able to tailgate since tailgating was prohibited in the stadium lots and city-owned lots," said Sandra Petroutsa, president of the Georgia Bulldog Club of Jacksonville. "…All in all, we were very pleased with the event and got a lot of positive feedback from those in attendance."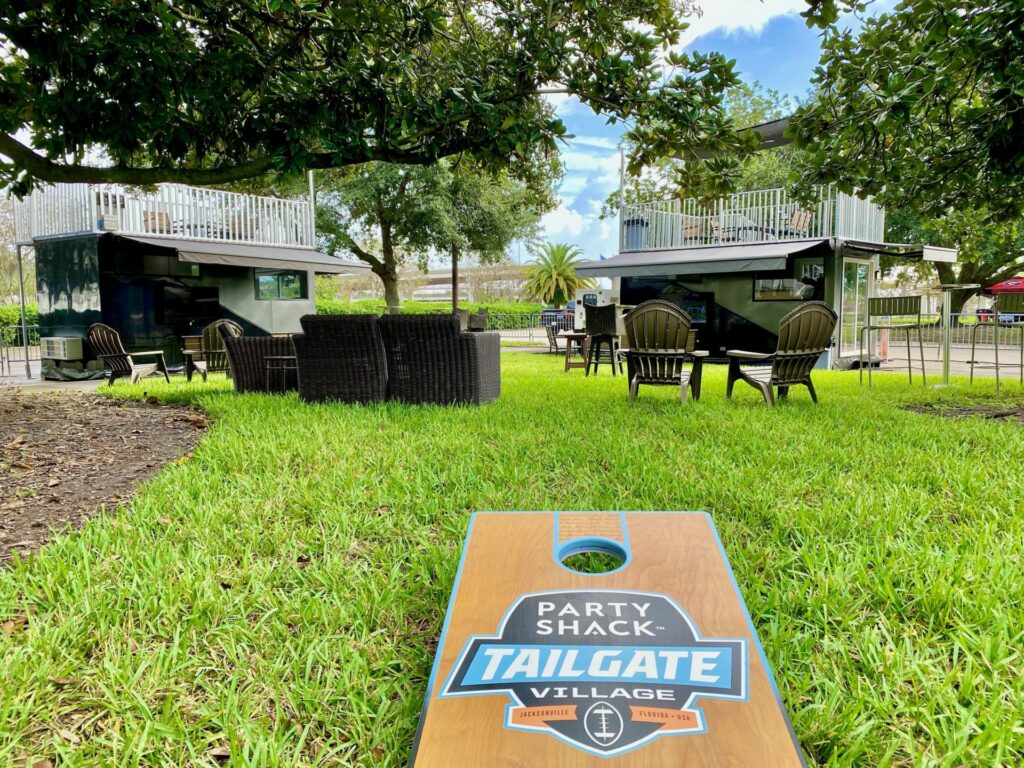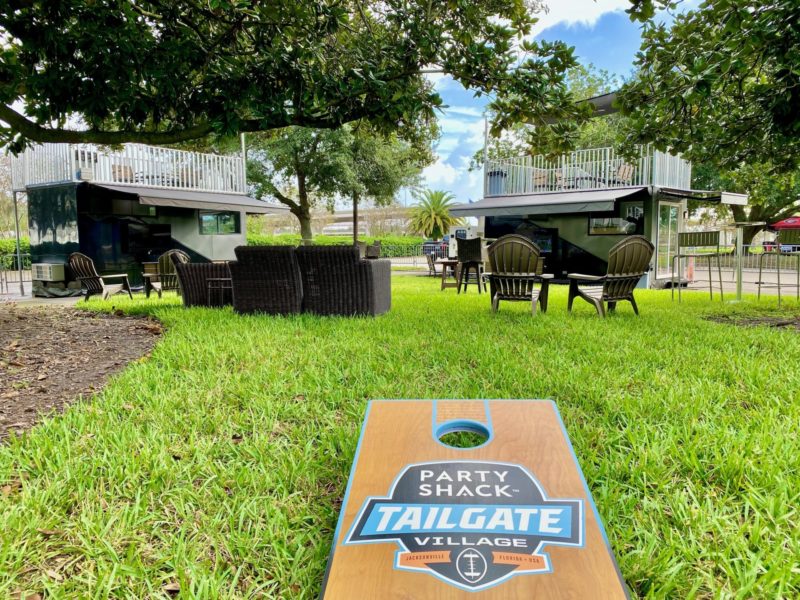 Gleaning ideas from Party Shack's approach: How to throw a tailgating party safely?
Use bigger spaces with fewer people. This is obvious, but just spreading out can go a long way, and as a party planner, you can promote it with the setup you create. Move the bar farther away from the fire pit, for example. Limit the number of chairs and where they're put. Move your cornhole board farther out in the backyard.
Use multi-levels. This is a great feature of the Party Shack suites that have an "upper deck." So at the Georgia-Florida party, even if only as many as 10 guests could be inside a suite, 10 more could be on the rooftop, and another 10 could be outside under an awning. You can mimic that sort of layout in the backyard too by encouraging some guests to mingle on a back deck and some in the yard, and others in the driveway, for example.
Post signage. Using signs throughout an event is a great way to remind guests to socially distance themselves especially if they can't wear masks, while not having to police your guests. Signs are also an easy and gentle way to remind people how many people should be congregating in any particular area.
Food and beverages are best served and definitely eaten outdoors. They're high traffic areas anyway and the times when the masks are mostly to come off. So space out the food distribution areas (not really buffet style these days!) and bars outdoors. Use multiple tables or serving areas for both to prevent bottlenecks.
Keep guests separated by using different heights on surfaces, whether it's a bar or high top table, a picnic table, a chair, or a blanket on the grass.
Other everyday suggestions for entertaining during COVID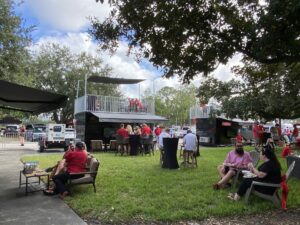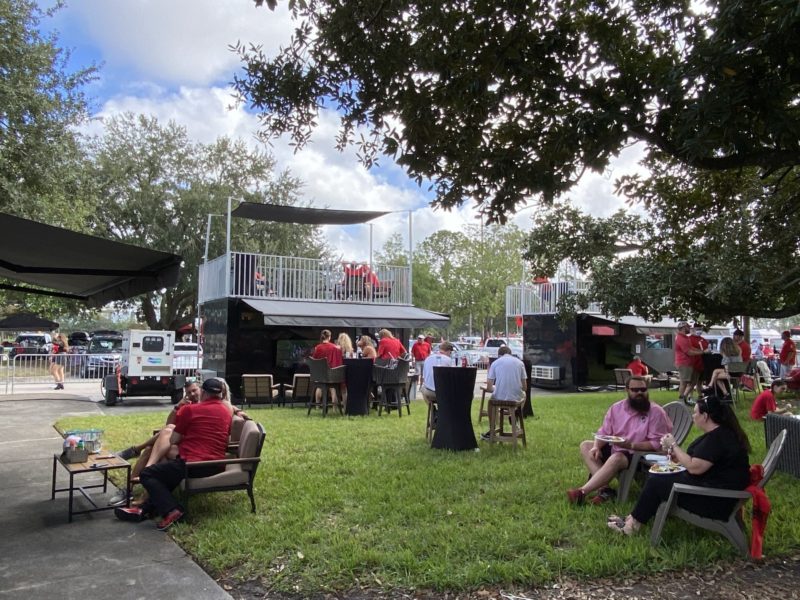 Set up baskets throughout your space filled with hand sanitizer, wipes and extra disposable masks for guests.
Use disposable drink and dishware. Protecting the environment can take a backseat for one night.
Provide trash cans in multiple places so guests can toss their own trash.
Set up a cooler of ice for people who want to chill their BYOB beverages. If you're serving beverages limit it to canned or bottled drinks.
Individually wrap or serve food ahead, whether it's spaced out on plates for guests to pick up, in a "to-go" container, or on a small tray. The less sharing of utensils and congregating at a buffet area the better. Chips and dip and a tray of wings will wait for another day.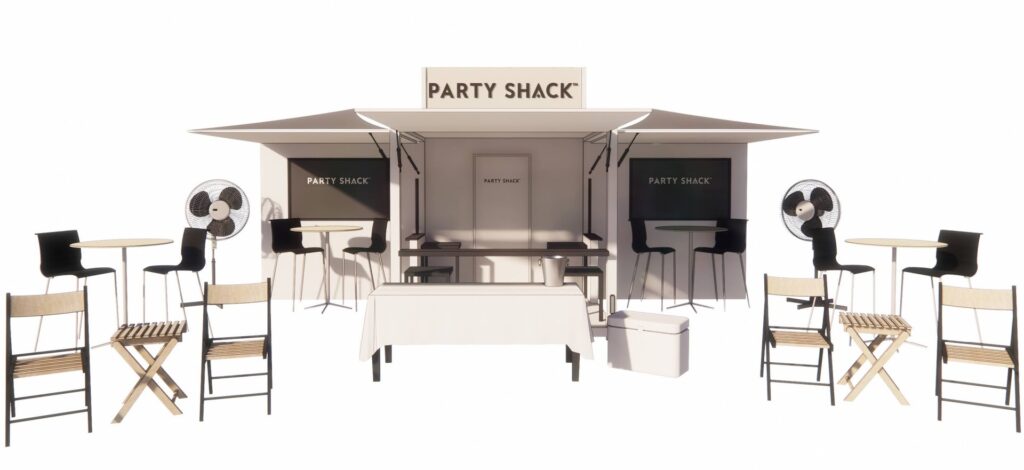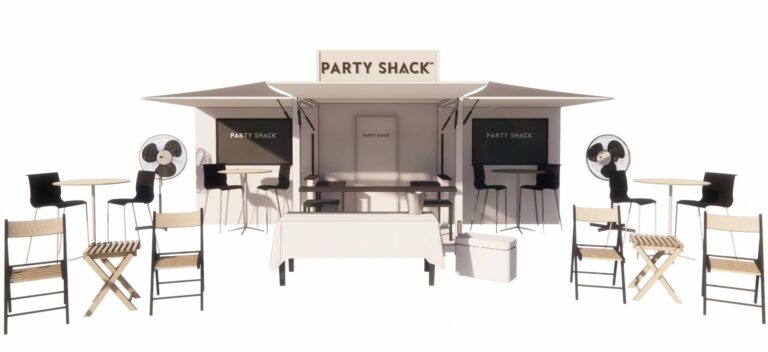 How hospitality companies are prepping for "new normal" when tailgating returns
As long and as difficult a wait as it has been to get back to tailgating before music festivals and sold-out football games, it's not likely to end any time soon. Even when a vaccine is ready, the roll-out takes time and the tolerance for large crowds figures to be limited at best.
The good news is hospitality companies like Party Shack have been working behind the scenes to rethink what tailgating might look like coming out of the worst of the COVID-19 pandemic.
After executives at Party Shack got over the initial shock of the cost to their business of COVID shutdowns, they realized how well suited their products are to tailgating in small groups to begin with.
"We started thinking, 'Well guys, our products are actually the perfect product for the COVID environment," Carn said. "Our products offer hard surfaces that are easily sanitized throughout the units. We offer the smaller more intimate setting, it's not a huge tent or chalet with hundreds of people inside. We can deliver the same if not better experience than one of those huge hospitality tents."
They started focusing on what adjustments they could make to their units, which are designed to mimic VIP suites. Party Shack already featured climate control in the suites, which makes them great for outdoor concerts, golf tournaments, NASCAR races and football in any weather. Now they've enhanced the units with air-purifying capability too. They added hand sanitizing stations.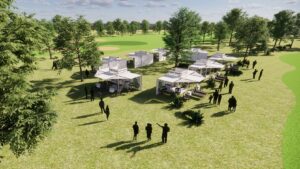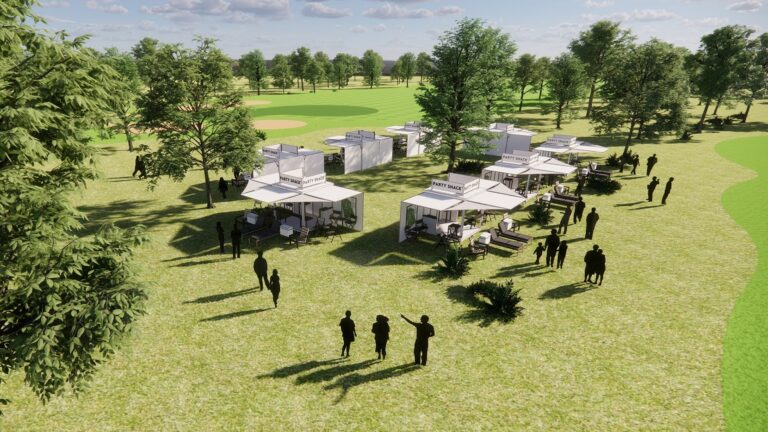 They also converted one of their Porta Bar pod designs into a Porta Lounge. Normally the unit folds out into an interior bar space with awning. As a Porta Lounge, the bar is replaced by lounge seating, and the entire unit is open air. It accommodates 6 to 12 people.
"It's all open air, but very nice," Carn said. "It's got TVs on it and sound systems. At a PGA event that would be perfect."
The PGA and others in the sports and entertainment industry aren't biting yet but they're paying close attention. Carn said Party Shack got feedback from the WWE about possibly using Porta Lounge units to line the ring at their outdoor professional wrestling events, as a way to keep fans spaced out.
"We're just eager to really get back out there again and start participating and doing events or being a vendor to bigger events," Carn said. "When the faucet comes back on, we're ready."
Another big name in the tailgating and hospitality business is Tailgate Guys, which at the time COVID hit had expanded their services to NFL and college football stadiums all across the country. Over the past nine months, they've adopted a #TailgateAnywhere strategy. Now they're selling tailgating packages to individuals that include a tent, lighting, table and chairs, sanitation kit and other supplies. They'll deliver them to clients located within 100 miles of their 17 office locations which range from Atanta to Miami, Ann Arbor, MI, to State College, PA.
"Tailgating well is about having the right people around you, with all the equipment you need to create a safe and healthy environment that allows you to make memories with your friends and family," said Tailgate Guys co-founder Michael Otwell, on their website www.tailgateguys.com.
Amen!
Whether you are throwing a backyard tailgate for 10 or 12 of your closest friends, or just watching a game with family members, we hope you'll share some photos and ideas of what you've come up with to stay safe during COVID. Tag us at @tailgatewithus on Twitter and at Inside Tailgating on Facebook and Instagram.