Last Updated on 08/18/2021 by Inside Tailgating
It's that time of year, approaching New Year's Day when we get together with friends to watch some amazing football, toast the year to come and look back on all the highlights of the previous year. When it comes to looking back over the work we've done with Inside Tailgating, there's a story to me that stands out above the rest.
It's one I wrote for the cover of our fall edition about the "Tailgate Guys," a couple of Auburn grads who turned the idea of hassle-free tailgating into a multi-million dollar business….As much as you might want to think they're turning tailgating for college football into this stale corporate entity, when you actually hear about how they go about their business, you have to respect it. And seeing their business grow throughout college football, you understand why. Check out this story for yourself.
You can read the full issue of the magazine below, or scroll down to read the Tailgate Guys article in part…
The "Tailgate Guys" are revolutionizing the way people tailgate for college football. If you haven't heard of them, you will soon, because these masters of pre-game hospitality have found a foothold in college football and they're only going to grow from here.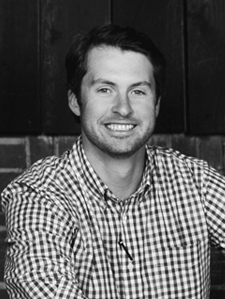 In a matter of nine years, the Auburn-based co-founders of Tailgate Guys have taken the simple business idea of eliminating the hassle of tailgating at their alma mater, Auburn, to another 13 major universities, including some of the biggest names in the business like Alabama, Florida, Penn State and Texas.
Tailgate Guys take care of everything from hauling gear from people's cars and setting up tents to catering meals, providing multiple TVs and lounge furniture.
"Somebody actually wanted fish that had to be flown in from Hawaii," said Tailgate Guys co-founder Parker Duffey. "That was in Texas. It was an oil company. We don't have much of that in Alabama. The state of Alabama, not the university."
He was careful not to upset his new clients in Tuscaloosa, whom he jokes haven't quite accepted him yet as an Auburn graduate.
"Just have me quoted as saying 'Roll tide,'" Duffey said.
The Tailgate Guys' biggest acquisition of late has been adding Ben Sutton, the former president of sports media and marketing giant IMG College, into the fold. Sutton joined them last year as an investor, business partner, and advisor.
In the process, Tailgate Guys have seen their yearly sales grow from $7 million to $17 million, they've acquired a competitor "Game Day Tents," boosted their workforce to 110 full-time and another 200 part-time employees, and brought in 10 new schools for the 2017 season, including powerhouses Alabama, Oklahoma, and Virginia Tech.
Think this thing doesn't have traction?
Duffey came up with the idea 10 years ago after talking to a friend of a friend. He and his wife Melanie, now an interior design professor at Auburn, were hosting Melanie's friend and her date for an Auburn game, when the guy leaned over the console in their car and explained a business he had started at the University of Alabama, hiring students to reserve tailgating spaces for fans.
Duffey, 23, at the time, couldn't get the concept out of his head. He was having a hard enough time adjusting to life after college, when as an upperclassman in the Beta Theta Pi fraternity, pledges were responsible for setting up their football tailgate, complete with live entertainment, catered buffet and full bar.
"(It's like) the first guy that figured out, 'Hey man, people don't like carrying their beach chairs down to the beach, so I'm going to start this rental company,'" Duffey said. "You spend hours organizing, setting up and breaking down tailgates every game as a patron. If there's a way (to)… get those hours back and spend them with the people that matter most, that's a pretty big accomplishment, if you ask me."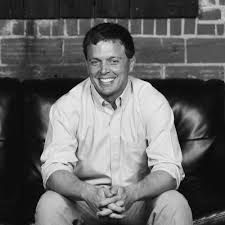 Duffey started crafting a business plan, based on partnering with a university and sharing in the profits. Within a week he ran the plan past Michael Otwell, a fellow Auburn graduate he'd met at a recent Halloween party. Otwell bought in, and within a year, they had both quit their jobs and started working out of an office in Duffey's back bedroom. This was 2009.
"When I turned in my two weeks' notice at my job about a month before football season started, one of the guys at the company was like, 'I hope you know what you're doing,'" said Duffey, who'd been an assistant project manager for a commercial contractor.
That company – Bailey Harris Construction – is now a Tailgating Guys client. Their idea was a hit from the start.
The first school they partnered with, of course, was Auburn. Using two trucks, one they owned and one they borrowed, and seven or eight guys to help, they hosted 55 groups of 10 to 15 tailgaters apiece at Auburn's 2009 opener against Louisiana Tech.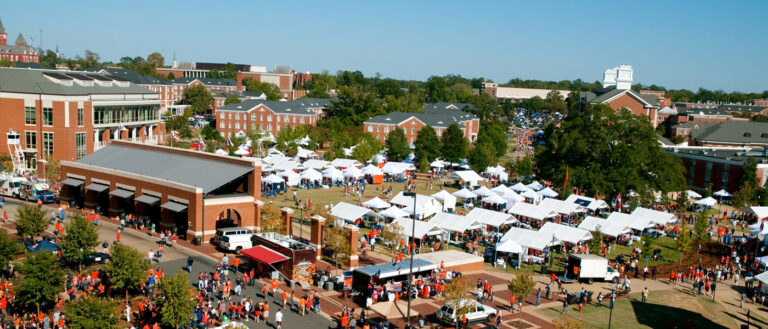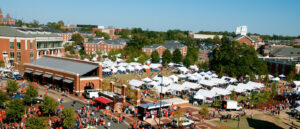 "It was perfect weather," Duffey said. "It had been hot all week, and the high was 88 that day….There's this ledge at Auburn, where you can stand and look over the entire site that we had at the time. Stepping out and seeing people having a good time – that was one of the more rewarding days of my life… It was a special moment for Michael and me both to be able to put our stamp on something and see that, 'Hey, this is going to work.'"
Now it's impossible to take in all their Auburn tailgaters from any one vantage point. They've got to walk all around campus. Tailgate Guys will manage about 400 tailgate parties at Auburn's opener this season, with anywhere from 75 to 100 people at each one.
"On any average game at Auburn, 40,000 will be under our supervision before the game, which is about half the people that go into that stadium," Duffey said. "It's quite the operation there."
That's a microcosm of how Tailgate Guys are taking off around college football.
In some cases, they've been met with resistance at first, when fans fear they represent a corporate takeover at the expense of deeply-rooted traditions. But when fans see the added convenience Tailgate Guys offer, for as little as $250 a game, they often change their minds.
"There's certainly a place to maintain those traditions people have for generations," Duffey said. "That's something that every campus we partner with aims to protect. We carve out space to where if you want to have the convenience of what we do, you can select to do it. That's what people saw. After that first game, they're like, 'Oh, my space is still here. I don't have to do this.' Since then it's been accepted across the board."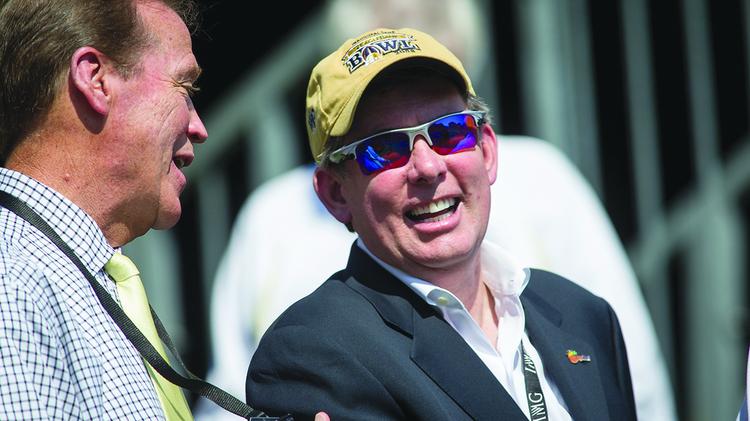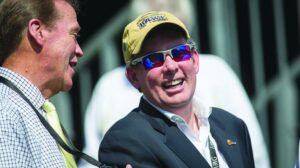 It didn't take a whole lot of convincing to get Sutton on board either. Duffey first approached Sutton, who founded ISP sports before selling it to IMG for $100 million, in baggage claim at the San Francisco airport. Duffey had recognized Sutton sitting in first class on their flight from Atlanta; a friend had pointed him out once at a Duke-North Carolina basketball game. With some urging from his wife, Duffey walked up to Sutton after he hung up his cell phone.
"I was sitting there thinking, 'I wonder if this is one of those moments where if you don't do this you're going to regret it for the rest of your life,'" Duffey said. "I introduced myself, told him about our business and he knew who we were, which I was very flattered by. At that time we were still just on five campuses, going into our sixth."
Sutton, who left IMG and started his own company Teall Investments, e-mailed Duffey several weeks later. While Duffey originally planned to pitch a position on their board, after several conversations Sutton agreed not only to a seat on the board but he was investing in Tailgate Guys as a minority partner.
Between Sutton's capital and influence, Duffey's ideas and Otwell's execution, Tailgate Guys are at a tipping point. They have 10 offices around the country. They serve 16 major colleges, the Atlanta Falcons, the Chick-fil-A Kickoff Game, the Cotton Bowl, and the Barbasol Championship, a PGA tour stop in Opelika, Ala. Duffey envisions expanding not only to more college football programs around the country but into other sports like tennis – he grew up watching Wimbledon – and the Olympics.
He has his eye on the Summer Games in Los Angeles in 2028, and his dream is for Tailgate Guys to manage hospitality for every event. As ambitious as that sounds, it might not be that far a reach. Sutton sits on the board of trustees for the U.S. Olympic and Paralympic Committee foundation.
"I think that we really do have a path in front of us where we can take those steps and get there," Duffey said.