It's almost December. This is the time of year when the football season gets serious. Rivalry games, conference championship games, bowl games, playoff-implicating NFL games. But apparently that sentiment just holds true on the field. Because a quick web search to get a feel for what's going on in the lots about the country (and beyond) in recent days was enough to spawn this list. Get a load of the Top Five wacky tailgating stories in the news of late, at least in the humble opinion of Inside Tailgating:
5. Buffalo Bills fans behaving badly is not exactly a new topic. But the recent arrest of this young Bills fans was; that's because he poured beer down the backside of a 17-year-old woman a) and b) was dumb enough to post it on social media. Time to grow up – and clean up the lots – for the sake of everybody else. Here's the story from the Buffalo TV station, WIVB.
4. A tailgate with no charcoal or wood-pellet grilling? It's happening. And people who live in and around the Appalachian and Smoky Mountains know exactly why. With raging forest fires from North Carolina to Georgia to Tennessee and unrelenting drought conditions, fans at a recent Kentucky game could certainly understand why school officials limited their tailgate grilling to gas only. Here's the recent story from WTVQ in Lexington.
3. The New Jersey high school athletic association reminded fans Monday that there was to be no tailgating at high school championship football games this weekend. The games are being held at MetLife Stadium in the Meadowlands where the Giants and Jets play, which is probably why they felt the need to "remind" people. We get it. Alcohol being served around minors, not a great idea, especially when you consider the average rowdiness of fans in and around New Jersey. But what is it about hearing tailgating is banned that just makes you want to do it? Here is the story from The Associated Press.
2.  The death of Cuban dictator Fidel Castro generated strong emotions nationwide Friday,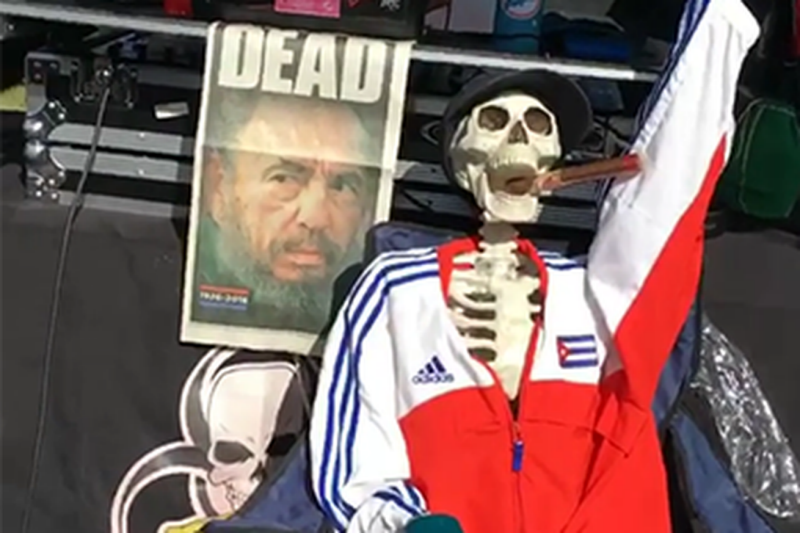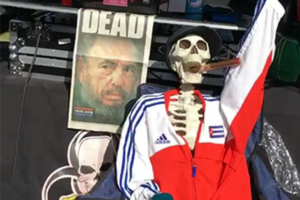 particularly in Miami, where Cuban exiles took to the streets to celebrate. As the fates would have it, the San Francisco 49ers and their controversial quarterback Colin Kaepernick – who had worn a T-shirt bearing Castro's image to a press conference in August – were in Miami to play the Dolphins on Sunday. Long before fans had a chance to boo Kaepernick inside the stadium or Kiko Alonso, the son of a Cuban exile, stuffed Kaepernick short of the end zone to end the game, one Miami fan showed his thoughts on Castro's death by bringing a fake skeleton decked out in Fidel Castro garb – complete with cap and cigar – to his tailgate. Have a look at this from Yahoo Sports.
1   What's a wacky Top Five list without….weed. Yep, that's right. Leave it to the folks at MerryJane.com to raise questions about pot-smoking at NFL tailgates. It's legal to smoke marijuana recreationally in Colorado and Washington, but that doesn't mean Broncos and Seahawks fans can light up in the lots. (Although clearly some do anyway.) The teams forbid it on their stadium property in keeping with NFL policy. But this issue isn't exactly going anywhere, given that recreational marijuana was legalized in California, Maine, Nevada and Massachusetts in the recent election. Does that mean pre-game spreads are soon to be used to cure the munchies? Is the moniker "Mile High Stadium" going to be taken a bit more literally now? MerryJane.com contributor Brendon Gallagher gives his take on why he thinks marijuana and tailgating make a good match.