Last Updated on 07/08/2021 by Inside Tailgating
Wow, do we love college football! And it's baaaaaackkk! What a killer lineup of games to check out this weekend, and if you're itching for more than just one tailgate or one watch party, check out all five of these games! They're spread out over a three-day Labor Day weekend so it's doable, if you're quick with the "back" button on the remote (two of the games will be played simultaneously both Saturday and Sunday nights, with staggered start times!) Rather than rank the match-ups according to how good we think the games will be, let's just go chronologically to keep it simple. Besides, it's early. Who really knows how the teams stack up, except for Alabama (which is always good.) The preseason polls go on history and conjecture. We'll spend the weekend deciding for ourselves – what fun!!!
1. No. 12 Auburn vs. No. 8 Washington at Mercedes-Benz Stadium, Atlanta, GA, Saturday at 3:30 p.m. ET on ABC
The Chick-fil-A Kickoff knows how to draw great match-ups and this coast-to-coast showdown – the Kickoff's first between an SEC and Pac-12 school – featuring two top 15 teams is just another example. Something's got to give between Auburn's highly-touted defense and the Huskies' productive attack led by their four-year starter at quarterback, Jake Browning.
2. Notre Dame vs. No. 11 Michigan at Notre Dame Stadium, South Bend, Ind., Saturday at 7:30 p.m. ET on NBC
Rubbing your eyes to re-read? Yep, you get a match-up like this the very first weekend of college football. Not surprisingly, ESPN will set up camp for its first College GameDay of the year Saturday in South Bend. All eyes will be on Michigan quarterback Shea Patterson, the transfer from Ole Miss who makes his debut under Coach Jim Harbaugh.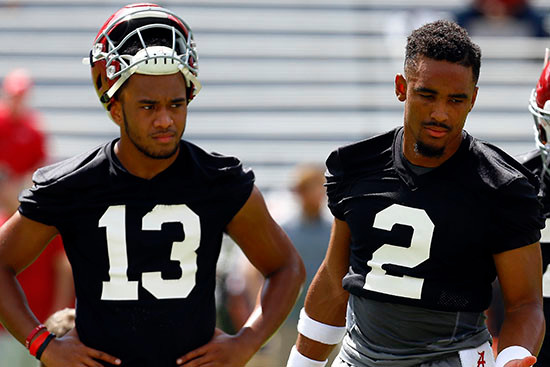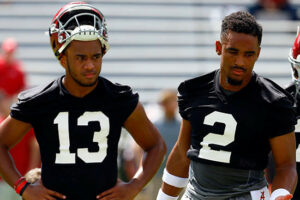 3. No. 1 Alabama vs. Louisville at Camping World Stadium in Orlando, Fla. Saturday at 8 p.m. on ABC
The defending champs have won 16 straight season openers, which is second in SEC history to Florida's 27 straight from 1990-2016 – including their past 11 by an average score of 40-12. This one will be worth watching, though, to see if the Crimson Tide picks up where it left off while winning a fifth national title in Nick Saban's 11 years at Alabama. Plus you'll want to see how the quarterback situation plays out between Tua Tagovailoa, star of the national title game vs. Georgia, and Jalen Hurts, the incumbent.
4. No. 13 LSU vs. No. 18 Miami at AT&T Stadium in Arlington, TX, Sunday at 7:30 p.m. on ABC
Coach Mark Richt has brought the swagger bag to the Hurricanes' program, but he has work to do if he wants another 10-0 start this season for his alma mater. LSU debuts Ohio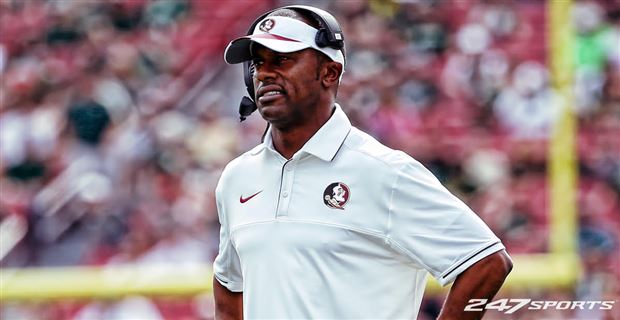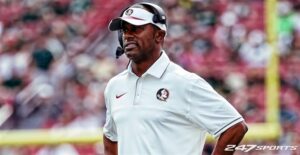 State transfer Joe Burrow at quarterback.
5. No. 3 Florida State vs. No. 21 Virginia Tech at Doak Campbell Stadium in Tallahassee, Fla. Monday at 8 p.m. on ESPN
This is Coach Willie Taggart's first game since taking over the FSU program following Jimbo Fisher's departure for Texas A & M and a 10-year, $75 million contract. Taggart won't exactly be sticking a toe in the waters. He'll make his FSU debut in an ACC showdown against Virginia Tech on ESPN's MegaCast – a multi-platform broadcast which includes the first ever Goodyear BlimpCast, which is what it sounds like: live commentary from broadcasters perched atop the stadium in the Goodyear Blimp.