Last Updated on 04/14/2021 by Inside Tailgating
Tailgating can happen nearly everywhere. But we want to spotlight a couple of cities with the same name and find a great food recipe that one could use at either city. So how about some love for Wilmington, Delaware and Wilmington, North Carolina.
Wilmington, North Carolina
Pecan Pie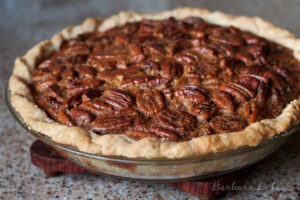 recipe courtesy of ourstate.com
Pecan Pie Crust:
2 1/2 cups all-purpose flour
Pinch of salt
1 tablespoon brown sugar
1 stick cold unsalted butter, cubed
1/2 cup very cold water
Filling:
1 stick butter
1/2 cup brown sugar
3/4 cup corn syrup (feel free to substitute sorghum, maple syrup, or sugar cane syrup)
Pinch of salt
3 eggs
2 cups chopped pecans
In a food processor combine flour, salt, sugar, and cubed butter.
Pulse until texture resembles cornmeal.
Add water, a little at a time, pulsing until a ball of dough forms.
Place food processor bowl in the fridge for 1 hour.
Heat oven to 350º.
Melt butter.
Add sugar, syrup, and salt and stir.
Stir in eggs, one at a time.
Add pecans and mix well.
On a floured surface, roll out your pie dough and transfer it to your pie dish.
Push it into your dish and pinch off any extra dough.
Pour filling into the dish, spreading it out with the back of your spoon to make sure that the pecans are evenly distributed.
Bake for 35 minutes, or until the center is firm but not necessarily hard. (A little jiggle is good, but it shouldn't be sloshing around in there.)
Let cool to room temperature before serving.
Wilmington, Delaware
Delaware Peach Crisp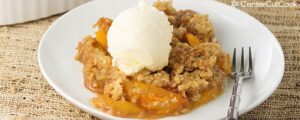 recipe courtesy of thedailymeal.com
Ingredients
1 can (29 ounces) sliced peaches
1 cup packed brown sugar
2 tablespoons cornstarch
2 tablespoons honey
1/2 teaspoon ground cinnamon
1/4 teaspoon ground nutmeg
1/2 cup lemon juice
1/2 cup raisins
1/2 cup chopped pecans
TOPPING:
1 cup all-purpose flour
1/2 cup sugar
1/2 cup butter, melted Vanilla ice cream, optional
Directions
Drain peaches, reserving the syrup in a saucepan; set peaches aside.
Stir brown sugar, cornstarch, honey, cinnamon and nutmeg into the peach syrup until smooth.
Bring to a boil; cook and stir for 2 minutes or until thickened.
Add lemon juice, raisins, pecans and reserved peaches.
Pour into a greased 2-qt. baking dish.
For topping, combine flour, sugar and butter.
Sprinkle over peach mixture.
Bake at 350° for 35 minutes.
Serve with ice cream if desired.