Last Updated on 01/05/2022 by Inside Tailgating
Thanksgiving is almost here! Before planning to sweat over an oven for hours, consider grilling your turkey. Roasting a whole turkey can be quite an undertaking. However, you can skip the hours of work and make a truly delicious turkey meal right on your tailgating grill. Whether you are cooking for your whole family or just want to bring some seasonal flavors to your tailgate, here are twelve grilled turkey recipes.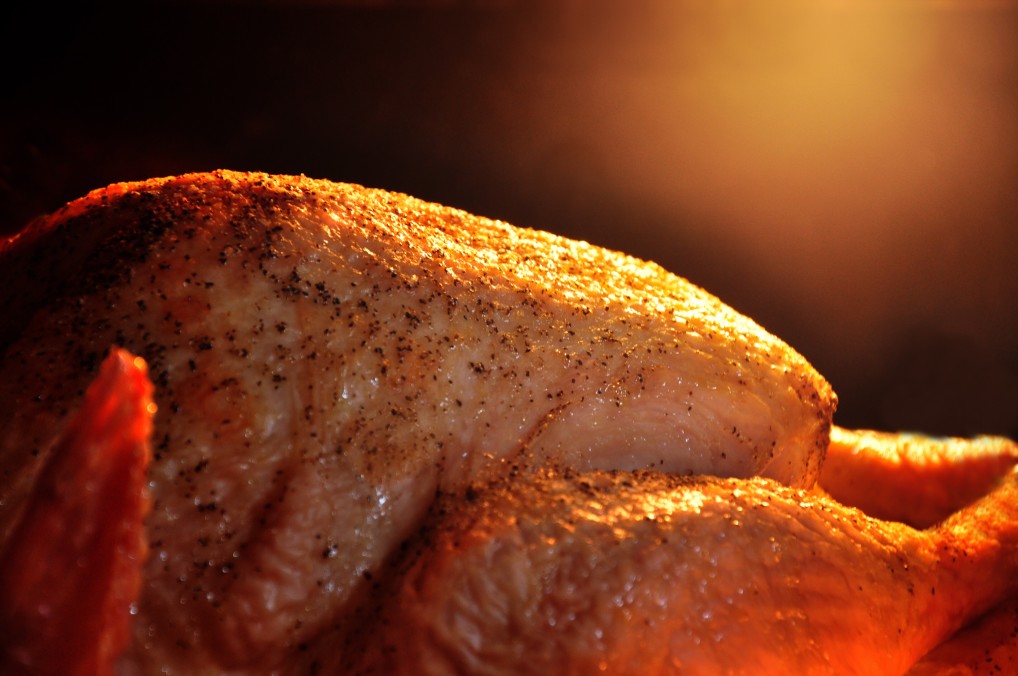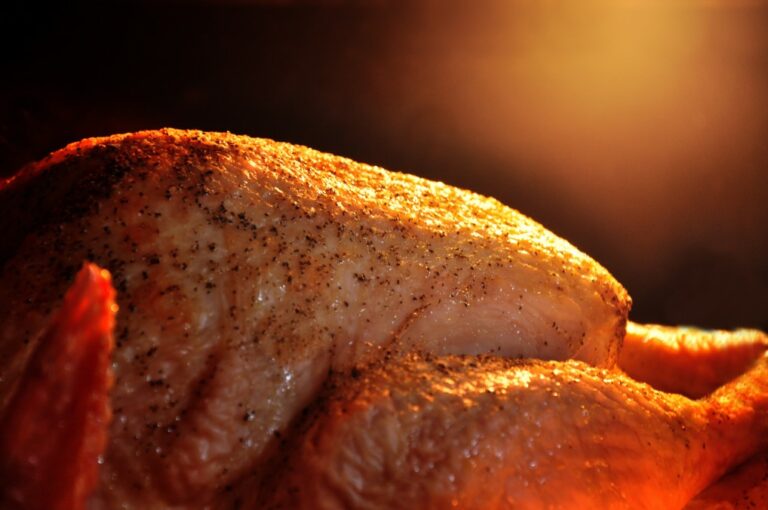 1. Basic Grilled Turkey
We figured we'd kick off the list with this great guide from Home Sweet Eats. She shows step by step how to dress a turkey for grilling. You can also make this recipe in your smoker. It's a great basic recipe that is perfect to build on with your own favorite flavors. All you need is a grill with a lid and a roasting pan that will fit in your tailgating grill.
The Best Grilled Turkey
Ingredients
1 (15 – 18 lb)

Whole Turkey

2

Onions, halved

2-3

Lemons, sliced

1

Bulb

Garlic, top sliced off

1

Large Bunch

Fresh Herbs, including sage, thyme, rosemary

8-12

TBSP

Unsalted Butter, softened

Kosher Salt

Freshly Cracked Black Pepper

Dried Herbs, including sage, thyme, rosemary

2

Cups

Chicken Stock, plus more if needed during cook time
Instructions
The night before grilling your turkey, remove any giblets and the neck and pat the turkey dry with paper towels. Place the turkey in a large baking dish. At this point, I stick it in the fridge overnight, uncovered – away from anything that it could touch. I've been doing this for a few years and it makes for amazing crispy turkey skin!

Remove the turkey from the fridge one hour or so before grilling. Before grilling, make sure your propane tank is full and that you have a backup!

Preheat your grill to medium-high heat, about 450 degrees F. I preheat all burners. Prepare a stack of disposable foil roasting pans (about 2 or 3 pans) stacked together.

Place the turkey in a roasting pan, breast-side up. Fill the cavity with 1 halved onion, 1 lemon, the garlic bulb and a bunch of fresh herbs. Tie the legs loosely together with kitchen twine. Tuck the wings under the turkey.

Rub the turkey all over with the softened butter. Sprinkle it with the salt and the pepper. I also like to add a sprinkling of dried herbs, like thyme, sage and rosemary.

Pour 1 to 2 cups chicken stock in the bottom of the roasted pan. Add the other lemon wedges and onions.

Place the roasting pan on the grill and turn the center burner to medium-low. Close the grill. Ideally, you want the temperature to be about 425 to 450 degrees F during cook time, so adjust according with your grill.

Grill the turkey for 2.5 to 3 hours, checking the bird every 30 minutes or so. You want to be sure you don't run out of propane and that the grill is holding it's temperature. You can baste it with the juices in the bottom of the pan, but only keep the grill open for a minute or so at a time.

Halfway through cook time, rotate the roasting pan and add more stock to the bottom of the pan if needed.

After 2.5 hours, check the turkey – you want to cook it until the the temperature taken in the thigh reaches 180 degrees F.

Once the turkey is finished, let it rest for 30 to 60 minutes before slicing.
2. Dry Brined Spatchcocked Turkey On The Grill
Last year, Eddie Jackson from the Food Network shared with us he always prefers to spatchcock his turkey. Spatchcocking can save a ton of time on cooking and it can help lock in some of the juices, leaving a more flavorful turkey. This recipe from Garlic and Zest shows how to prepare a spatchcocked turkey on a tailgating grill. It also has a recipe for a tasty dry rub and a cider gravy.
Spatchcock Grilled Turkey With Cider Gravy
Ingredients
For Dry Brine
3

Tbsp

Diamond Crystal Josher Salt

1

Tbsp

Dried Thyme

1

Tbsp

Black Pepper

1

Tsp

Smoked Paprika
For Cider Gravy
3

Cups

Apple Cider

Turkey Giblets (neck, heart, liver, turkey back)

5

Cups

Water

1

Small Bunch

Fresh Sage (5-6 sprigs)

1

Small Bunch

Fresh Thyme (6-8 sprigs)

1

Small Bunch

Fresh Parsley (5-6 sprigs)

1

Small Bunch

Fresh Rosemary (2-3 sprigs)

2

Bay Leaves

1

Tsp

Kosher Salt

1

Tsp

Whole Black Peppercorns

1

Medium

Onion, roughly chopped

6

Tbsp

Butter

6

Tbsp

Wondra Flour

Salt and Pepper, to taste

2

Tbsp

Apple Cider Vinegar

1

Tbsp

Worcesershire Sauce

1

Tbsp

Browning Sauce

Turkey Drippings
For Basting Butter
8

Tbsp

Unsalted Butter

1

Tbsp

Chopped Thyme

2

Tsp

Chopped Sage

1

Tsp

Chopped Rosemary

1

Tbsp

Worcestershire Sauce

2

Tsp

Fresh Chopped Sage

2

Tsp

Fresh Chopped Thyme
Instructions
Spatchcock The Turkey
Remove the turkey from the packaging and set the turkey neck and giblet package aside.

Use paper towels to dry the inside and outside of the turkey. Turn the turkey so the breast side is down and the back is up. Firmly hold a turkey thigh with one hand and use a pair of sharp kitchen sheers to cut down just to the right of the turkey's back bone. Use the sheers to cut down just to the left of the turkey's back bone and remove the spine. Place the back bone with the rest of the giblets for the gravy.

Holding either side of the ribs, open up the turkey with your hands. Run a sharp knife down the interior breast bone (in the center) of the turkey. Don't cut all the way through, just about 1/8" to help you lay the turkey flat when flipped.Turn the turkey over so the breast is facing up and use both hands to press firmly into the center of the rib cage until you hear a little pop or snap and the turkey breast lays flat.
Make The Dry Brine
In a small bowl combine the kosher salt, dried thyme, black pepper and paprika. Stir well to combine.
Brine The Turkey
Lift the skin of the turkey at the bottom of the bird and slip your hand between the skin and flesh, breaking through the thin membrane so that you can run your hand all along the meat of the bird. Season the bird with the Dry brine both over and under the turkey skin. Flip the bird over and season the interior.

Transfer the turkey to a half sheet pan and refrigerate uncovered for 24 to 36 hours.
Grill The Turkey
You can use a gas grill or charcoal grill for this, but you'll be cooking in an indirect method with the heat source on one side of the grill and the turkey on the other. (Note you can also add some soaked wood chips (cherry, apple, peach or pecan) to the embers or to a smoking basket.
For The Basting Butter
In a small saucepan, melt the butter and add the chopped herbs and worchestershire sauce. Simmer for one minute and remove from heat.
Grill The Turkey
Remove the turkey from the refrigerator and let rest at room temperature while the grill heats up. Remove the top grate from the grill.

Use a chimney starter. Fill the bottom cavity of the starter with newspaper. Add charcoal briquets to the top of the chimney starter. Light the newspaper with a lighter stick or long matches. The briquets will catch fire and start to burn. When the briquets are quite hot and the embers look ashy with a fiery interior, pour the embers along two sides of the grill. Rest a drip pan that's about as large as the turkey in the center of the embers.

Return the top grate to the grill. Place the turkey directly above the drip pan and cover tightly with the grill lid. Cook the turkey at 350° (adjusting the heat hotter by opening the upper and lower vents and reducing it by closing the vents) for 1 1/2 to 2 hours or until the thickest part of the turkey breast or thigh registers 165° on an Instant Read Thermometer.

Baste the turkey every 30 minutes with herb butter.
For Gas Grill
Set up the grill for indirect heat — using 1 or 2 burner elements (depending on the style of grill you have) and the other side will be for cooking the turkey. Place a drip pan under the grates where the turkey will be. Preheat the other side of the grill to 350°-375°. When the grill is hot, place the turkey on the grates over the drip pan.

Cook the turkey, basting every 30 minutes with the herb butter until the thickest part of the bird registers 165° on a digital thermometer. Transfer to a cutting board and let the turkey rest for 20-30 minutes before carving.
For Oven Roasting
Preheat the oven to 375°. Place a wire rack over a rimmed baking sheet large enough to accommodate the turkey (a half sheet pan should do it). Place the turkey on the wire rack and transfer to the oven. Baste the turkey every half an hour with the herb butter.

Preheat the oven to 375°. Place a wire rack over a rimmed baking sheet large enough to accommodate the turkey (a half sheet pan should do it). Place the turkey on the wire rack and transfer to the oven. Baste the turkey every half an hour with the herb butter.
For The Cider Gravy
While the turkey is cooking, make the gravy. In a medium saucepan, bring the apple cider to a boil and cook, uncovered for about 15-20 minutes until the cider is reduced by half and measures 1 1/2 cups. Set aside.

In a large stock pot or dutch oven, add the turkey neck, back and giblets and cover with 5 cups of water. Add the sage, thyme parsley, rosemary, bay leaves, onion, salt and peppercorns. Bring to a boil and reduce heat to a rapid simmer. Cook for 20 minutes or until the stock is reduced by half.

Use a pair of tongs to remove the large pieces of turkey neck, giblets and back. Place a fine mesh strainer over a bowl and pour the contents through the strainer. Press on the solids to release the juices and discard the solids. You'll need about 3 cups of turkey stock

Heat the butter in a large saucepan over medium high heat. When the butter has melted, whisk in the flour until a bubbly paste forms. Add the salt and pepper and continue to cook, whisking constantly, for a minute over the heat. Alternate adding turkey stock and cider reduction, whisking well after each addition. Do not add more liquid until the previous addition has been fully incorporated. The gravy will be very thick in the first few additions but will loosen up. Stir in the apple cider vinegar, worcesershire sauce and browning sauce and simmer for an additional minute. Remove from heat and whisk in the chopped thyme and sage.
3. Southwestern Grilled Spatchcocked Turkey
Another great recipe for spatchcocked grilled turkey comes from Eating Well. This turkey is made with a healthy dose of chili powder, giving it a southwestern flavor. The best part about this recipe is the leftovers are awesome. You can shred them and add them to tacos, burritos, and other Southwestern-inspired dishes. Yum!
Southwestern Grilled Spatchcock Turkey
Ingredients
3

Tbsp

Chili Powder

1

Tbsp

Paprika

1

Tbsp

Brown Sugar

1

Tbsp

Kosher Salt

2

Tsp

Garlic Powder

1

Tsp

Ground Pepper

12-13

Lb

Turkey
Instructions
Combine chili powder, paprika, sugar, salt, garlic powder and pepper in a small bowl.

Trim any excess fat from the turkey. Using heavy-duty kitchen shears or poultry shears, cut the turkey down one side of the backbone, through the ribs. Make an identical cut on the opposite side to remove the backbone completely; discard or reserve for turkey broth. Place the turkey, cut-side down, on a cutting board and flatten with the heel of your hand (you'll have to press hard!). Splay the thighs outward and tuck the wings under. Loosen the skin over the breasts and thighs; rub the spice mixture under the skin.

Light a chimney starter full of charcoal. When all charcoal is lit, pour the coals to one side of the grill and let it burn down to medium heat (about 400 degrees F). Wearing an oven mitt, carefully place a foil or foil-lined drip pan under the grill rack on the unheated side (see Tip). Place the turkey, breast-side up, on the rack over the pan.

Continue cooking, rotating the bird so the side furthest from the heat is now closest to the heat (not flipping) and adding more coals halfway through, until an instant-read thermometer inserted into the thickest part of the breast and thigh registers 165 degrees F, 2 to 2 1/2 hours. Remove from the grill and let rest for 20 minutes before carving.
4. Pellet Grilled Smoked Turkey Breast
Another great way to cut back on cooking time this Thanksgiving is to just cook the breast instead of the whole bird. For this first turkey breast recipe, we took a cue from the Texas grill masters. Pellet smoking adds an incredible flavor and texture to your turkey breast. It also keeps it from ever tasting bland. Bust out your pellet smoker to make it. Don't worry if you don't have one, you can use smoker wood chips in a standard tailgating grill. Here's an easy guide.
Texas Smoked Turkey Breast Pellet Grill
Ingredients
6

Lbs

Turkey Breast, raw bonesless skin removed

3

Tbsp

Texas Dry Rub

2

Tbsp

Mayonnaise
Instructions
Preheat Smoker to 225 Degrees F.

Remove the skin and remove any excess fat from the turkey breast then place in an aluminum half pan.

Coat the entire turkey breast with a light coating of mayonnaise. Just enough to act as a binder then season agressively with you Texas dry rub seasoning on all sides.

Place turkey breast in the foil pan on the pit and smoke for about 3 hours uncovered.

Cover the turkey breast with a sheet of aluminum foil then smoke for another 2 hours. or until the turkey hits an internal temperature of 165 degrees F.

Once turkey breast is fully cooked take the pan off the pit and vent a corner of the foil to release the steam. About 5-10 minutes. Cover back up with foil and store in a cambro or dry cooler for 1 hour to rest.

Slice the turkey breast into ¼ inch slices and serve.
5. Cajun Grilled Turkey Breast
For the next recipe, we pop over to Texas' neighbor Louisiana for some cajun flavors. This recipe is definitely perfect for a tailgating grill. Covered in a cajun spice rub, you will never have to worry about serving a dry, flavorless bird. This recipe is so tasty and easy to make, we predict we may see it on people's tailgating grills outside of the holiday season.
Cajun Grilled Turkey Breast
Ingredients
3-4

Lb

Turkey Breast Roast

2

Tbsp

Unsalted Butter at room temperature

1/4

Cup

Cajun Seasoning, plus 1 tsp for butter
Instructions
Prepare grill for direct/indirect (or two-zone cooking). Target 350 degrees Fahrenheit in the cooking chamber.

Place 1 teaspoon of Cajun seasoning in the butter and mix. Using your fingers, slowly separate the skin from the meat on each breast to make a pocket. Add the butter into the pocket and press down to make smooth. Finish seasoning the rest of the breast with the 1/4 cup of Cajun rub.

Place the seasoned turkey breast over the direct heat skin side down. Grill 6 – 8 minutes or until the skin shows a little browning. Flip and grill the other side of the turkey for 4 – 6 minutes. Once a little browning occurs, move to indirect side of heat.

Continue grilling turkey breast over indirect heat until the internal temperature of the thickest part of the breast reads between 160 to 165 degrees Fahrenheit using an instant read thermometer. This should take between 30 – 45 minutes depending on the size of the breast.

Remove the breast from the grill, and let rest for 10 minutes. Slice and serve with your favorite sides.
6. Mango Habanero Grilled Turkey Breast
If you love spicy food, this recipe is a great choice. Made with one of the spicier peppers available at the grocery store, this recipe will leave its mark on your taste buds. The sweetness of the mango balances perfectly with the spice and helps caramelize the turkey breast. This locks in the flavor and the juices. The result? A spicy, savory dish your Thanksgiving team will not soon forget.
Mango Habanero Grilled Turkey Breast
Ingredients
BBQ Rub For Turkey
1

Tsp

Salt

1/2

Tsp

Pepper

1

Tbsp

Chili Powder

1 1/2

Tbsp

Brown Sugar
Mango Habanero Sauce (For Glaze)
1/2

Cup

Mango Habanero Salsa

1/2

Cup

Peach Preserves
Grilled Turkey Breast
2

Lb

Package Honeysuckle White Skin-On Turkey Breast Roast
Instructions
BBQ Rub For Turkey
Stir together the salt, pepper, chili powder, and brown sugar in a small bowl, and then set aside until you are ready to season the turkey.

If you want to store it to use later, then just store the BBQ Rub seasoning in an airtight container.
Mango Habanero Sauce
Stir together the Mango Habanero Salsa and the Peach Preserves in a bowl. Set aside until ready to glaze the turkey breast.
Grilled Turkey Breast
Heat one side of a gas grill on medium, or place coals on one side of a charcoal grill, and heat until coals are ash white.

Rub the BBQ Rub for Turkey all over a thawed Honeysuckle White Skin-On Turkey Breast Roast.

Place the seasoned turkey breast on the side of the grill opposite the heat or the coals and grill for 1 hour 45 minutes to 2 hours, turning every 15 minutes.

After 1-hour of cooking brush the Mango Habanero Sauce on the grilled turkey breast, and brush every 15 minutes or so until the grilled turkey breast has finished cooking.

After the Mango Habanero Grilled Turkey Breast has finished grilling and has reach an internal temperature of 165 degrees F and is no longer pink, remove it from the grill.
7. Brazilian Style Grilled Turkey With Salsa
We love experimenting with flavors from South America. Brazilians grill a mean steak. So it only goes to follow that they can whip up a tasty grilled turkey. This turkey breast is seasoned and grilled to perfection. Then it is smothered in a fresh-made salsa verde. We recommend prepping the salsa ahead of time so the flavors can really mingle.
Brazilian Style Grilled Turkey Breast with Salsa Verde
Ingredients
For Turkey Breast
3

Lbs

Skinless Boneless Canadian Turkey Breast

Salt and Pepper, to taste
For Marinade
1

Tbsp

Olive Oil

1

Tbsp

Dried Ground Oregano

1

Tbsp

Dried Ground Coriander Seeds

1/2

Cup

Chopped Parsley

3

Cloves Garlic, crushed

2

Tbsp

Red Wine Vinegar

1/2

Cup

White Wine

1

Tbsp

Honey
For Rub
1

Tsp

Ground Coriander Seed

1

Tsp

Cumin

1

Tsp

Garlic Powder

1

Tsp

Onion Powder

1

Tsp

Ground Pepper
For Salsa Verde
1/2

Cup

Flat Leaf Parsley

1/2

Cup

Cilantro

1/2

Cup

Chopped Green Onion

1/4

Cup

Fresh Oregano

Zest of One Lemon

1

Clove Garlic, crushed

2

Tbsp

Lemon Juice

1/2

Cup

Olive Oil

Salt and Pepper, to taste
Instructions
Combine all ingredients to make the marinade. Pour marinade over the turkey breast in a non-reactive bowl (glass, ceramic or stainless steel) and refrigerate for at least 1 hour up to overnight.

When ready to grill, remove the turkey breast from the marinade and wipe off any excess. Discard any remaining marinade.

Combine all spices and herbs to make a rub. Rub generously all over the turkey breast. Season with salt and pepper to taste.

Grill the turkey breast over medium heat, with the lid closed, 15-20 minutes per side, until cooked through and no longer pink and a digital thermometer inserted into the thickest part of the meat registers 165°F. Let the meat rest for at least 15 minutes before slicing.

For the salsa, combine all ingredients in a mini blender or chopper. Pulse until roughly chopped. Season with salt and pepper to taste.

Serve sliced turkey immediately with salsa on the side.
8. BBQ Turkey Breast With Brown Sugar Rub And Barbecue Sauce
Don't worry, we weren't going to feature grilled turkey recipes without a great one for BBQ'd turkey. This turkey starts with a sweet brown sugar rub and then is grilled to perfection. Right before it's done, it's smothered in a homemade BBQ sauce (you can also use your favorite BBQ sauce) until it's perfectly caramelized. We're getting hungry just thinking about it!
BBQ Turkey Breast with a Brown Sugar Rub and BBQ Sauce
Ingredients
Turkey
2

Lb

Turkey Breast

Your Favorite BBQ Sauce
Brown Sugar Rub
1/4

Tsp

Salt

3

Tbsp

Brown Sugar

2-3

Tbsp

Chili Powder

Fresh Ground Pepper
9. Italian Grilled Turkey Breasts With Vegetables
We love a one-pot recipe. It makes life so easy. That's why this recipe from Blackberry Babe stood out to us. In one grilled basket, you can make the turkey and a vegetable side. Talk about efficiency! We love the blend of Italian seasoning, but you can use any seasonings that you love to flavor your turkey and vegetables. No matter what you decide, you'll save a ton of time!
Italian Grilled Turkey Breast and Vegetables
Ingredients
1.5

Lbs

Honeysuckle White Turkey Breast Cutlets

14

Oz

Italian Dressing, oil and vinegar variety

1

Yellow Squash, sliced into medallions

1/2

Lbs

Asparagus, trimmed

10

Oz

Grape Tomatoes, whole

1/2

Packet Italian Dressing Seasoning Mix

Drizzle Olive Oil
Instructions
Combine turkey breast cutlets and italian dressing in a container. Cover and place in the refrigerator for at least an hour to marinade.

Preheat the grill to high heat.

Prep vegetables. Add to either grill basket or aluminum foil packet. Drizzle olive oil to moisten the vegetables, then sprinkle the Italian seasoning over the top.

Grill over high heat, covered, for about 12 minutes. Toss vegetables with tongs after about 6 minutes.

Remove vegetables from grill. Add turkey breast and grill directly over high heat for about 2 minutes per side, to 165 degrees F.

Serve turkey and vegetables immediately.
10. Grilled Turkey Tenderloins
Breast meat isn't for everyone. Some people like a heartier texture and denser savory flavor. Turkey tenderloins are perfect for this palette. They are also ideal for serving a large crowd. Like a brisket or a big rack of ribs, you prepare it whole and then slice it up for serving. This recipe uses a range of delicious seasonings that really bring out the flavors of the tenderloin.
Grilled Turkey Tenderloins
Ingredients
1/4

Cup

Reduced Sodium Soy Sauce

4

Tsp

Vegetable Oil

1

Tsp

Sugar

1

Garlic Clove, minced

1/2

Tsp

Ground Ginger

1/2

Tsp

Ground Mustard

32

Oz

Turkey Breast Tenderloins
Instructions
In a bowl, combine the soy sauce, oil, sugar, garlic, ginger and mustard.

Pour 1/4 cup marinade into a large resealable plastic bag and add the turkey. Seal bag and turn to coat.

Refrigerate for up to 4 hours. Refrigerate remaining marinade for basting.
11. Maple Mustard Rosemary Grilled Turkey Tenderloin
If you're looking for some classic fall flavors to go with your grilled turkey, this recipe from Nourished Not Famished is perfect. The blend of piney rosemary with the sweetness of seasonal apples is balanced exquisitely with the mustard flavor. It's a fall festive recipe that can be made easily on your tailgating grill.
Maple Mustard Rosemary Grilled Turkey Tenderloin
Ingredients
2

Turkey Breast Tenderloins

2

Tbsp

Avocado Oil

2

Tbsp

Dijon Mustard

2

Tsp

Real Maple Syrup

1

Tbsp

Chopped Fresh Rosemary

Splash Of Soy Sauce
Instructions
Combine oil, rosemary, maple syrup, mustard, and soy sauce. Pour over tenderloins and spread to coat evenly.

Marinate tenderloins in refrigerator for at least two hours, if possible. If you don't have time to marinate that long, aim for 15-30 minutes if you can. It's still gonna taste great.

Cook on the grill at medium heat, approximately 8 – 10 minutes per side. Be sure to cook until internal temp hits 165 degrees Fahrenheit.

Let the cooked turkey rest for a few minutes before slicing (and maybe you could take a few minutes of well-deserved rest, too?). This allows the juices to redistribute throughout the turkey so that it can retain the juices rather than flow out onto your cutting board.
12. Grilled Turkey Burgers
There aren't really any rules when it comes to what to serve on Thanksgiving. That's what we love about this recipe for grilled turkey burgers. Not everyone loves turkey, but everyone does love a great burger. Seasoned perfectly and topped with everyone's favorite fixings, this non-traditional main dish might be exactly what your Thanksgiving menu is missing. This is also a great recipe to make at any tailgate for healthy eaters.
Grilled Turkey Burgers
Ingredients
1 1/3

Lbs

93% Lean Ground Turkey

1/2

Medium

Yellow Onion, finely grated & squeezed of excess moisture

2

Cloves

Garlic, finely chopped or grate

2

Tbsp

Mayonnaise

2

Tsp

Worcestershire Sauce

1 1/2

Tsp

Kosher Salt

1/2

Tsp

Ground Black Pepper

Oil, for the grill grates

For Serving: burger buns, cheese, choice of toppings
Instructions
Prep
Line a baking sheet or large plate with parchment paper, wax paper, or aluminum foil. Set aside.

Grate the onion: Arrange a few paper towels out on a cutting board, set a box mixer on top. Run the onion along the sides of the box mixer to grate it into fine, shredded pieces. Once grated, use the paper towel to soak up excess moisture from the onion. Too much moisture will make the turkey burger mixture very difficult to handle, so do not skip the extra 30 seconds it takes to blot the moisture from the grated onion. If your onion seems very wet, you can also wrap it in paper towels & wring out the moisture over the sink.
Grilled Turkey Burgers
Mix the turkey burgers: Add the ground turkey, grated onion, garlic, mayonnaise, Worcestershire sauce, kosher salt & ground black pepper to a large bowl. Using your hands, mix until just combined. Overworking the turkey burger mixture will lead to tough burgers; take care not to overmix.

Form the turkey burgers: Divide the turkey burger mixture into 4 even portions, about 1/3 pound (5.3 ounces) each. Lightly coat your hands in oil (or mist with nonstick cooking spray) & form each portion into a 1-inch thick patty. The mixture will be very wet at this point, so there's no need to fuss over making your burgers look perfect – just aim for forming them into the general shape & size you're after. Set them on the prepared baking sheet.

Chill the turkey burgers: Transfer the baking sheet with the turkey burger patties to the freezer. Chill for at least 20 minutes.

Prepare the grill. Meanwhile, as the turkey burgers chill, preheat the grill for medium-high direct heat grilling, about 450 degrees F. Just before placing the burgers on the grill, generously oil a wad of paper towel. Use grilling tongs to run the oiled paper towel over the grill grates, generously oiling the grates.

Grill the turkey burgers: Remove the turkey burgers from the freezer. At this point they should be quite a bit easier to handle; finish forming them into 1-inch thick patties, using your thumb to create an indent in the center of each patty. Firmly press each turkey burger patty down onto the prepared grill grates. Grill the turkey burgers for 6 minutes per side, or until a thermometer inserted in the center of the turkey burgers registers 160 degrees F. If you'd like to add cheese to your turkey burgers, do so when there are 2 minutes left of grilling time.

Serve: Allow the turkey burgers to rest for a few minutes (residual heat will increase the internal temperature to 165 degrees F) before serving as desired. Enjoy!
These twelve grilled turkey recipes won't just save you time on your Thanksgiving cooking. They will also impress all your guests. For more great recipes using your tailgating grill, make sure to follow us on Facebook, Twitter, and Instagram. We find the tastiest recipes that are fast, easy, and taste amazing.
Let us know your favorite grilled turkey recipe in the comments and Happy a great Thanksgiving!