Last Updated on 04/15/2021 by Inside Tailgating
Yes, you can still grill in Winter. Why would you not? And many of your favorite sporting events demand that you attend in the dead, cold part of the year, So here are some recipes that work well anytime of the year, especially when it is cold out.
Grilled Fish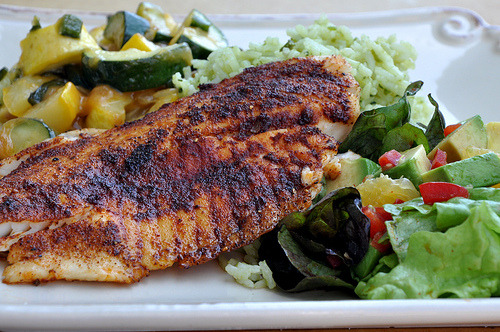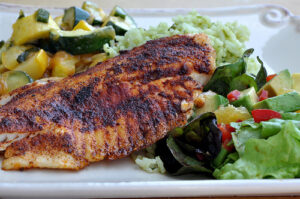 INGREDIENTS
1 teaspoon ground cumin
1 tablespoon dried oregano
1 tablespoon chili powder
2 teaspoons coarse salt
4 tablespoons
1/4 cup extra-virgin olive oil
1/4 cup finely chopped cilantro, plus sprigs for garnishing
2-pound fillet of striped bass or red snapper, skin intact
Lime wedges, for garnishing
DIRECTIONS
Stir together spices and salt.
Mix in olive oil and cilantro.
Use a sharp knife to make shallow slashes about 1 1/2 inches apart into the fish skin
transfer to a large dish and rub both sides with spice mixture.
Refrigerate for 30 minutes to 2 hours.
Preheat a clean, lightly oiled grill to high heat.
Place fish, flesh-side down, on hot grill.
Do not move for 3 to 5 minutes, or until fish is opaque.
Flip using two spatulas.
Cook until fish flakes slightly when pressed, about 5 to 7 minutes more.
Transfer fish fillet to a plate. Set aside to cool slightly.
Place on a serving platter, shred fillet with fork into bite-size pieces, and garnish platter with lime wedges and cilantro sprigs.
Serve immediately, or within 1 hour at room temperature.
Charcoal-Grilled Turkey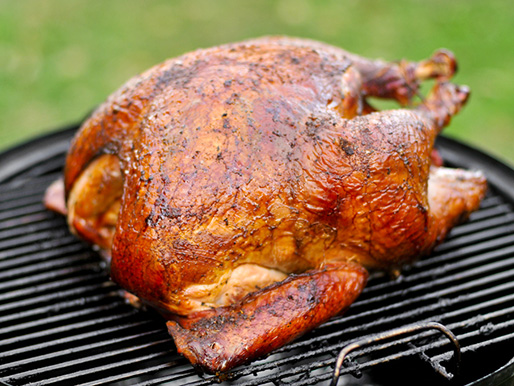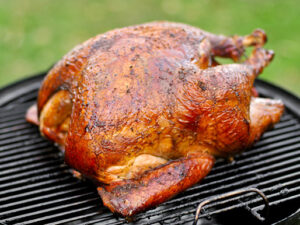 Ingredients:
1 whole turkey (12 pounds)
Extra virgin olive oil
Kosher salt
Coarse ground black pepper
Fresh Herb Butter
1 cup (2 sticks) butter
1/3 cup chopped Italian parsley
1/3 cup chopped green onion tops
2 tablespoons chopped fresh sage
2 tablespoons chopped fresh thyme
2 tablespoons chopped fresh basil
1 tablespoon lemon juice
1 tablespoon Dijon mustard
1 1/2 teaspoon garlic salt
1 1/2 teaspoon celery salt
1 teaspoon black pepper
Instructions:
Place the whole turkey breast side down on a cutting board. Remove the neck and giblets and set aside to make the turkey stock. With a sharp knife or a pair of kitchen shears, cut the turkey down each side of the backbone, removing it completely. Open the turkey and press it flat on the cutting board. Using a sharp knife, loosen the breast bone from between the turkey breasts and remove it with your fingers. It is a dark colored bone that is often called a keel bone because of its shape. This will enable the turkey to open completely flat. Apply a light coat of olive oil to the turkey skin and liberally season the skin with kosher salt and black pepper.
Build a charcoal fire for direct grilling. The heat over the coals should be hot, (approximately 450 to 500˚F).
Melt the butter in a medium sauce pan. Add the remaining fresh herb butter ingredients, mix well, and keep warm until needed.
To make turkey stock, add 3 1/2 cups water, 1 3/4 teaspoons salt, turkey neck and giblets to a medium sauce pan. Bring to a boil. Reduce the heat to medium-low, cover, and simmer for 1 ½ hours.
Place the butterflied turkey directly over the coals, skin side down, and baste with the fresh herb butter. Grill the turkey for 5-7 minutes or until the skin starts to turn golden brown and begins to crisp. Transfer the turkey to a 10"x10" baking dish skin side up, place it back on the grill, and baste with fresh herb butter. Cover the grill and close the air dampers reducing the cooking temperature to 350 degrees. Cook for 2 1/2 hours basting every hour with the remaining fresh herb butter. The internal temperature of turkey thigh should reach 175-180˚F while the breast meat should reach 160-165˚F. Remove the turkey from the grill, cover it with foil, and let it rest for 15 minutes prior to carving.
To make the gravy, scarp all of the drippings and liquid from the bottom of the roasting pan into a small bowl. Skim the grease from the top of the liquid. Pour the seasoned liquid, about 3/4 cup, into a small sauce pan. In a small bowl, whisk the 2 tablespoons water with the cornstarch until smooth. Add the cornstarch slurry and 2 cups of the pre-made turkey broth to the sauce pan and heat. Serve drizzled over the turkey or on the side as table gravy.
Serves: 10