At Inside Tailgating, we independently select and write about stuff we love or want to try out and think you will too. As a participant in the Amazon Services LLC Associates Program, and other affiliate advertising programs designed to provide a means for sites to earn advertising fees by advertising and/or linking to their websites, such as Amazon.com, we may receive a commission on sales or other compensation through those links on this page. It is at no additional cost to you, but we gotta pay for our tailgates somehow…
It seems a little weird when we say this but 2021 is wrapping up. It's been a long strange year, so we need to say goodbye properly. What better than to host a tailgate party at home for New Year's? Tailgating is our favorite activity and it makes a lot of sense to host a tailgate for New Year's Eve. There's fun, food, and friends–all the ingredients for a great time. Why not say goodbye to the old year and kick the year off right? Here are our tips for hosting a New Year's themed tailgate party at home.
Get Into The Spirit
Champagne is a necessity on New Year's Eve. This seasonal champagne cocktail is a tasty way to toast the New Year's. Plus, Ancient Greeks believed that pomegranates were lucky. It can't hurt, right?
In keeping with the "healthy" new year's resolutions here at Inside Tailgating, why not create this delicious pomegranate cocktail for your New Year's tailgate or football-watching party. We turned to a blog from www.winefolly.com for the breakdown.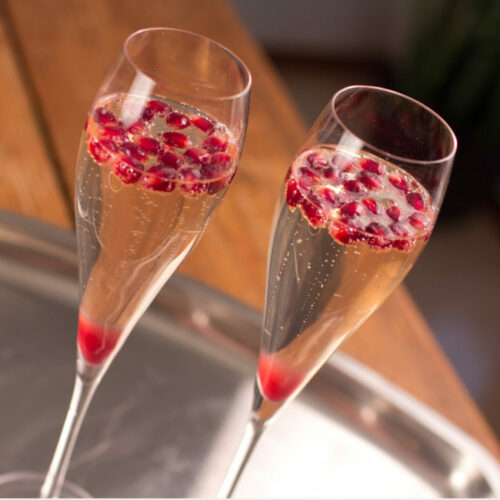 Print Recipe
Pomegranate Champagne Cocktail
Ingredients
1

Cup

Sugar

1

Cup

Filtered Water

1

Large

Pomegranate

1

Bottle

Sparkling Wine (Prosecco)
Instructions
Remove the seeds from the Pomegranate, strain, and set aside. Stir the sugar and water together in a saucepan over medium-low height until the sugar dissolves. Add about 1/2 of the pomegranate seeds into the saucepan and let them simmer on low for 5 minutes before crushing them with a fork or potato masher. Pull from heat and let the mixture macerate for another 5–10 minutes before straining and reserving the liquid.

Put a teaspoon of pomegranate simple syrup in the bottom of a flute and cover with a spoonful of fresh pomegranate seeds. Hold the glass at an angle when filling with sparkling wine so it doesn't disturb the simple syrup on the bottom.
"Pomegranates ripen in the winter time, which is why they're a great seasonal choice for a NYE Champagne cocktail. This recipe was the winner because it's simple, has a lovely fruity-but-dry taste, and the buoyant seeds are fun to eat. Technically, this drink is a Pomegranate Prosecco cocktail, because that's the sparkling wine we would absolutely recommend. Overall, this drink is very subtle and classy."
Don't Forget The Morning Cocktail
When you're picking up alcohol for the tailgate party at home, don't forget to grab some vodka for your morning bloody mary's–or in this case some tequila. Bloody Marias are similar to a bloody mary but are made with tequila instead. We love this recipe because it also uses a little BBQ sauce.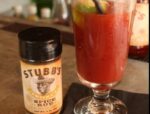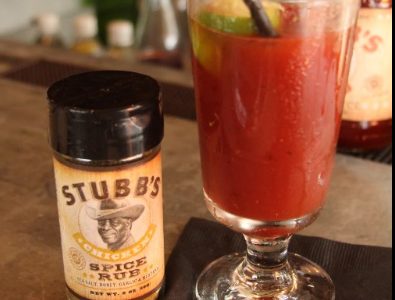 Print Recipe
STUBB'S BLOODY MARIA
Ingredients
1 1/2

Oz

Silver Tequila

1/2

Oz

Employee's Only Grenadine

1

Tsp

Stubb's Bar-B-Q Spice Rub

4

Oz

Blood Mary Mix (spicy is recommended)

Lime Wedges (for garnish)
Instructions
In a tall glass, add all ingredients. Fill glass with ice. Roll mix once back and forth between another glass. Squeeze one lime wedge into the glass and use as garnish.
Notes
Recipes developed for Stubb's by "Charlie" Shusaku Shiroyama, Principle Barkeep at Haddingtons Restaurant & Bar[1] located at 601 W. 6th Street in Austin, TX. www.H
Set Your New Year's Resolutions
New Year's resolutions are a traditional way to set intentions for the year. Resolutions are usually based on self-improvement and aspirations. We love those resolutions. However, we like to do things a little differently here.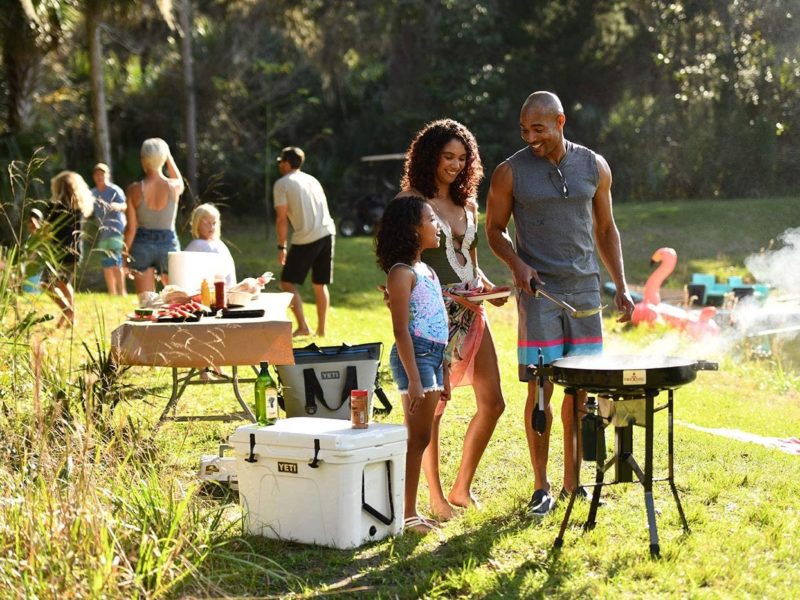 To heck with the New Year's resolutions about losing weight and getting organized, why not spend 2021 upping your tailgate game? Inside Tailgating wants to help you make, and keep, some tailgating resolutions that are actually fun to achieve and that collectively will make your tailgate – or homegate, for a while – the talk of your friends and family.
Tailgating Resolutions

1. Try at least one new recipe each month
Burgers and brats in the backyard getting a little tired? Why not branch out with some recipes from celebrity chef Eddie Jackson? The former NFL cornerback who is also a friend of Inside Tailgating, is the perfect source.
His cookbook "Game-Day Eats" takes tailgating-friendly recipes that everybody likes and adds a twist, giving them just enough of a stretch to impress guests with your new culinary skills. The "100 recipes for Homegating Like Pro" include everything from Pineapple-Cochujang Short Ribs to Three-Pepper Chicken Sandwiches.
2. Break out some new yard games
When it's a similar group of friends or family at every gathering, to play it safe during COVID, a good way to change the vibe is to add a new game to the mix. We suggest CupCheck, a new disc game invented by former Angels reliever Kevin Jepsen, now CEO, and three of his pitching buddies: Alex Cobb, Kirby Yates and Matt Andriese. Ballplayers, and pitchers especially, know a thing or two about killing time with some good clean fun.
You play CupCheck with cups set up on top of a pair of six-foot poles that are lined up 20 to 25 feet apart, depending on skill level. Players score points by either splitting the poles without knocking a cup off, hitting a pole and knocking cups off, or catching a falling cup knocked off by an opponent.
3. Make a fashion statement and stay warm at the same time

You can stay both warm and hip this winter at your outdoor party with a – well – hot new look from Gobi Heat products. This heating clothing takes the cozy comfort of an electric blanket and makes it wearable! Whether you're in a jacket, beanie, socks, gloves or a vest, your friends will wonder why you're not the slightest bit chilly. In fact, you might want to have an extra item or two for guests to try out.
4. Sign up for a food or beverage subscription
Take the pressure off planning for your next tailgate by planning well ahead the easy way. Go tried and true with a monthly or bimonthly package from Omaha Steaks, which can make either a tailgate or a romantic dinner for two, a night to remember. Or serve up some of the finest craft beer from around the country with a subscription with the Craft Beer Club.

It's a great way to do some taste-testing in a small setting and explore a wide variety of new beers. Each month (or every two months, or quarterly) you receive a 12-pack with two different craft beer styles each from two craft beer companies (3 beers of each style) from different parts of the country.
5. Branch out from the same ol' barbecue grilling

Try a new style of outdoor cooking with a FIREDISC portable propane cooker. "Plow disc" style grilling is a super easy way to cook for a lot of people without a lot of fuss. You can take care of an entire meal on one cooking surface, whether it's grilling the meat, veggies and buns for a Chicken Philly Cheesesteak over the multi-teared heat areas or eggs and bacon, sausage, eggs and French toast for a brunch style menu.
6. Go big on team spirit
So you can't actually go to the game right now but one way to satisfy that urge to celebrate and honor your favorite team is to go all the way with team garb for everything you can think of. We're not just talking about the usual sweatshirt and hat, but how about facemasks, or a personalized banner like one that says "Welcome to Dallas Cowboys Country Home of (Your Name)…" or a grill or firepit adorned with your favorite team's name?
7. Play it safe
Set a goal for keeping your homegates COVID-free and back it up by setting up hand-washing areas, promoting social distancing, and keeping your guest list small. Spread your party out over different parts of the yard, patio, deck and occasional indoor areas by using furniture setup as the guide.

Whether it's setting up a yard game to encourage guests to head farther out in the yard, starting up the firepit to keep a few guests toasty in another outdoor area, or spacing out coolers full of readymade beverages like spiked seltzers or the latest Moonshine. Our friends at Party Shacks, maker of portable luxury suites, gave us some of those ideas and others after safely hosting a private tailgate before the Georgia-Florida football showdown in the fall.
8. Bring tailgating home
Now, with the marvels of technology that we have, it's easy to watch most anything from home. So, the trend of homegating is on the rise. While traditionalists may prefer tailgating, modern families can take advantage of all the tailgating fun at home. Homegating takes out the hassle of traveling, traffic and setting up equipment before an event. What you're adding is comfort and convenience, while still finding a great way to escape the daily grind and enjoy community and fellowship.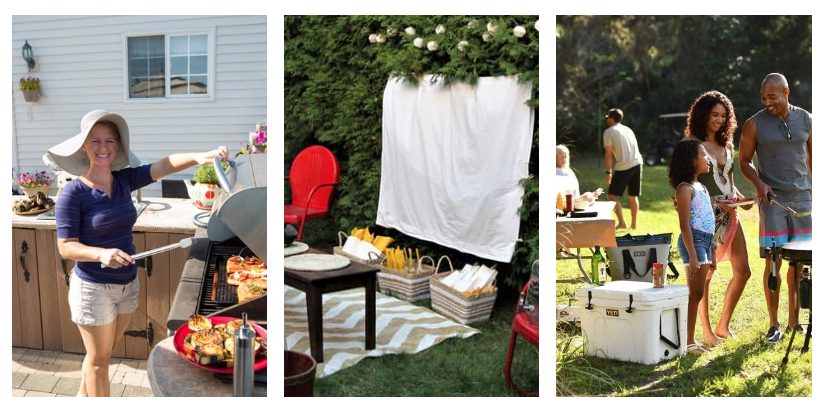 9. Stay up to date on the latest tailgating products and trends
The best possible way to do that is by staying tuned in to Inside Tailgating, whether it's through our monthly e-mail subscription, logging onto our website, or following us on social media. Follow us at Inside Tailgating on Facebook or Instagram, or @TailgateWithUs on Twitter. We'll keep ideas like these and much more coming all year long, from one tailgating season to the next, with the latest in gear, expert advice, news and more.
Check out our New Year's Tailgating Resolutions, which includes everything from ideas on what to serve, what to wear, what trends to try and how to keep guests safe and happy!
Up The Ante On Your Resolutions
When hosting your tailgate party at home, it's great to share your resolutions. However, why not make some plans with everyone? We've put together a great bucket list for tailgaters of some of the most exciting destinations in sports.
Need to add some spice to your new year's resolutions? Bored with the regular ol' bucket list. Then check out Inside Tailgating's 10 Best Thrills for your tailgating to-do list in the new year.
Raider Nation Tailgate Party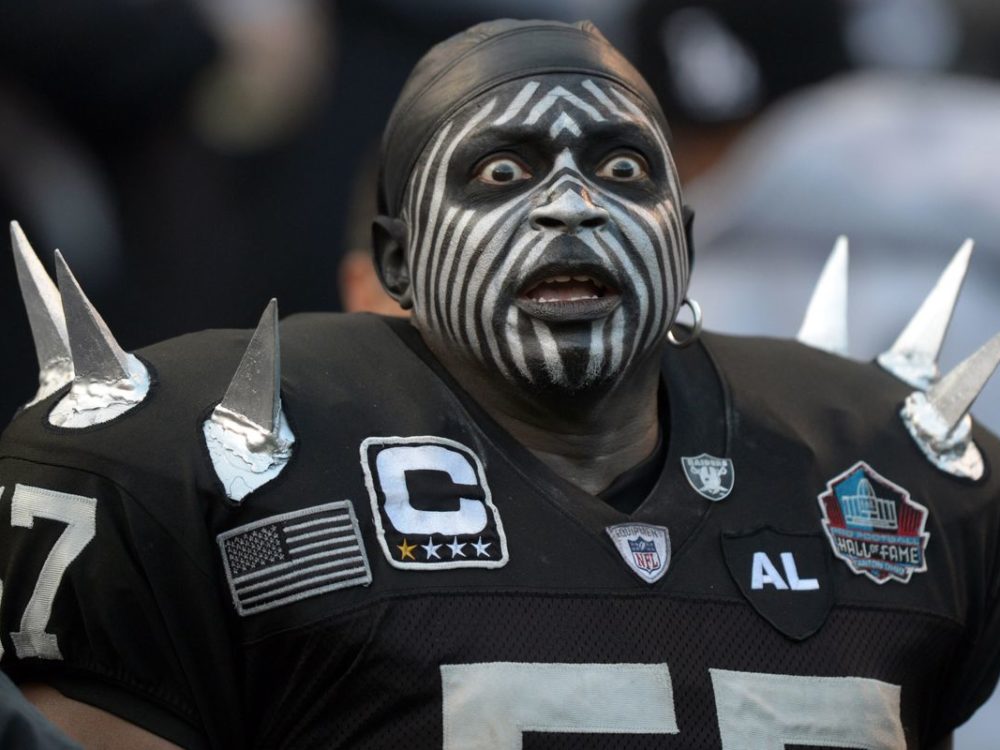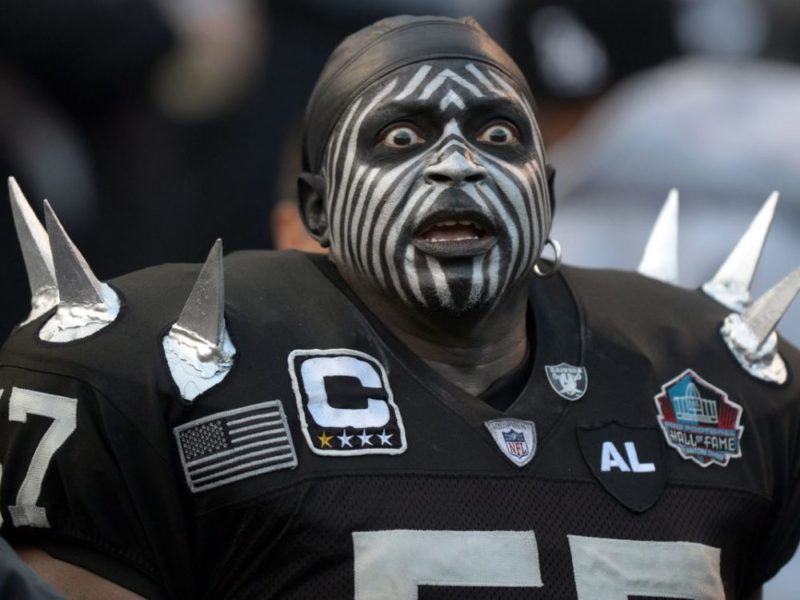 But you better go fast. The Raiders' lease with the Oakland Coliseum is up in two years and the team has gotten approval by the NFL to move to Las Vegas as early as 2019, or when their new stadium opens in 2020. Shiny and new are hardly words you associate with the "Black Hole," the South end zone section where Raiders fans don face paint and metal spikes worthy of a Kiss concert, and strike a little fear and ferociousness into the game, not to mention their pre-game parties.
We're with Tom Hanks, a die hard Raiders fan, who said, "You cannot take the Silver and Black, put them in an air-conditioned dome in the desert, make them play on artificial turf within a stone's throw of the fountains of Caesar's Palace, and call them the Raiders." So go share in some Raider revelry before they morph into something else.
Pocono Raceway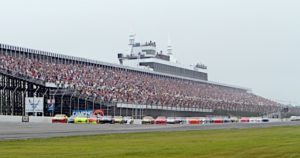 What's not to love about the "tricky triangle?" Pocono may not be the biggest or most storied track in NASCAR but you've got to admire its uniqueness. Where else are you going to find "Long John," the 1,000-stall toilet facility designed to eliminate the traditional sports nightmare – a bathroom line. According to the Pocono website, "We have no illusion of becoming the biggest, richest or the most famous racetrack in the world. All we want is to be the prettiest, friendliest and cleanest, and to have fun along the way with all of our loyal fans these past 32 years."
The rebuild of 1990 brought the "Paddock" where fans come within 56 feet of the stock cars. Another cool thing is how green Pocono has gone. In 2010 Pocono became the largest solar-powered sports facility in the world after installing a 25-acre "solar farm," which powers the racetrack and another 300 homes.
NFL Draft
Three years ago, the league decided to take its NFL Draft on the road and outdoors after holding it up for 50 years in New York in places like Madison Square Garden. Fresh air, especially in April, has proven a much better alternative.
More than 200,000 fans gave their approval two years ago, showing up over the three-day event in Chicago – its second year at Grant Park – and more than 100,000 lined Benjamin Franklin Parkway in Philadelphia for the first round alone this past April. It's a great way to get a three-day fix of football in the offseason, meet a blend of fans from every team, and say you were there, when the next big star became a member of your team. The 2018 locale is still up for grabs, but Dallas and Philadelphia are front-runners.
Baseball Hall of Fame Induction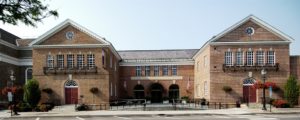 This one might come from out of left field but shouldn't it? Cooperstown, N.Y. is a little slice of baseball heaven, and it's never more vibrant than when new Hall of Famers get their own piece of immortality. July in the foothills of the Catskills Mountains is downright pleasant. The legends parade down Main Street on Saturday gets you up close to baseball's biggest stars.
A visit to the Hall of Fame Museum is like taking a trip back in time, as is the whole weekend really. Camping or RVing is probably easier than booking a hotel or bed & breakfast, especially in years with large induction classes. That just provides all the more impetus to get up early Sunday to reserve your space in the beautiful green pasture behind the Clark Sports Center for the ceremony.
Rolex 24 at Daytona
Anybody can tailgate a run-of-the-mill NASCAR race and make a weekend of it. But what about tailgating for a race that lasts from sunrise one day until sunrise the next? 24 Hours of Daytona in January will test your tailgating will, your grocery list, not to mention how well you get along with your fellow tailgaters.
This is not for the faint of heart – especially if you don't have access to an RV – but part of the fun too. Daytona has ready-made places for both RVs and tents. Sleeping some should be fair game, though not exactly easy with the roar of engines close by. The drivers get to tag team, so we think tailgaters should too. Just make sure everybody is up for the finish. How often do you get to cook breakfast on your grill?
Lambeau Field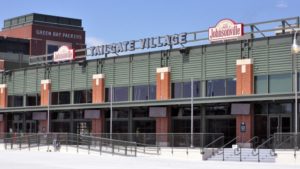 Tailgating for a Green Bay Packers game is storied and special. People are friendly – even to opposing fans – and the beer and brats are second-to-none. Yes, there's a good chance the weather will be cold too, maybe even frigid. But the Packers have built the new "Johnsonville Tailgate Village" which opened this summer, for any thin-skinned visitors from the south or fans looking to tailgate without the hassle.
It's 13,242 square feet of indoor space, complete with live music, Packer alumni autograph sessions, 35 plasma TVs and whatever else you need to get psyched up for the game. It's also free admission for fans with or without game tickets.
The Grove
Granted, it's hard to find a bad tailgate in SEC Country, but The Grove is the one to beat. And Ole Miss has actually had decent football in recent years to match its party scene. The Grove attracts some 100,000 fans each game to a sea of tents in a picturesque 10-acre on-campus setting beneath oak and maple trees. Oxford celebrates the charm of the Old South, with patrons in pearls and neckties, serving on silver platters and mingling beneath tent-adorning chandeliers. Ole Miss also prides itself on bringing in trailers for a state-of-the-art portable bathroom set-up that is also aptly-named: the Hotty Toddy Potties.
Kentucky Derby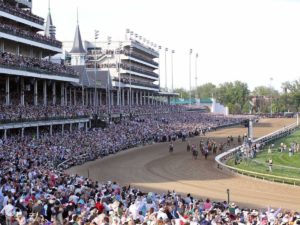 The most exciting two minutes in sports is preceded by one of the biggest parties in American sports. It's tailgating without the car – unless you are like the diehards who tailgate in lots several miles away before taking the shuttle to Churchill Downs. The infield there has everything you need, food and drink venders, mint juleps and the best people-watching in sports, just for the women's hats alone. And where else is it downright fashionable to gamble? "The run for the Roses" – the longest running sporting event in the U.S. dating back to 1875 – is a must, as is the mint julep and at least an attempt at singing "My Old Kentucky Home."
Bristol Motor Speedway
With its short track, steep banks, and 160,000-plus fans packed into the grandstands on the backstretch, Bristol brings pure racing excitement. Did we mention that it's also loud? The welcoming atmosphere, good camping setup and convenient RV hook-ups make it tailgating-friendly as well. You get a taste of Tennessee in this border town and can still drive across the state line to next-door neighbor Bristol, Va. And where else are you going to see a race hauler parade of some 44 semi-trucks cruising down Highway 11? Talk about a little boy's dream. It's pretty cool for grown-ups and NASCAR fans too.
Clemson's Death Valley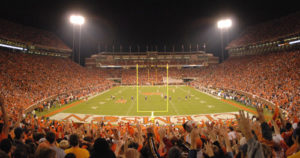 You almost have to see it to believe it, so we think you should. This quaint South Carolina town turns orange every home Saturday in the fall, with excitement growing every hour until the team bus unloads the Tigers at the top of the west end zone in "Death Valley" and players touch Howard's Rock before running down the hill to ear-splitting roars from the crowd, a cannon shot and about the 15th time you've heard "Tiger Rag" already. An orange city of some 100,000 people on game days turns this quaint Clemson town of 13,000 into a tailgating hotbed that, for many, lasts from sunrise until Sunday morning.
We love hosting a tailgate party at home for New Year's and we hope you will as well. For more ideas and tips for the family, be sure to follow us on Facebook, Twitter, and Instagram. Also be sure to check out our Amazon Storefront.
Happy New Year and we'll see you in 2022!