Last Updated on 04/15/2021 by Inside Tailgating
It is not Spirit Thursday, but I have a thirst for some interesting drink choices. So expect two straight days of spirit drinks. We have covered pisco on Spirit Thursday before. It can make a nice twist at your event. It's easy and delicious and is a great base to be used in place of other spirits.
Pisco Portón is versatile and mixable and can be consumed neat or with traditional mixers. We recommend the following to capture the spirit of Peru and enjoy the bold, smooth flavor of Portón. And who is not up for some autumnal deliciousness at your next tailgate.
Autumn Sparkler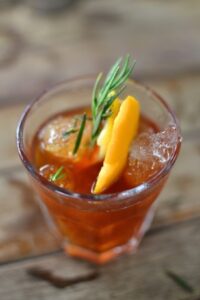 2 oz. Pisco Portón
0.5 oz. Fresh lemon juice
1.25 oz. Fig preserves
2 oz. Sparkling wine
Fresh rosemary sprig and orange peel
Combine Portón, lemon juice, and preserves in a shaker and shake with ice.
Double strain over large ice in rocks glass.
Top with sparkling wine.
Garnish with rosemary sprig and orange peel.