Whether it's charcoal, gas or especially for cooking sausage, we at Inside Tailgating have got you and your grill needs covered! Here are our recommendations for ten of the best and most user-friendly grills you can find on the market. This article was featured in our 2017 Fall Issue, which can be accessed below or alongside all magazine issues here: https://issuu.com/insidetailgating . Enjoy!
Inside Tailgating' Magazine's 2017 10 BEST GRILLS:
Here are ten grills of all shapes, sizes and power sources to get fired up about heading into this tailgate season.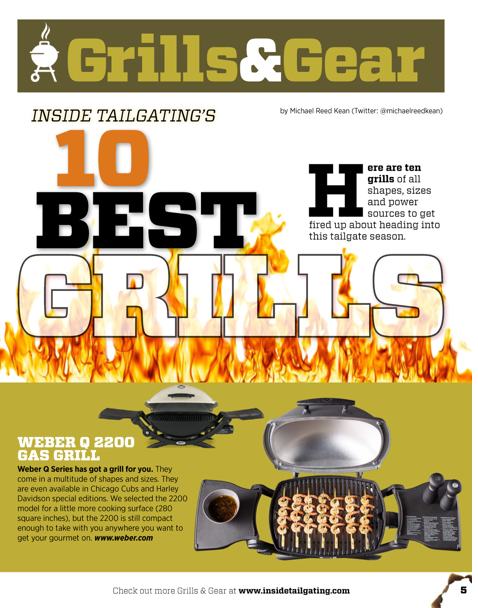 WEBER Q 2200 GAS GRILL
If you can't identify the correct Weber Q Series grill for you…then there may be a problem. They come in a multitude of shapes and sizes. They are even available in Chicago Cubs and Harley Davidson special editions which is very exciting as well. We selected the 2200 model for a little more cooking surface (280 square inches), but the 2200 is still compact enough to take with you anywhere you want to get your gourmet on…weber.com
BIG GREEN EGG MINI MAX
Ceramic kamado-type grills are heavy for a reason. Weighing in at a svelte 76 pounds, the MINI MAX is definitely doable. You'll have 133 square inches of cooking surface in one the best grills on the market. With an easy-to-grip carrier included…it may be worth the workout to take the MINI MAX on the road!! Your diners, friends, and guests will thank you. Eggsplore the possibilities at biggreenegg.com
RANCH HAND SANTA MARIA GRILL 
Are you looking to go big and rock a grill with western-style flavor? This 36-inch by 21-inch freestanding, wood-fired masterpiece might be just what you need. JD FABRICATIONS BBQ COMPANY out of Santa Maria, California offers a few different sizes. Some have different steel thickness options on the firebox and wheel upgrades as well. Take a peek to see their other amazing models and products…GO HOG WILD!!! jdfabrications.com
UNIFLAME ELECTRIC GRILL EBT1451W
Sometimes small portable electric grills make the most sense: less mess to clean up and they are efficient at what they do. The UniFlame Electric Grill from Blue Rhino caught our attention. You can find it at Walmart or at BlueRhino.com.
NAPOLEON TRAVELQ 2225 PORTABLE GAS GRILL IN ORANGE
Looking for some color in your life? The TravelQ will brighten your day while also making getting ready to grill on gameday a whole lot easier. With 10,500 BTU and 225 square inches of cooking surface, the TravelQ is unstoppable. napoleongrills.com
CHAR-BROIL AMERICAN GOURMET PORTABLE CHARCOAL GRILL
This is another sweet little smoker that has 250 square inches of grilling space, side vents, and a removable charcoal drawer for easy clean ups. The sturdy construction is highly touted and for table top grilling how can you go wrong? The grates are heavy-duty cast iron which always give the avid grillers the home field advantage. charbroil.com
WEBER 14-INCH SMOKEY JOE CHARCOAL GRILL
One of the most popular grills being used by real tailgaters on every gameday; the SMOKEY JOE is lightweight, portable, and up to any grilling task. Everyone should have one of these magnificent mini-kettle grills in their arsenal. You can use it to cook whole chickens, make a few quick and easy burgers, or to keep your backup coals ready to go! Don't forget to get your SMOKEY JOE BAG as well to keep your grill safe and snuggly…weber.com
JOHNSONVILLE SIZZLING SAUSAGE GRILL
Here is a hot little number. The Johnsonville Sizzling Sausage Grill is the best way to help get your brats' game faces on!! No splatter and in 15 minutes your sausages are done. sizzlingsausagegrill.com
CHAR-BROIL KAMANDER CHARCOAL GRILL
If you are looking for perfect temperature control in a stylish and sturdy kamado-type grill… here it is. The Kamander has insulated double-wall steel construction which seals in heat and moisture. The grill heats up quickly and evenly, and it creates consistent temperature control to provide you with the ultimate grilling experience. charbroil.com
55 GRILLS MODEL 303
55 Grills out of Gilbert, Arizona specializes in custom towable grills. They have three insanely awesome models to choose from. Model 101, Model 202, and Model 303 are all rugged and well-constructed mobile grills that can be branded for your own business or with the logo of your favorite team. The 303 boasts twice the grilling surface with a 60 gallon cooler feature to keep your drinks cold chillin' while you're grillin'….perfect!! Check out the Model 303 gallery at 55grills.com.