Inside Tailgating recently kicked off a new monthly series called our "Select 6." We are picking everything from our favorite portable grills, RVs, and coolers to the best barbecue sauces, burger recipes and seasonal beers. If it's tailgating-related, we have an opinion and we want yours too! Each month we will name our "Select 6" and then turn it over to you, our readers, the front-line tailgaters, to vote for your favorite. We will then republish the Top 6 based on your input and share it across our website and social media platforms. Without further ado, the summer is heating up and July 4 celebrations beckon. Here are our Select 6 portable grills as chosen by our expert tailgater Ryan Alessio.
Coleman RoadTrip LXE Portable Propane Grill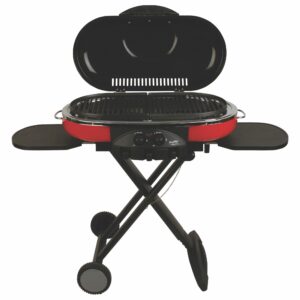 The Coleman RoadTrip LXE is easy to use and perfect for larger tailgates. The two 10,000 BTU burners create a fantastic cooking surface and evenly distribute heat across the cooking area. The RoadTrip folds up easily and makes transporting hassle-free.
Napoleon TravelQ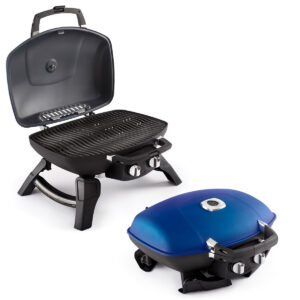 One of the best features of the Napoleon is that it's lightweight. This two-burner design comes in at 20 pounds which makes it super easy to pack up and carry to your tailgate destination. The grill also has accessory options such as side tables and a folding stand.
Weber Jumbo Joe Portable Grill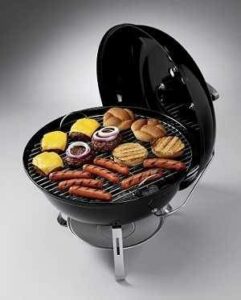 This is a charcoal grill for tailgaters who love that extra flavor charcoal provides. The "Jumbo Joe" has a large 18 inching cooking surface which allows for multiple items to be cooking at once. It is lightweight and easy to transport.


Cuisinart CGG-200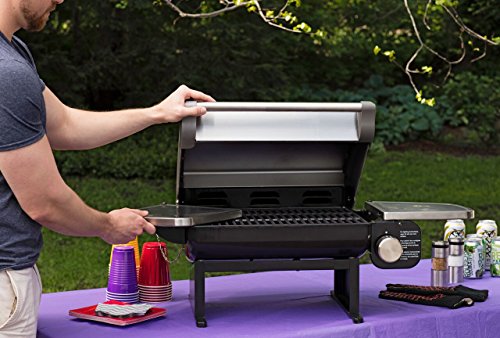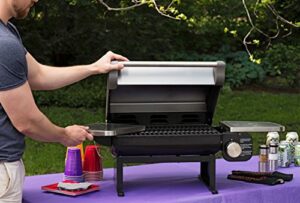 This is a nice grill. The Cuisinart CGG-200 and the RoadTrip are as close as you can get to your standard full-size grill. With its 12,000 BTU loop burner, this grill brings some serious heat to your tailgate and with 240 square inches of cooking surface you can cook comfortably for eight people at once. This grill also has several specialized grilling surfaces available.
Smoke Hollow's Stainless Steel Tabletop Grill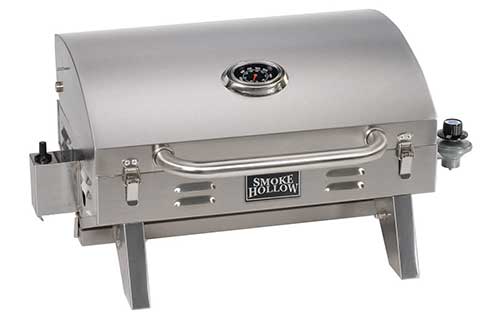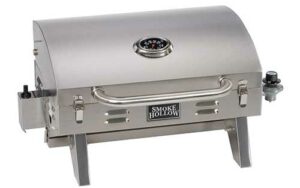 Another 12,000 BTU blowtorch, the Smoke Hollow has more than 300 square inches of cooking space so cooking for a crowd is no issue . This grill is known for its speed, being able to reach high temperatures in a short amount of time. It can hit 500 degrees in about 5 mins. It is also easy to transport, weighing less than 25 pounds.
Lodge L410 Pre-Seasoned Sportsman's Charcoal Grill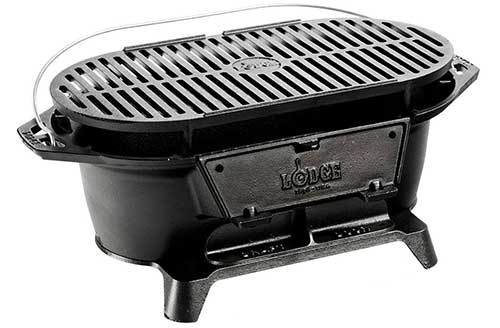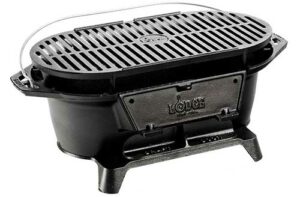 A nice twist on a charcoal grill, this hibachi style grill comes with a cast iron grate that is already seasoned. The entire grill is made of cast iron so it's not the easiest to transport and it gets really hot, so you will need to set this on bricks or the ground so it doesn't cook your table top. But this is cooking-over-the-campfire style fun, perfect for the old school griller.