The Winter X Games kick off their 21st year on January 21st through the 23rd at the Buttermilk in Aspen Colorado. 100 of the best winter athletes from around the world will come together to compete in snowboarding and skiing events. (You can read about all the invited athletes here as well as check out the full schedule). Although the event is completely free to attend and there are some really amazing tailgate parties, not all of us want to spend a day out in the snow. Fortunately, all the Winter X Game events will stream on ESPN, ESPN2, and ABC over the three days. Making the X Games the perfect excuse to have a homegate party.
As Monster Energy Drinks is the official sponsor of the Winter X games, we thought what a perfect time to make some tasty Monster cocktails. We pulled some of our favorites from across the internet to help you plan your menu. No matter if you like vodka, tequila, or whiskey, we've got a Monster cocktail recipe your homegating team will love. Cheers!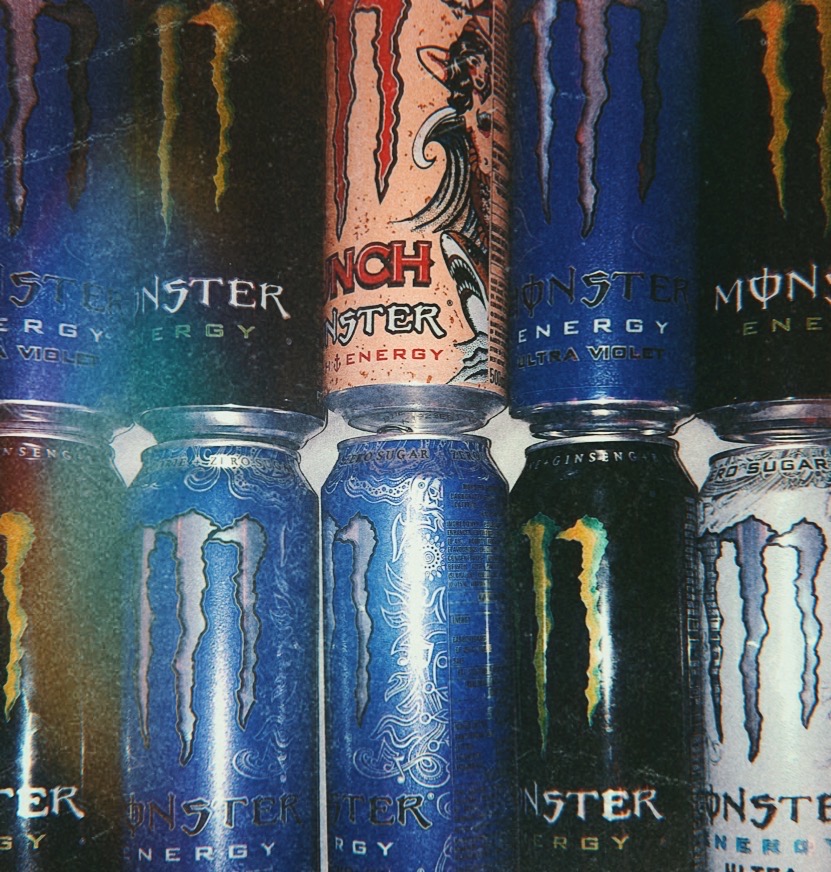 All The Flavors Of Monster Energy Drink
Before we get into the cocktail list, we wanted to make sure you knew all the flavors Monster comes in. That way, the bartenders among us can start crafting their own Monster cocktail recipes. Monster comes in 34 different flavors within nine different varieties. They also make teas, protein drinks, and even coffee drinks. For example in the summer, we love the Rehab Peach Tea with just a splash of bourbon. You can check out all the flavors on their website to get the juices flowing and craft your own unique Monster cocktail.
Nine Monster Cocktails To Serve At Your Homegate
Now that you are all stocked up on your favorite Monster energy drink flavors, here are nine recipes to try at your Winter X Games homegate party:
Breakfast
Ingredients
1.5

Oz

Vodka

1.5

Oz

Kahlua

12

Oz

Coffee

8

Oz

Java Monster Mean Bean
Instructions
Add all ingredients to a large coffee mug and stir.
If you're starting out early, Breakfast is the perfect cocktail to serve. Made with coffee, kahlua, and Java Monster, it'll wake you right up. It's also a warm drink, so it's great to serve on a cold January day (whether you're at a tailgate or a homegate). It's also perfect to serve with your tailgating breakfast and a fun way to greet your guests when they come over.
Magic Mountain Dew
Ingredients
750

ML

Vodka

2

Litre

Mountain Dew

4 – 16

Oz

Green Monsters
Instructions
Pour vodka into pitcher or container and add mountain dew and monsters. Stir together.
If you're serving a crowd, Magic Mountain Dew is a great option. It's a simple three-ingredient punch using Monster, Mountain Dew, and Vodka. Easy to serve, easy to drink, but be careful, this punch will give you and your homegate crew quite a buzz. Make sure to have some extra sleeping space on the couch with this one.
Sound Of The Golden Hurricane Margarita
Ingredients
1 1/2

Cup

Gold Tequila

1/2

Cup

Orange Syrup (see below)

5

Cups

Limeade

1/2

Cups

Fresh Lime Juice

3/4

Cup

Monster Energy Drink
Orange Syrup
1/2

Cup

Water

1/2

Cup

Honey

1

Orange Peel
Instructions
Bring water to a boil and dissolve honey into it.

Reduce heat to low and add in orange peel. Simmer for 5-10 minutes to desired taste.

Combine all ingredients in a pitcher and stir well.

Rim glasses with salt or sugar if desired.

Fill glasses with ice and pour drink over ice.
Margaritas are a homegate staple (probably because it's a great excuse to break out our Margaritaville mixers). This margarita is a classic recipe with a twist. They add a splash of Monster lime-flavored energy drinks. You can make it frozen or serve it over the rocks, however you prefer. Add some chips and queso and you've got the makings of a great party.
Glow In The Dark Cocktail
Ingredients
1

Oz

Vodka

1

Oz

Blue Curacao

Ice Cubes

4

Oz

Maxx Monster Energy Drink

1/2

Oz

Lime Juice
Instructions
Add one ounce of vodka to a fun chemistry beaker, flask, or a traditional cocktail rocks glass.

Add one ounce of blue curaçao and some ice cubes.

Add four ounces MAXX Monster Energy drink.

Add ½ an ounce (a splash) of lime juice. Mix well. Add some dry ice for a fun smoking effect.

This drink will glow in the dark under a black light.
One of the coolest things about Monster Energy drinks is that with some of them you can create glow in the dark cocktails. These are completely safe as they use a blacklight which causes the citric acid (citrus) glow. They are exactly the extreme cocktail to serve for this extreme sport. The best part is there's a number of different ways to make these, so you won't have to add anything new to your bar.
Tennessee Bourbon Monster Crush
Ingredients
2

Lemons, sliced thin

4

Mint Sprigs, fresh

2

Tbsp

Frozen Lemonade Concentrate

2

Monster Rehab Tea + Lemonade + Energy Iced Tea

1 1/2

Cups

Bourbon

Crushed Ice, as needed
Instructions
In a pitcher, or small beverage cooler, place lemons, mint and a little crushed ice in the bottom.

Using a muddler, crush lemon and mint to release flavor.

Add 2 cans Monster Rehab Iced Tea and bourbon. Mix well.

Serve over crushed ice; garnish each glass with a slice of lemon.
We mentioned before that we love to throw a little bourbon into the Monster Rehab teas. This cocktail recipe takes that to the next level by adding fresh mint, lemon, and lemonade. What we love about this recipe is you can really experiment with the flavors. Try adding different flavors of Rehab like the strawberry or orangeade.
Mr. Incredible
Ingredients
3.75

CL

Crown Royal Canadian Whisky

1.5

CL

Pepsi Cola

3.75

CL

Monster Energy Drink
Instructions
Pour whiskey first, then Monster, and add a little cola.
Coming from our neighbors to the North, this popular cocktail uses whiskey, Monster, and Pepsi. To keep it authentic, make sure to use a rye whiskey. Canadians are famous for making their whiskey with rye. We love this love cocktail, it's like an amplified whiskey and coke. However, we're not sure where the name comes from? If you know, let us know in the comments.
Psychadelic Sorbet
Ingredients
1-2

Oz

Green Monster Energy Drink

10

Oz

Cointreau Orange Liqueur
Instructions
For another impressive cocktail to show off at your homegate try the Psychedelic Sorbet. The cocktail is super simple to make as it only contains two ingredients. However, what makes this a homegate showstopper is the fact that it changes color. So when serving, make sure to put the Cointreau into the glass before serving and then let your guests pour the Monster into it for a surprise.
Electric Screwdriver
Ingredients
3/4

Oz

Cuervo Especial Gold Tequila

3/4

Oz

Smirnoff No. 21 Vodka

2

Oz

Orange Juice

1

Oz

Energy Drink

1

Slice

Orange
Instructions
Fill a highball glass halfway with ice. Add Cuervo Especial Gold, Smirnoff No.21 Vodka, orange juice, and energy drink. Stir well. Garnish with orange slice.
Screwdrivers are a classic cocktail for a reason. They're easy to make and are really refreshing. However, if you want to amp up your screwdriver, try this recipe for an electric screwdriver. Adding tequila and Monster energy drink to the standard mix of orange juice and vodka takes this cocktail to the new extremes.
Tropical Monster
Ingredients
2

Oz

Monster Energy Drink

2

Oz

Coconut Malibu Rum

2

Oz

Pineapple Juice

Ice Cubes or Crushed Ice
Instructions
Mix equal parts of first three ingredients, stir well. Pour mixture over ice. Enjoy!
We love a good pina colada at a winter homegate. It warms us up when the weather is cold. Tropical Monster takes pina colada to a new level by adding Monster energy drink. You can add any flavor you want. We definitely recommend Pacific Punch or Tropical Thunder Hydro flavor, but any flavor you love will work.
Monster energy drinks are a great mixer for cocktails. They are great for giving you a boost of energy to get you through your long day of homegating. For ideas on what to serve with these Winter X games cocktails, check out these recipes to help make your party great! Be sure to follow us on Facebook, Twitter, Instagram and check out our Amazon Storefront where we share recipes, reviews, and ideas for delicious items to serve at your homegate.