Last Updated on 08/18/2021 by Inside Tailgating
So it's not exactly a tailgating-friendly environment, when fans can't even drive their cars through the front gates at Quail Hollow for next week's PGA Championship, they've got to take shuttle buses, but as a gal who grew up in Charlotte and is raising a family here now, we've got to take a moment to revel in the fact that a golf major is coming to the Queen City! Who would have thought?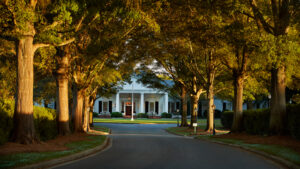 This has been in the works since 2010, so it's almost hard to believe that it's actually going to happen here in a couple of days. But I've seen enough signs go up at my neighborhood YMCA, encouraging us to get excited about sharing our already-busy parking lot with some patrons from nearby Quail Hollow, that I know the time is here. I guess for a piece of history, we can deal with a busier-than-usual lot for a few days. Just please keep an eye out for a mom almost seven month's pregnant with twins toddling toward the front door with a 17-month old. She's just trying to find some relief in a swimming pool, ASAP.
Some 200,000 fans are expected to this tournament, and all of them are going to have to shuttle in from satellite lots or take the light rail, or bike, or hey, walk, if you're lucky enough to live in the gorgeous homes near Quail Hollow. Tickets to all but the first two practice rounds have been sold out for months, according to what I've been reading (and linking here from the Charlotte Observer.) And this weekend they're opening a merchandise "tent" that would put some smallish shopping malls to shame. You can get into the merchandise superstore Saturday and Sunday even without a ticket to the tournament. People 'round here want a piece of history, so I know business will be booming.
I was lucky enough to grow up going to Quail Hollow as a kid – swam on the unbelievably small and winless swim team – and spent many a summer being dropped off in the morning at the pool and not going home until late in the afternoon. (Probably should have spent a little less time in the sun, come to think of it!!!) I didn't play much golf until my 20s, so I missed out on playing more than a couple of holes from time to time with my dad there. I do remember walking the course with my childhood friend Cathy and watching her attempt to fish the lake on No. 17. Yes, Quail used to be a quaint and quiet kind of place. Not anymore! When I was growing up, Quail stopped hosting the Kemper Open after 1979 and there wasn't a tour event held there again until 2003, when the club started hosting the Wells Fargo Championship (formerly Wachovia Open.)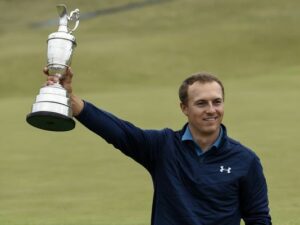 Now a major? This is a whole new ball of wax, and you don't have to be from Charlotte to get excited about it either. All you need is a healthy respect for the game and some rooting interest in Jordan Spieth, who comes in hot off his British Open championship and hungry for a chance at a career grand slam. He's trying to become the youngest to win all four majors throughout his career, at the ripe ol' age of 24.
So yeah, kick back and enjoy hosting some golf-watching gatherings next week or if you're lucky enough to go to the tournament, let me know what it's like. Twin moms-to-be aren't up for walking the course in August heat, but we will be living vicariously through you!