Last Updated on 04/15/2021 by Inside Tailgating
Fourth of July Parties really are the best. What is there not to like? Food, family, nation. It is all there.
What could be more All-American than fireworks, apple pie, and a family BBQ? How about a Deep Eddy Blue Betty cocktail in your hand, perfect for celebrating the red, white, and blue! Dive into this cool and refreshing libation this Fourth of July!
A real Austin original, celebrating the laid back Austin lifestyle, Deep Eddy Vodka is handcrafted with care in the Deep Eddy Distillery in Austin's Hill Country! The fastest growing vodka in the United States, Deep Eddy is breathing fresh air into the mature vodka category while supporting local communities in the true spirit of Austin. With a classic Americana look and feel, Deep Eddy brings casual drinking occasions to life! Deep Eddy Lemon joins four other vodkas this year, including Deep Eddy Cranberry, Deep Eddy Ruby Red, Deep Eddy Sweet Tea, and Deep Eddy Vodka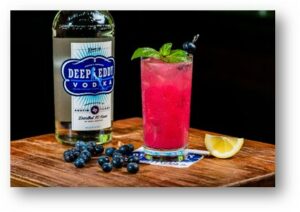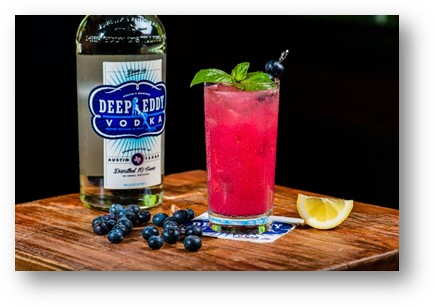 Deep Eddy Blue Betty

Ingredients
¼ oz agave nectar or simple syrup
6 blueberries (muddle)
1 basil leaf (muddle)
¼ oz fresh lemon juice
2 oz Deep Eddy Vodka
2 oz Topo Chico
Blueberry and basil leaf garnish
Directions
Combine first 4 ingredients, then muddle, shake and strain over new ice. Top with Topo Chico. Garnish with blueberry and basil leaf. Enjoy!