Last Updated on 04/15/2021 by Inside Tailgating
We have said many times that any event is a tailgate worthy event. And to us one of the best sporting events every year is under the Friday night lights. High school football is like a mini Super Bowl every week for small towns across America.
But can you tailgate at them?
I would think the normal grill, tent and massive spread would be frowned upon by many school systems. But that doesn't mean that you cannot have a bit of a feast and low key event out in the parking lot before the event. So here are some simple, safe food offerings. And you may want to limit the alcoholic beverages, as you are probably on school grounds. You certainly do not want to end up in detention!
Hot Roast Beef Party Sandwiches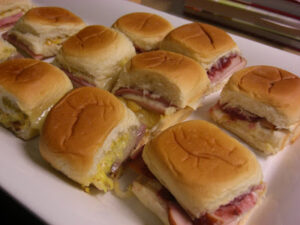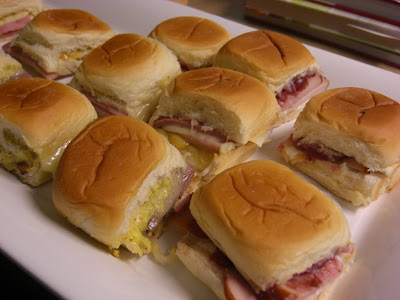 Ingredients
1/2 cup finely chopped walnuts
2 (9.25-oz.) packages dinner rolls
2/3 cup peach preserves
1/2 cup mustard-mayonnaise blend
3/4 pound thinly sliced deli roast beef, chopped
1/2 pound thinly sliced Havarti cheese Salt and pepper (optional)
Directions
Preheat oven to 325°
Heat walnuts in a small nonstick skillet over medium-low heat, stirring often, 5 to 6 minutes or until lightly toasted and fragrant.
Remove rolls from packages. (Do not separate rolls.)
Cut rolls in half horizontally, creating 1 top and 1 bottom per package.
Spread preserves on cut sides of top of rolls; sprinkle with walnuts.
Spread mustard-mayonnaise blend on cut sides of bottom of rolls; top with roast beef and cheese.
Sprinkle with salt and pepper, if desired.
Cover with top halves of rolls, preserves sides down, and wrap in aluminum foil.
Bake at 325° for 30 minutes or until cheese is melted.
Slice into individual sandwiches.
Serve immediately.
Bread Bowl Dip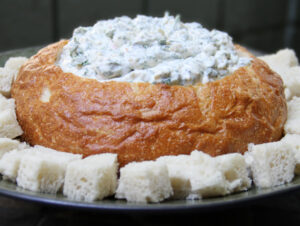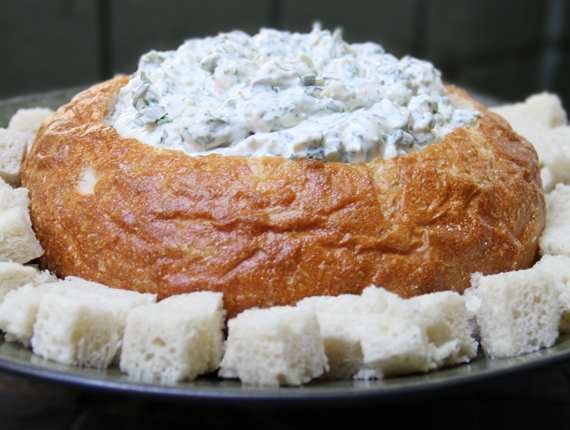 Ingredients
1 pint (16 ounces) sour cream
1 1/3 cups mayonnaise
2 tablespoons dried dillweed
2 tablespoons dried parsley flakes
2 tablespoons dried minced onions
1 (2.25 ounces) jar sliced dried beef, chopped (about 3/4 cup)
2 (1 pound each) round pumpernickel breads
Directions
In a medium-sized bowl, mix all ingredients together except breads.
Cover and refrigerate at least 1 hour.
Slice top off 1 bread and hollow out bread shell.
Pour dip mixture into hollowed-out shell.
Cut second bread and top of first one into 1-inch chunks and use for dipping.