Last Updated on 08/18/2021 by Inside Tailgating
The Indians are back in the World Series for the first time since 1997 and gunning for their first title since 1948, so what better time to bring a little "Cleveland" to your tailgate? To that end, we offer this recipe from Sabe Cleveland for the quintessential Cleveland fare: polish boys. It's polish sausage smothered in barbecue sauce, French fries and coleslaw. Wow.
Breaking it down for you, it's a good idea to start with:
The 'Perfect' Polish Boy Coleslaw
Ingredients
3 lbs coleslaw veggies (either the prepackaged ones or your own blend of shredded cabbages, carrots and whatever else) 1 bottle of your favorite poppy seed salad dressing 1 tsp granulated garlic(often mislabeled "garlic powder") ½ tsp ground smoked black pepper (don't sweat it if you don't have any) ½ tsp ground fine cumin 1 T sweet smoked paprika 1 heaping tsp chili powder ½ tsp celery seed Freshly ground white and black pepper
Directions
In a small bowl, combine all ingredients except the veggies.
Put the veggies into a large bowl.
Fold the dressing into the veggies. (if the slaw seems a little dry, don't worry it will start to moisten as liquid comes out of the cabbage)
Voila! It's that simple. (I recommend letting the slaw rest 20 minutes before serving, this way the water coming from the cabbage will have time to make the slaw a bit more moist)
Now, for Polish Boy itself (Also, from Sabe Cleveland):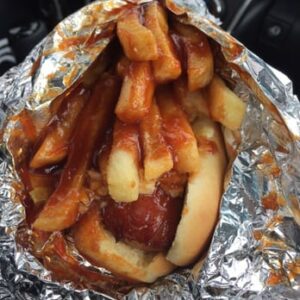 Polish Sausages (cooked, of course) Hot Dog Buns (if you use "Sausage Rolls" it may help to reduce messiness, but what's the fun in that?) The Perfect Polish Boy Coleslaw Your favorite barbecue sauce
Place an empty bun on your plate.
Fill it with a sausage.
Baste the sausage with sauce. (The first sauce layer acts like a glue to help hold the whole thing together. It rarely succeeds, but it's better than nothing.)
Top the sausage with fries (You may combine steps 3 and 4 by topping the un-sauced sausage with saucy fries)
Spoon a few tablespoons of Perfect Coleslaw on top of the fries. (You may need to have one hand stabilizing the bun at this point…)
Drizzle a bit more sauce over the freshly placed coleslaw.
Temporarily forget any and all table manners you may have been brought up with.
Have plenty of napkins on standby.
Enjoy!