Last Updated on 08/18/2021 by Inside Tailgating
So I was curious about what kind of local food and beverage offerings there would be at the PGA Championship this week at Quail Hollow Club here in Charlotte, just a few miles away from where I live. Since I'm seven months pregnant, I can't exactly partake of the local brew right now, but I was still curious if we have come far enough in the production and distribution of craft beer that even the most buttoned-down events, like a major golf tournament, would oblige craft beer lovers and I was happy to see the answer was yes, in this article about what's being served at the PGA in the Charlotte Observer.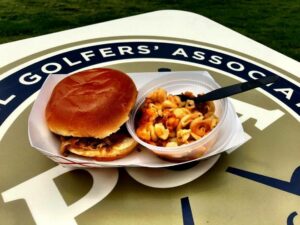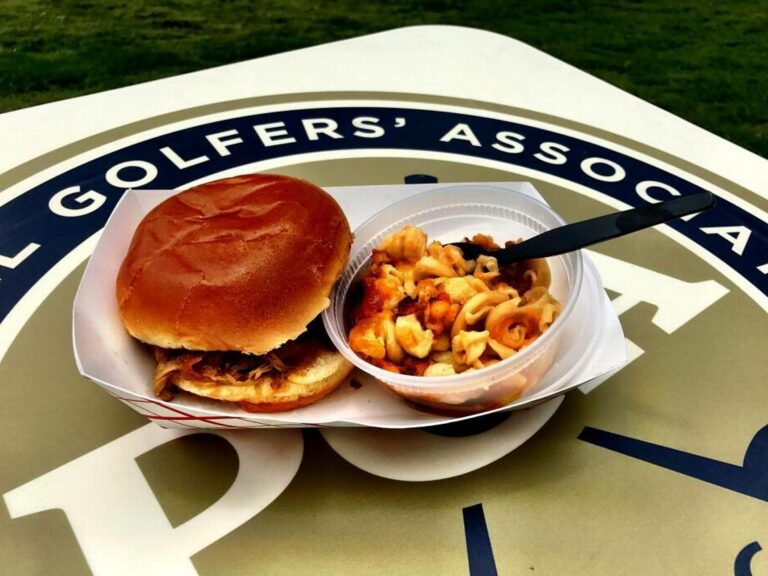 Queen City Q gets the nod for local barbecue and that's not a bad choice. I've eaten it at plenty of Charlotte Knights games at BB&T Ballpark, our local Triple-A affiliate of the Chicago White Sox. My only complaint is they don't serve cole slaw with the barbecue at the ballpark. Not sure how you serve barbecue without cole slaw in the state of North Carolina where it's tradition to slather your barbecue sandwich with cole slaw and eat it together as one big, sloppy juicy mess. I was told by a ballpark server that the reasoning was something about storage of the mayonnaise-based cole slaw, which is a little lame if you ask me. My guess is they have a similar issue at Quail because I'm not seeing any cole slaw in this Observer photograph. But I will say Queen City Q is juicy and tender enough that I still eat it every time I go to BB&T Ballpark, despite the cole slaw snafu!
As for local brews, or at least semi-local, here are a few of the breweries that earned the right to sell their beer this week at Quail Hollow, according to the Observer. Well done, y'al!
Sugar Creek Brewing Company, Charlotte's own!
Catawba Brewing Company which has locations in Morganton, Asheville and now Charlotte.
Appalachian Mountain Brewery, which is located in Boone, N.C.
So if you're out there walking the grounds this weekend, pour one for this mama!