Last Updated on 08/18/2021 by Inside Tailgating
College basketball is over. College football amounts to a couple weeks of spring practice this time of year and if you're lucky, a spring tailgate game to give you at least one excuse to pull out the folding chairs. Not to worry. We at Inside Tailgating are out there searching for excuses to get you out of the house and flipping burgers over your grill. Our latest idea? Major League Soccer.
It's been more than 20 years now since bigtime soccer got a foothold in the U.S., and the league is now up to 22 teams from the 10 it had in its inaugural season in 1996. The two newest clubs added for the 2017 season were Atlanta and Minnesota in Minneapolis-St. Paul. From what we could tell on social media, the scene for the Atlanta United's debut earlier last month was rocking, so we turned to an Atlanta fan for the inside scoop.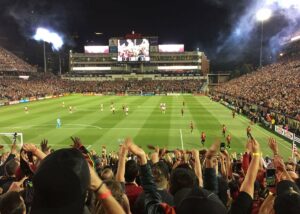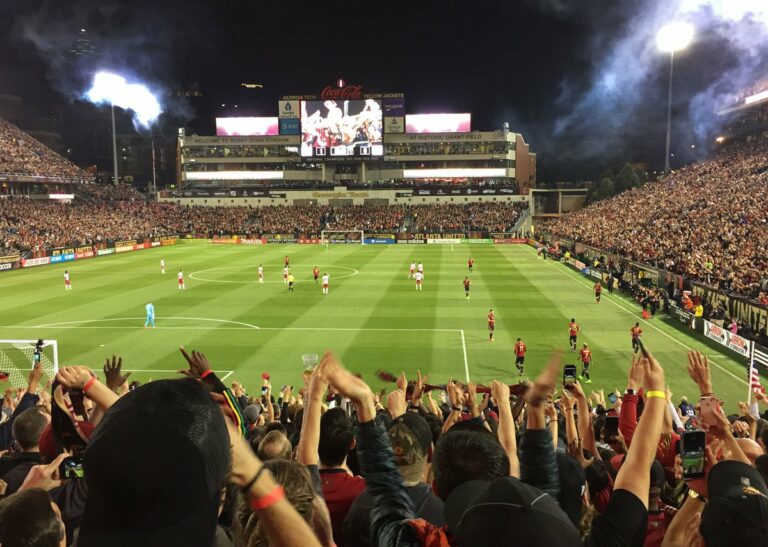 Robert Nix, a longtime Atlanta resident and a serious sports fan (second from right in photo above), tailgated with three of his buddies for Atlanta's first game against the New York Red Bulls on March 5. The games are being held at Georgia Tech's football stadium until the Atlanta Falcons' new Mercedes-Benz Stadium is ready in the fall. That only added to the tailgating atmosphere, Nix said.
The logistics were already in place. There were plenty of police to direct traffic, he said, and port-a-potties conveniently located. He saw people with enough room to break out their Cornhole games and make an afternoon of it.
Nix and his crew went simple with wings, beer, chips and chicken salad and most importantly, they brought enough to share with a family of young fans nearby who hadn't planned ahead.
"It was a great environment," Nix said. "The team played well. The crowd was really getting into it. The only complaints I heard were the beer lines were long and it took 10 to 15 minutes to get into the stadium."
Some 55,297 fans packed into Bobby Dodd Stadium for the first of two straight sell-outs to start the Atlanta United's inaugural season.
"In a typical MLS soccer game, a good crowd is 20,000 to 25,000," Nix said. "They had a good crowd for a Georgia Tech home football game."
But it wasn't the typical football crowd either, Nix pointed out. "You hear a lot of Spanish spoken," he said.
International flavor, all the more reason to try something new. The season runs through the end of October, which gets you right into the heart of football season.