Last Updated on 04/15/2021 by Inside Tailgating
Let's talk grilling. Steakhouse food…good stuff, right? Well, you can get the same results on your own grill—with ManGrate.
Professionals cook with cast iron. BBQ teams compete using cast iron. ManGrates are high quality, 100 percent American-made cast iron grill grates that sit right on top of your existing grates. ManGrates utilize direct heat, so you get an even heating surface with no hot spots. The patented design traps and evaporates oils and fats before they reach the flames.
The unique design ensures juicy, tender meat with no flare-ups and perfect sear marks…every time. Once seasoned, ManGrates are virtually non-stick: Well-seasoned grates resist rust and, if cared for, will last for years. And ManGrates aren't just for grilling meat. They're great for grilling fish, veggies and even desserts!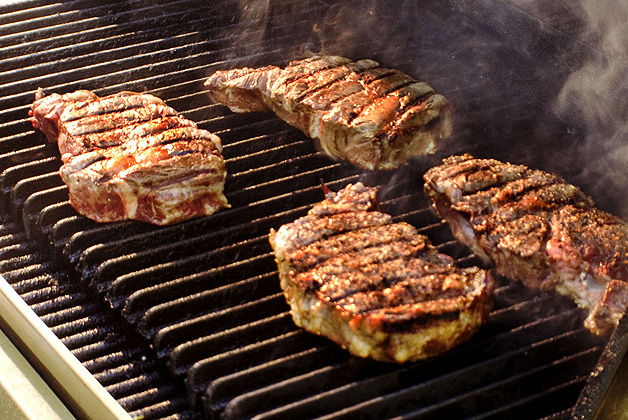 ManGrates are scalable to the size of your grill—each grate measures 15″ long x 4 1/4″ wide x 1 3/8″ high. A pair of ManGrates covers 15″ x 8 1/2″. So go ahead, get two and thanks us later after you devour a perfectly seared steak.
Grilling community raves over ManGrate
If our quick pitch above wasn't enough to make you rush to buy a set of ManGrates, let a few happy customers share their story and seal the deal.
The experts over at Grilling Companion said this: "I've used the Mangrates a few times now and have never had to move the meat once to avoid over-charring. For that reason and the great grill marks, I'll continue to use the Mangrates on my grill at home."
Meanwhile, Jay Prince of BBQ Sauce Reviews said: "I have to say I am really impressed with the ManGrates. "They do exactly what they are supposed to and a good job at that. … Keep in mind though that these are some very well-made and heavy-duty cast iron grates! So as far as cast iron grates of this great quality go they are priced just right. These will make an awesome gift for any griller that loves to show off those beautiful grill marks!"
A "revolutionary" upgrade for backyard grilling
But it's not just the experts who believe in the grilling power of ManGrate and its 100 percent cast iron construction. A quick trip to Amazon proves even the most novice of grilling enthusiats appreciate the impact ManGrate makes on their food.
The top review for the ManGrate system says the product is a must for those who like grilling fish.
Another reviewer deemed the ManGrate "revolutionary." Another implored readers to snag a set for the perfect Father's Day gift. And judging from the review below, it seems the Mangrate belongs on every gift guide:
For tailgating aficionados and homegating masters, the ManGrate is an instant upgrade for your current charcoal or gas grill setup.
ManGrate maintenance: Perfect grilling made simple
When preparing to purchase a ManGrate, keep in mind there is some maintenance involved. Luckily, the steps encouraged my ManGrate will make sure your steaks and chicken have perfects grill marks and exectional flavor for decades.
The ManGrate is virtually indestrubtible at roughly eight pounds per piece. And tho make sure the cast iron holds up for countless meals, it's recomendded you season your ManGrate with non-stick cooking sprays (like PAM); a basting brush and vegetable or flax seed oil; a clean rag and vegetable shortening (such as Crisco); or lard.
After grilling the perfect hunk of meat, make sure to let the grate cool (it will remain very hot for a long time), brush clean, lubricate with non-stick spray, oil or shortening and close the grill lid. Because the product is 100 percent cast iron, your ManGrates will season over time, naturally resist rust and create a non-stick grilling surface as oils and fats seep into the pores and seal the iron.
Find ManGrates on their official site or on Amazon.
*This post was last updated Nov. 27, 2020*