Last Updated on 06/15/2021 by Inside Tailgating
In an exclusive for Inside Tailgating, "Grillseeker" Matthew Eads mapped out a day's worth of meals to be cooked on the grill for those who love to tailgate all weekend long at NASCAR events. Consider it your comprehensive NASCAR tailgate meal planner.
He offers a great variety, proving the point that grilling is for more than just one meal of burger-flipping.
Eads, the former U.S. Marine-turned-foodie, planned a menu for breakfast, lunch and a three-course dinner (including appetizer and dessert) with recipes from his new cookbook "Grill Seeker: Basic Training for Everyday Grilling" and his website. Check it out!
Matthew Ead's NASCAR Tailgate Meal Planner
BREAKFAST: Smoked Eggs and Chorizo Sausage
"Breakfast is far and away my favorite meal of the day, so I have a hard time limiting it just to mornings," Eads told us. "Aside from being delicious, it's a fun change of pace to have a 'breakfast for dinner' day. Add that breakfast is done on the grill, and it increases the fun factor 10 times on this meal.
"This skillet incorporates many of my favorite things, and the quick cook time means your eggs will be kissed with just the tiniest hint of smoke. I prefer the runny yolks of this recipe, but if that's not your thing you can roughly beat the eggs and cream together before putting them in the pan. For those who like the heat, I highly suggest using a dab of your favorite hot sauce on this one too!"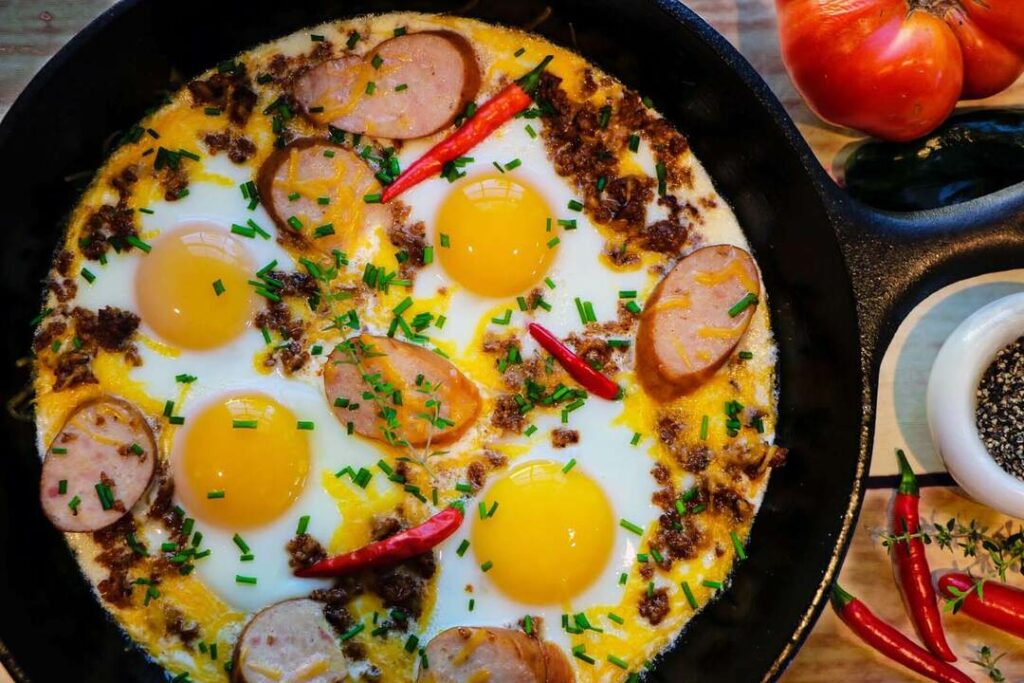 Ingredients
5 – 6 large eggs
½ lb chorizo sausage
crumbled ½ lb kielbasa
sliced ½ cup shredded cheddar cheese
¼ cup heavy cream
2 Tbsp. chives, chopped
1 Tsp. olive oil
½ Tsp. kosher salt
Directions
Light grill and set up for indirect heat, establish temperature at 325° F.
In a 12" cast iron pan, evenly spread olive oil on the bottom and sides to prevent eggs from sticking.
Crack eggs into the pan.
Pour heavy cream all over the egg whites.
Sprinkle crumbled chorizo on egg whites.
Place sliced kielbasa in gaps between egg yolks.
Sprinkle salt over the entire skillet.
Add one wood chunk of your choice to hot coals, (if using a gas grill use a smoke tube with pellets) and place skillet over indirect heat.
Close the lid and let cook for 13-15 minutes till eggs whites are firm and yolks are still a bit runny.
Remove from grill, top with chives and serve hot.
Read more: NASCAR Homegating — 5 Awesome Tips to Enjoy Raceday in Your Own Backyard
LUNCH: Ultimate Grilled Cuban Sandwich
"I'm no stranger to big sandwiches. If you've seen my Instagram account, you'll know I sometimes get carried away, and a single sandwich can often feed a family of four," Eads said about the lunch for his NASCAR tailgate meal planner. "This is one of them; in fact this might be my favorite sandwich to date. The pork is tender, amazingly juicy, and super flavorful from the very simple rub we'll use.
"The sandwich spread is bold with a slight hint of heat, and that crunch from the pickle just can't be beat. This is also a great sandwich to make for a party. Just slice it into 1-inch squares and skewer it to serve as a finger food."
Ingredients
2 1-1.5 lb. pork tenderloins
½ cup mayonnaise
¼ cup yellow mustard
5 slices Swiss cheese (per sandwich)
5 thin slices deli ham (per sandwich)
3 thin slices dill pickle (per sandwich)
Fresh baked rolls of your choice
2 tbsp oregano olive oil
Rub Ingredients
¼ cup brown sugar
¼ cup smoked paprika
3 tbsp coarse sea salt
2 tbsp freshly ground black pepper
2 tbsp garlic powder
2 tbsp onion powder
2 tsp cumin
2 tsp dried oregano
1 tsp cayenne pepper
Directions
Light your grill and set it up for direct medium-high heat.
Combine all rub ingredients and whisk together.
Combine mayonnaise and yellow mustard with 2 tablespoons of the Cuban rub, mix thoroughly.
While grill preheats and the spread melds together, rinse off pork tenderloins with cold water. Trim off any visible silver skin and pat dry.
Rub pork with very thin coat of oil and season entire surface with a light dusting of the rub.
Place pork over direct medium heat on the grill, cooking for 12-15 minutes, turning every 1.5-2 minutes.
Remove pork when internal temperature reaches 140° F. Close grill lid but don't turn it off.
Baste pork with a light coat of oregano olive oil and let rest 5-10 minutes.
Slice pork thinly.
Apply a generous portion of the mayonnaise and seasoning mixture to the top bun and bottom of each sandwich roll and set aside.
Assemble your sandwiches by layering slices of pork, ham, and cheese on the bottom bun. Place the assembled sandwiches in grill over indirect heat for about 4 minutes, or until the cheese melts.
Remove from grill, top with pickle slices and your top bun, then slice and serve.
Read more: NASCAR Tailgating — The Top 5 Tracks to Party During Race Week
APPETIZER: Hickory Smoked Jack Cheese MOINK Balls
"First things first: There is no MOINK animal. Don't ask for it at your local butcher shop, you'll get a weird look. MOINK balls get their name from the sounds the components make: Beef (moo) and Pork (oink). Put them together and you get a combination that's hard to beat," Eads said about this delicious app that made his NASCAR tailgate meal planner.
"Glazed with a pepper jelly and wrapped in bacon (because if you can't wrap it in bacon, what's the point?) these appetizers are going to go fast at your next cookout. I once watched a friend devour 13 of these hearty appetizers in one sitting and legit thought he was going to burst, so be sure to account for those with big appetites when you're making them.
"I've added a twist on the typical MOINK recipe, by stuffing these delicious concoctions with cheese. Why? Because I like cheese. 'I like cheese' is my default response to any question I can't answer. Try it out sometime: 'I like cheese' is a surprisingly good answer for many of life's questions, and certainly a topic-changer when you're in a pinch."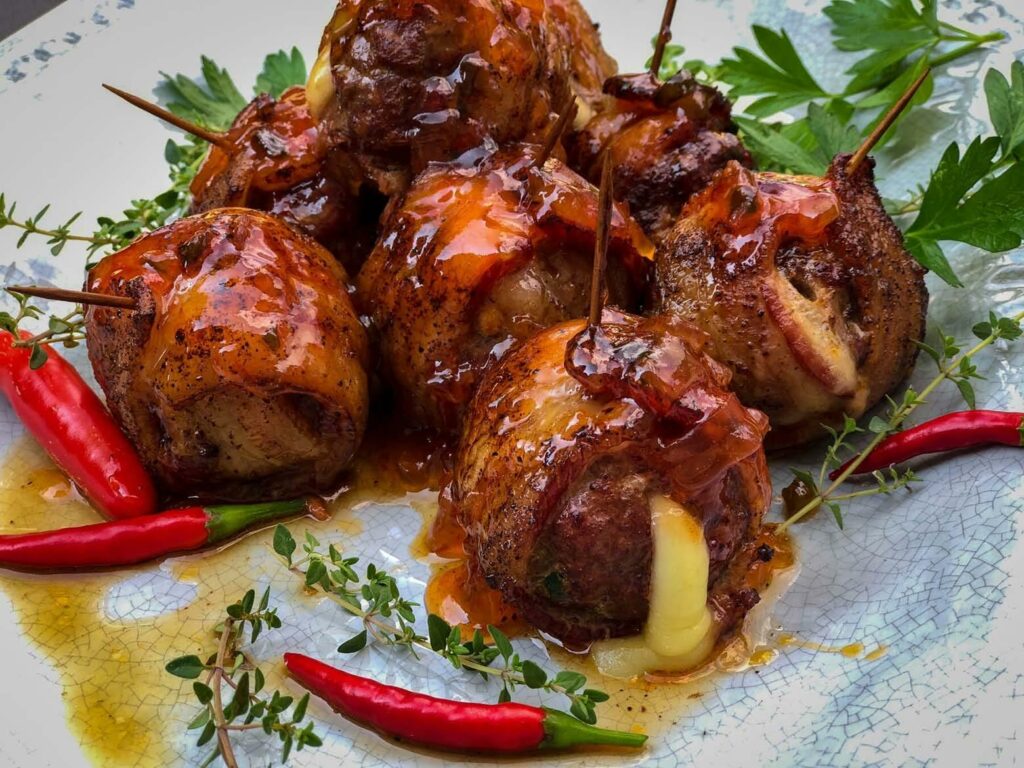 Ingredients
½ lb. ground beef, at least 20% fat
½ lb. pork sausage
½ cup breadcrumbs
¾ cup pepper jelly
¼ cup sweet onion, diced
1 large egg, lightly beaten
1 medium finely diced jalapeño, seeded and veined (optional)
2 cloves freshly minced garlic
8 cubes Pepper Jack cheese cut into ½" square cubes
8 slices thin cut bacon cut in half
2 Tbsp. BBQ rub or your favorite rub, plus a few shakes
1 Tbsp. Olive oil
Directions
Heat oil in small sauté pan, adding jalapeno, onion and garlic. Sauté for 3 minutes or until onions become translucent. Set aside.
In mixing bowl, add ground beef, sausage, breadcrumbs, egg, BBQ rub and sauté mix. Mix thoroughly and divide into 8 equal portions.
Lightly form each portion into a ball and insert cheese cube into center of ball ensuring that the meat "seals" the cheese all around.
Place balls in freezer for 30-40 minutes. This step is critical in order for the bacon to crisp during the cooking process. If bacon and meatballs are the same temperature when they go on the grill, the meatball with be done before the bacon is crisp.
Light grill and set up for indirect heat, add wood chunks. Place drip pan under cooking area to catch bacon grease and avoid the mess in your grill. Maintain grill temperature at 325° F
Wrap each ball with 2 half slices of bacon. By cutting the bacon in half the balls can be wrapped completely by wrapping the first half of the slice in a north and south direction, and the second half in an east and west direction on the ball. Secure bacon with tooth pick.
Lightly dusk MOINK balls with a few shakes of the BBQ rub.
Place on grill on the indirect heat side, close lid and let cook for 20 minutes. Check internal temperature, we're looking for about 145°-150° F internal.
Glaze MOINK balls with pepper jelly, close lid and allow to cook for another 5 minutes or until internal temperature is 160° F which is safe for ground pork.
Remove from grill and serve hot.

*TIP* Warming the jelly in the microwave for 30 seconds makes it much easier to glaze.
DINNER: Smoked BBQ Meatloaf
"Comfort food is my jam so while I don't love the cold in the winter, the comfort food makes up for it. There's just something to be said for curling up by the fire and having a nice bowl of beef stew or a hearty BBQ meatloaf with mashed potatoes and gravy. It brings back memories of my childhood," Eads said for the NASCAR tailgate meal planner main event. "Unlike an ordinary meatloaf, this smoked BBQ Meatloaf isn't just a great weeknight meal, it's special enough to serve at a dinner party.
"I know, I know—the idea of serving meatloaf at a fancy dinner party seems a bit off, but trust me on this one. This meatloaf is an absolute show stopper… I grew up eating meatloaf from the oven and have adapted and modified this age-old classic for the grill. What I love about smoking meatloaf is how well the porous ground meat takes the smoke—better than just about any other proteins I've smoked."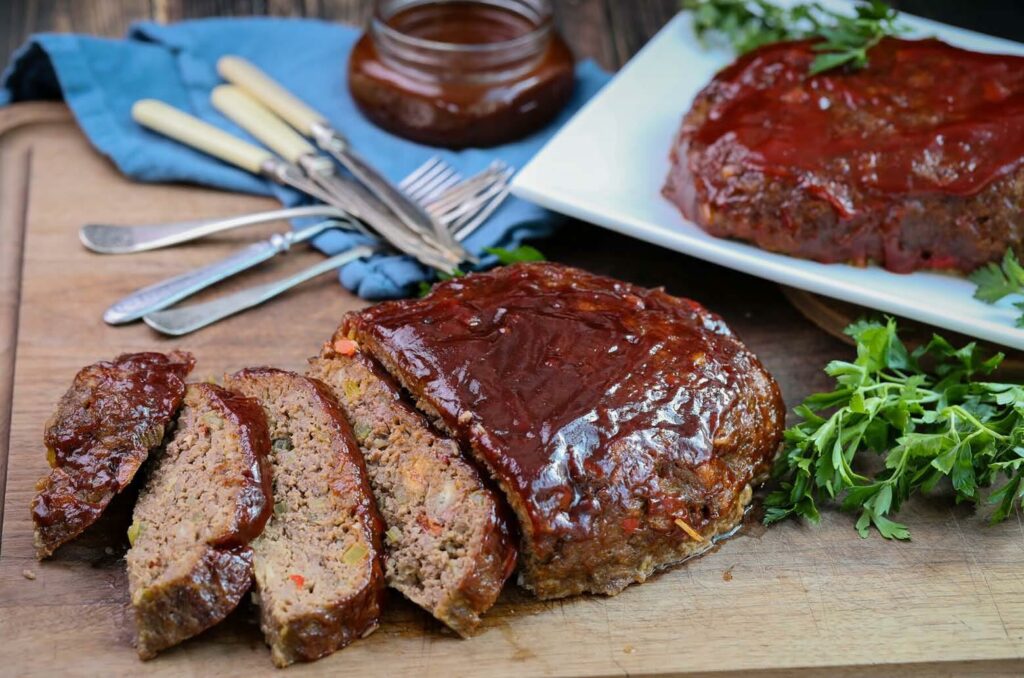 Ingredients
1.5 lbs ground beef (80/20)
1 lb ground Italian sausage or ground pork
½ cup chopped celery
¼ cup diced red bell pepper
¼ cup diced yellow bell pepper
1 medium jalapeño seeded and veined, finely chopped (optional)
1 medium Vidalia onion chopped
1 package dried onion soup mix
2 tbsp Worcestershire sauce
2 tbsp olive oil
4 thick slices of fresh Italian bread
¾ cup buttermilk
2 large eggs
1½ cups barbecue sauce, divided equally
Directions
Light your grill or smoker and set it up for two zone heat, getting the temperature up to 235 degrees. Heat the olive oil in a sauté pan over the stove and sauté the onions, celery, peppers and optional jalapeños.
Tear the Italian bread into small chunks and place in a medium sized mixing bowl.
Add buttermilk to bread chunks and soak till milk is absorbed.
In a large mixing bowl, add ground beef, sausage, 3/4 cup of BBQ sauce, cooled onion, celery and pepper mixture, Worcestershire sauce, soaked bread chunks, eggs and soup mix.
Mix ingredients thoroughly together.
On a sheet of parchment paper or tinfoil, form the mixture into a loaf and transfer it to a cooling rack for smoking.
Place the cooling rack, with loaf on it, on the smoker and insert a reliable leave-in thermometer.
Add wood chunks to your grill and place loaf inside over indirect heat, close the lid and let the charcoal and wood do its job.
When the internal temperature of your loaf gets to 150 degrees, it's time to glaze it with remaining BBQ sauce and crank the heat up in the cooker to 350 degrees.
Cooking at a higher temperature during the last 10 degrees of cooking allows the sauce to set up and get that beautiful color.
When internal temperature of 160 to 165 degrees is reached it's time to pull it off the cooker and let it rest for 5-10 minutes before slicing.
DESSERT: S'mortillas
"S'mores are classic treats that were made for the grill. But there are a few drawbacks to the original recipe we learned around the campfire: the graham crackers, while a great flavor, are a terrible base for this gooey dessert," Eads said when discussing the finishing touch to his NASCAR tailgate meal planner. "They crumble, they crack, the filling goes everywhere. In the end, you're a sticky mess, coated in graham cracker crumbs.
"I offer you the adult solution to your s'mores craving: TORTILLAS. By using a tortilla instead of a graham cracker, you eliminate the mess, keep the gooey filling where it belongs, and you get a great new flavor profile that brings a little sophistication to a simple treat. I like using dark chocolate to balance the sweetness of the marshmallows, but if you're in the mood for a real childhood flashback, find your favorite milk chocolate bar."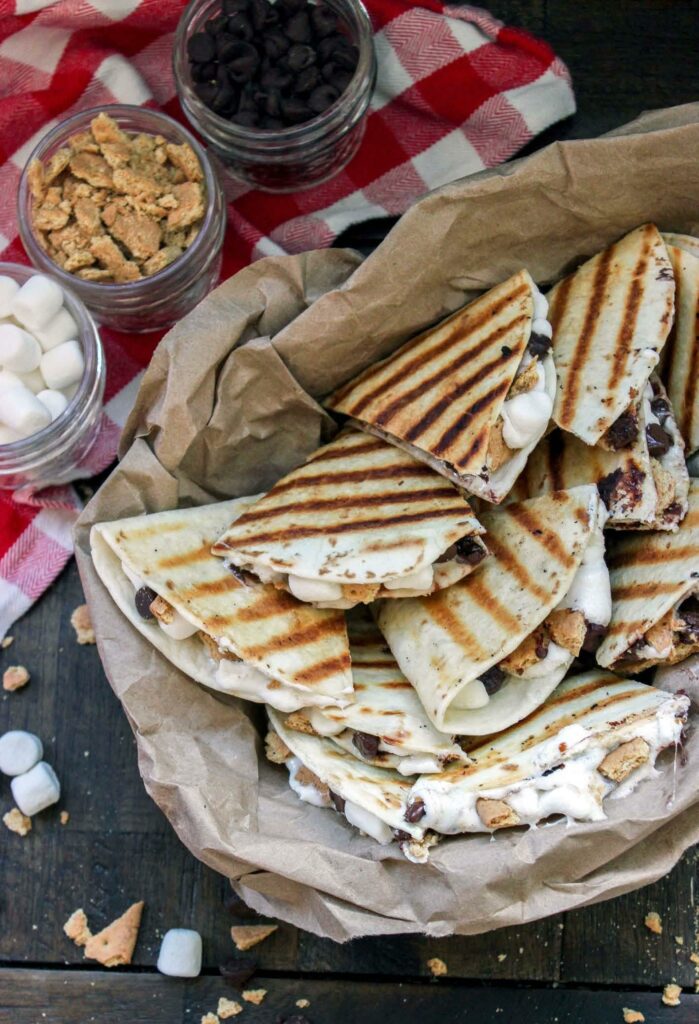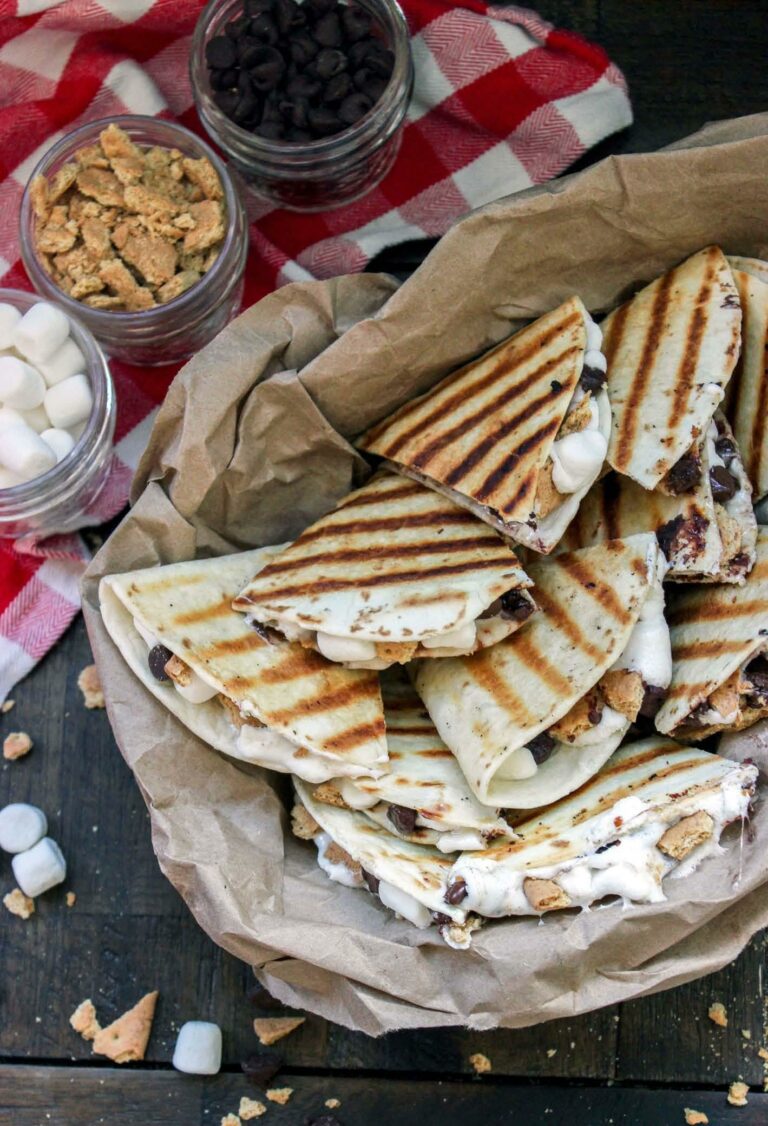 Ingredients
4 large flour tortillas
1 cup dark chocolate chips
1 cup crushed graham crackers
2 cups mini marshmallows
Directions
Light grill and set for indirect heat, establish temperature at 325° F.
Spread chocolate chips evenly over half of each tortilla.
Sprinkle crushed graham crackers evenly over chocolate.
Place marshmallows on chocolate and fold the other half over, on top of the marshmallows.
Place on grill, close lid and cook for 7 minutes or until marshmallows melt.
Remove, cut each tortilla into three triangle shapes and serve warm.
A huge thank you to Eads for sharing his NASCAR tailgate meal planner. Make sure to follow him on Instagram at @grillseeker for more mouth-watering recipes.