On Christmas Eve this past year, our family prepared New England-style clam chowder for our pre-Christmas Day feast. It was exceptionally good and inspired this post. We promise we won't let any of the air out of this wonderfully presented recipe from Mary-Frances Heck for bon appetit.
Get some fresh clams if you can find them. Boil them up right in the parking lot, makes for great FUN. If you are looking to save yourself some time for parking lot festivities, preparation may be done ahead of time. Or, you could get there early and get cooking – exciting! ENJOY. #Thrilla
Join our Inside Tailgating Community For Free Today!
Ingredients-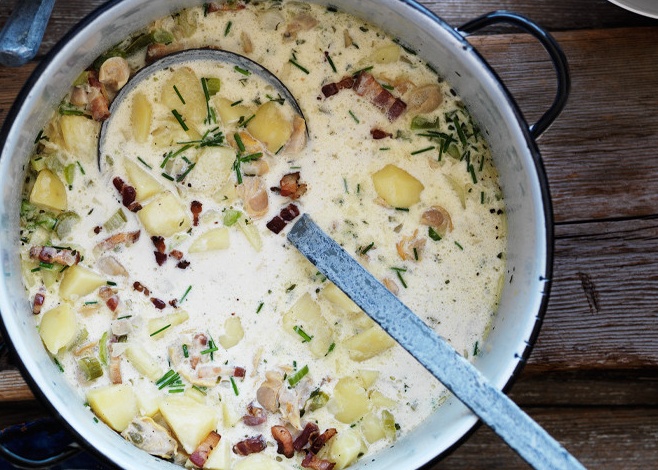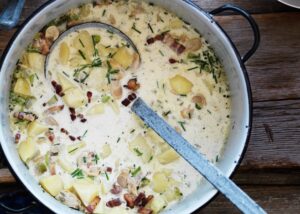 8 pounds of cherrystone clams, scrubbed
1 tbsp butter
8 ounces of bacon, cut into 1/2 inch pieces
2 celery stalks, minced
1 large onion, minced
1 garlic clove, minced
2 1/2 pounds Yukon Gold potatoes, peeled and washed,
cut into 1/2 inch pieces
1 tbsp chopped fresh thyme
1 bay leaf
2 tbsps cornstarch
2 cups heavy cream
Kosher salt, freshly ground pepper
Chopped fresh chives
Preparation-
Bring clams and 4 cups water to a boil in a large pot over high heat. Cook until clams just open, 8-10 minutes (discard any that do not open). Using a large slotted spoon, transfer clams to a large rimmed baking sheet; set broth aside. Let clams cool slightly, then pull meat from shells; discard shells.

Chop clams into bite-size pieces. Strain broth through a fine-mesh sieve set over a large bowl. Add water if needed to measure 6 cups. Do Ahead(optional): Clams and broth can be made 1 day ahead. Cover separately and chill.

Melt butter in a large heavy pot over medium heat. Add bacon and cook, stirring occasionally, until fat is rendered and bacon begins to brown, about 8 minutes. Add celery, onion, and garlic and cook, stirring often, until onion is translucent, about 10 minutes. Add reserved broth (or 6 cups bottled clam juice), potatoes, thyme, and bay leaf. Bring chowder base to a simmer; cook until potatoes are tender, 20-25 minutes. Stir cornstarch and 2 tablespoons water in a small bowl to form a slurry. Stir slurry into chowder base; return to a boil to thicken. Do Ahead(optional): Base can be made 1 day ahead. Let cool; cover and chill. Keep clams chilled. Bring base to a simmer before continuing.

Remove base from heat. Discard bay leaf. Stir in reserved clams (or two 10-ounce cans baby clams) and cream. Season with salt, if needed (clams' briny flavor varies), and pepper.

Divide chowder among bowls and garnish with chives.