Last Updated on 07/22/2021 by Inside Tailgating
College football fans, and outrageous dressers, this blog post is for you. The outfitters at Colorado-based Shinesty.com have just launched a new website called Tellum + Chop dedicated to giving tailgaters across college football statement pieces to wear this fall. This high-end menswear collection is so much more than the latest in logo t-shirts and sweatshirts, these are conversation pieces.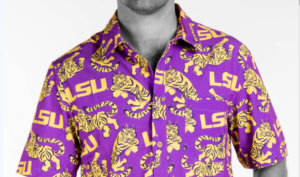 CEO Chris White got his start creating outlandish party and event wear for Shinesty.com and always considered sports and tailgating a critical part of that equation.
"We separated the two brands so we could keep Shinesty the way it is, which is that irreverent, sometimes R-rated humor, and then be able to dive deep into the collegiate market, and still make really fun clothes," White said. "Obviously they're still loud and pretty outlandish. A bright orange Oklahoma State suit with Pistol Pete's face all over it is still pretty out there, but it's done in a little bit more of a family-friendly approach from a humor perspective."
Stay tuned for more from us about Tellum + Chop and an in-depth interview with CEO Chris White in our fall edition of Inside Tailgating magazine, coming in September.