Last Updated on 07/08/2021 by Inside Tailgating
The makers of "Twisted Tea" hard iced tea came out with two new flavors this spring – Huckleberry and Blackberry – and both are worthy of any tailgate, backyard cookout, or game-watching party!
We know because we've tasted them ourselves. And when "we" were busy breastfeeding newborn twins and couldn't do a whole lot of tasting, we passed the job on to our cool and single sister Louise Rogers, who shared them with friends on multiple occasions and got rave reviews.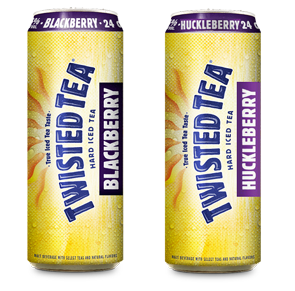 One group of her friends threw back some Blackberry Twisted Tea after running the Cooper River Run 10K in Charleston, S.C. and told Louise they "totally hit the spot."
Then she shared the Huckleberry flavor with her friend Debbie Elder (pictured above), breaking in an awesome new pool in her backyard.
"Debbie said it tastes more like berries than tea," Louise said.
As for my sister?
"I like them both," she said. "They just taste like sweet tea. Good on ice."
Louise said the Twisted Teas were great for sharing, not only because they taste good. The cans I gave her were the 24-ounce variety – though they also come in 12-ounce. Both are five percent ABV (alcohol by volume) which is the same as a lot of beers.
"I don't know what would happen if I drank the whole dang thing," she said. "I think it's meant to be shared."
All the more reason to bring them to a tailgate with friends!
"It would go really great with a Bojangles' box," she said.
OK, so busy professionals and twin moms don't always make the most adventurous tailgating menu planners. But we know our beverages!