Last Updated on 04/14/2021 by Inside Tailgating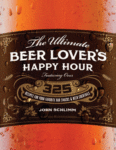 The bittersweet collision of chaos and calamity in a glass….
When I first started reading the ingredients that make up this classic 'gameday' beverage my first thought was naturally….they should change the name of this drink to 'The Thrilla.' Two of my favorite things in the known universe come together to form a refreshingly hearty and frothy elixir of all things wonderful in the world of tailgating. If you haven't been there and done this, then you probably should. Make sure you employ the buddy system and consider hiring some professional spotters just in case. Like we always say here at Inside Tailgating right about this time, there is safety in numbers. Safety is the key. Better play it safe and add some of your favorite tequila to your favorite beer. That's it, that's it. Another good name for this drink would be 'The Interstellar' because beings from other worlds might just risk the wormhole to get there tentacles on this one….#Thrilla
Together, the tequila, dash of bitters and Lager or Pilsner of your choosing let your taste buds crisscross the borders of flavor and FUN!!
Ingredients-
2 Ounces tequila
Dash of bitters
Pale Lager, Amber Lager, or Pilsner
Combine the tequila and bitters in a Pilsner or highball glass, stirring well. Fill the remainder of the glass with the beer. Repeat as needed.
recipes provided by John Schlimm from his books The Ultimate Beer Lover's Happy Hour and The Ultimate Beer Lover's Cookbook