Last Updated on 01/05/2022 by Inside Tailgating
Over the years, we've tried a lot of great tailgating cocktails. However, some of our favorites feature tequila. As a result, we now consider a good bottle of tequila one of the most important tailgating essentials. So in honor of this delicious agave-based beverage from South of the border, we've decided to do a roundup of our favorite tequila cocktails for tailgating. Grab the salt and the lime and let's get started!
Classic Margarita
At the top of our tailgating essentials cocktails list is the classic margarita. However, you can always mix it up by adding some extra ingredients.
Had enough with this seemingly never-ending winter? Looking for something to toast to this weekend? Well, turn up your thermostat and your favorite beach playlist because you're it luck. Here is a classic Margarita recipe that will lull you into thinking it is warm and beautiful outside.
MARGARITA
Ingredients
2

Parts

Tequila

1

Part

Fresh Lime Juice

1/2

Part

Agave Nectar
Instructions
Combine ingredients in shaker with ice, and shake vigorously.

Fine strain over fresh ice.

Garnish with a lime wheel.
Traditionally made with tequila, triple sec and lime juice, the Margarita is one of the nation's most popular mixed drinks, and are one of the most versatile drinks around – frozen, on the rocks, with salt, flavored, you name it. If you're looking for something different this year, experiment using different flavored liqueurs, fruit flavors and even beer to enrich the beauty of the drink!
No Big Dill
We love a Thursday night football game. They really help us unwind after work. It's even better with a delicious tequila cocktail like the No Big Dill.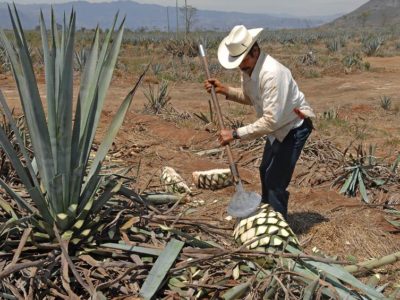 I think tequila works well for Thursdays. So it is our spirit of the week. In honor of Tequila Thursday, check out our recipe for No Big Dill.
NO BIG DILL
Ingredients
2

Parts

Sauza® 901® Tequila

1

Part

Lemon Juice

4

Cucumber Rounds, Quartered

Fresh Dill

Splash Agave Syrup

Splash Soda Water Or Tonic
Instructions
In a tall glass smash cucumbers and dill leaves pulled from stem.

Introduce Sauza® 901® Tequila, lemon juice and agave syrup.

Add ice and give thorough stir with swizzle stick.

Garnish with fresh dill and cucumber round.
The No Big Dill is a light, fresh tequila that is perfect for unwinding after a long day at work while watching a football game. Made with tequila, cucumber, and dill, this refreshing drink will soon become one of your tailgating essentials cocktails.
Mexican Julep
We love a mint julep, but sometimes we're just not in the mood for whiskey. On those days, a Mexican Julep will do the trick nicely.
Mexican Julep
Ingredients
3

Parts

Sauza® 901® Tequila

1

Part

Agave Syrup

1

Barspoon Water

5

Sprigs

Fresh Mint
Instructions
Muddle 4 mint sprigs in pewter mug. Add agave syrup and a barspoon of water. Fill with crushed ice. Add Sauza® 901®, stir well. Add more crushed ice. Garnish your Julepwith a fresh mint sprig.
What to do when the same old Mint Julep just won't cut it on Derby Day?! Swap tequila for bourbon and make it a Mexican Julep! Voila! Problem solved. We turned to www.thecocktailproject.com for a great recipe to serve at your Kentucky Derby-watching, next Cinco de Mayo celebration, or anytime at parties and tailgates! Enjoy our other Derby-ready recipes too!
Bloody Marias
There is nothing better than getting to a tailgate and whipping up a Bloody Mary. That is unless you are a tequila fan. Then there is nothing better than a Bloody Maria.
STUBB'S BLOODY MARIA
Ingredients
1 1/2

Oz

Silver Tequila

1/2

Oz

Employee's Only Grenadine

1

Tsp

Stubb's Bar-B-Q Spice Rub

4

Oz

Blood Mary Mix (spicy is recommended)

Lime Wedges (for garnish)
Instructions
In a tall glass, add all ingredients. Fill glass with ice. Roll mix once back and forth between another glass. Squeeze one lime wedge into the glass and use as garnish.
Notes
Recipes developed for Stubb's by "Charlie" Shusaku Shiroyama, Principle Barkeep at Haddingtons Restaurant & Bar[1] located at 601 W. 6th Street in Austin, TX. www.H
Looking for a new twist on a tried and true beverage for your tailgates and bowl-watching parties? Check out this spicy goodness from our friends at Stubb's Bar-B-Q.
Gronk On The Rocks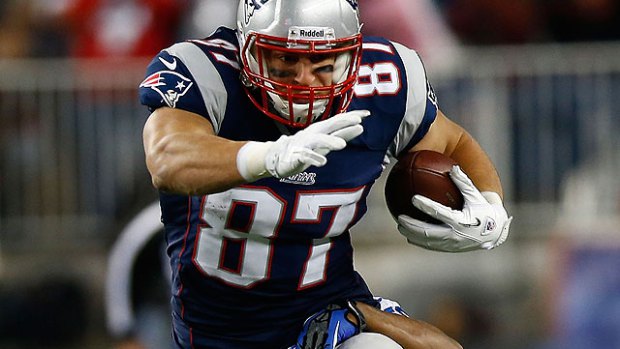 Rob Gronkowski is a blast to watch. He's always been a crowd favorite even if you aren't rooting for the Buccaneers this season. So of course we had to feature a cocktail named after this superstar.
GRONK ON THE ROCKS
Ingredients
2

Oz

Jose Cuervo 1800 Tequila (White)

4

Oz

Sierra Mist or Sprite

1/2

Oz

Blue Curacao

1/2

Oz

Chambord
Instructions
Mix in the appropriate glass, or shake in a mixer tequila and Sierra Mist or Sprite, strain and pour over ice, or strain into shot glasses for shots, splash of blue Curacao, splash of Chambord. You may try to layer this drink if you like, but it really just doesn't matter because it is truly unstoppable… just like THE GRONK.
It ain't no BIG surprise….An amazingly HUGE concoction, so nimble and versatile that it could dance circles around you or perhaps even straight DUMPTRUCK you and your evening. So proceed with GREAT caution if you are planning to attempt to TACKLE this GARGANTUAN refreshment. The 'Rob Roy' has been replaced with…The GRONK!
One Of The Most Important Tailgating Essentials: The Margaritaville Margarita Maker
You cannot talk about tailgating tequila cocktails, without talking about a tailgating essentials tool. The Margaritaville is the perfect margarita maker for all your homegating and tailgating needs. It makes delicious margs with little effort.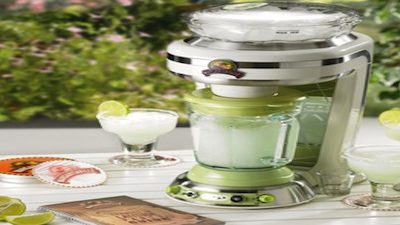 There's no concert tailgate quite like a Jimmy Buffett gig. And with seven June dates on the Buffett tour, chances are that you can drive to one of these parties that turn parking lots into Margaritaville. If you want to be the Parrot Head of the party, the following tremendously- named device is sure to bring smiles to all of your tailgate partygoers — The Margarita Key West Frozen Concoction Maker.
As the name says, this powerful device is not just for frozen margaritas, although that is surely the beverage of choice. In addition of having the ability to make a medley of frozen beverages, what really separates this from a run-of-the-mill blender is that is actually shaves the ice and blends the ingredients instead of just watering down a drink with chunks of ice.
Although the price has dropped 40 bucks, it's still a hefty $230 at Kotulas.com. At least shipping is free and it does come with a one-year limited parts warranty. Reasons for the inflated price tag are because of its stainless steel finish and the fact that the box includes extras such as a shot glass, coasters and a cool recipe book. The pre-programmed settings also make it easier to concoct a proper drink instead of beverage that has the alcoholic kick of a child's freeze pop.
These delicious cocktails highlight why we consider tequila one of our tailgating essentials. Not a big tequila fan? No worries! At Inside Tailgating we don't discriminate when it comes to spirits. Whether you prefer tequila, whiskey, vodka, or something else, we have you covered. Let us know which is your favorite by leaving your answer in the comments or by tagging us on social media. Be sure to follow us on Facebook, Twitter, and Instagram.
Cheers!!