There are two essential tailgate items for any party: Food and drinks. What was once an easy grab of 24 packs of beer has evolved into providing a variety of drinks. If you love to bartend, this is great because it's the perfect time to show off your skills. However, if you'd rather spend your homegate party watching the game, then batch cocktails are perfect for you. Making large batches of drink options keeps you enjoying time with your guests without the hassle of making drinks, one by one. Check out these essential tailgate item batch drink recipes that you can make ahead of your next homegate event.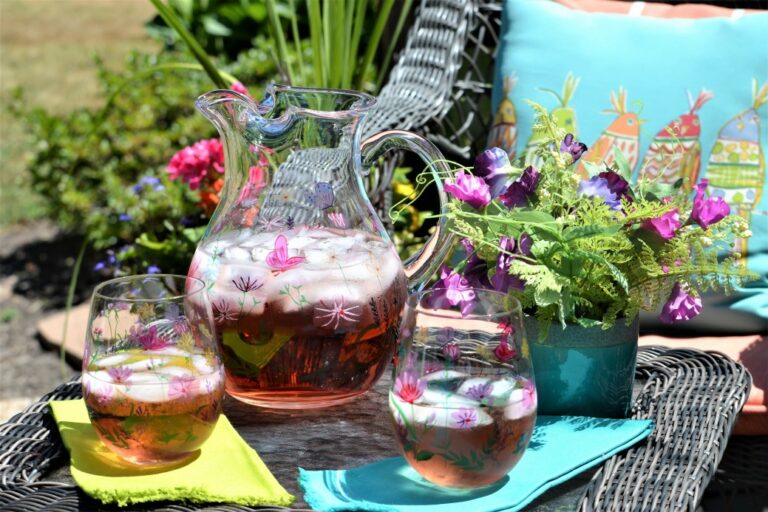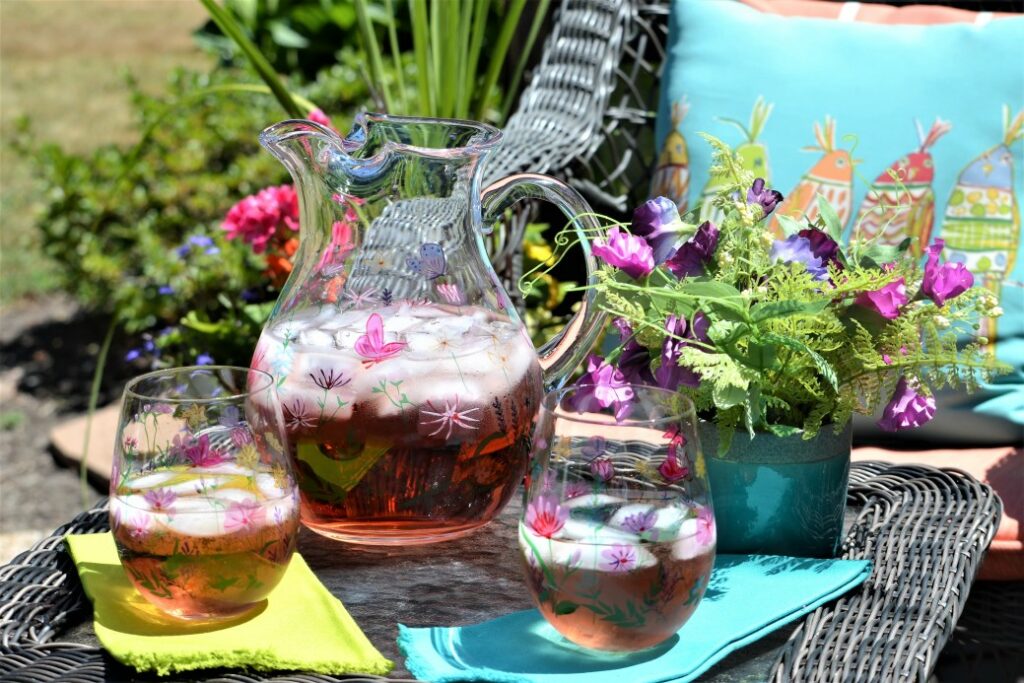 How To Batch Your Favorite Cocktail
Before we get started, we just wanted to go over how you can turn any of your favorite cocktails into a pitcher cocktail. This guide from Cup of Zest goes into detail on how you can scale any cocktail with a few essential tailgate items. Just make sure that carbonation and fresh herbs are added last.
Breakfast Sangria
Ingredients
1

Pink Grapefruit

1

Navel Orange

2

Limes

1

Cup

Cointreau

750

ML

Bottle Prosecco

12-24

Oz

Plain or Grapefruit Sparkling Water
Instructions
Slice the citrus fruit into half moons. Mix with the Cointreau in a pitcher that holds at least quarts. Add the Prosecco and cover the pitcher tightly with plastic wrap. Refrigerate overnight.

When ready to serve, top off the pitcher with sparkling water and serve with lime or orange wedges.
Kicking off your homegate with an early party? Consider throwing a brunch theme homegate with this citrus-driven sangria. This boozy batch is easy to make the night before with prosecco and sparkling water for a refreshing, fruity drink. The best part is that the longer it sits the better it tastes!
Hawaiian Mai Tai
Ingredients
1 1/2

Cups

Pineapple Juice, cold

1/2

Cup

Rum

1/3

Cup

Freshly Squeezed Lime Juice

1/4

Cup

Orange Liqueur

1-2

TB

Agave Nectar

2

Tsp

Almond Extract

1

Cup

Lemon-Lime Soda

Crushed Ice, for serving
Instructions
In a pitcher, combine the pineapple juice, rum, lime juice, orange liqueur, agave nectar, and almond extract. Stir well. Cover and place in fridge to chill until ready to serve (can be done several hours ahead of time.)

When ready to serve, fill glasses with ice. Pour lemon-lime soda into the pitcher, gently stir, and divide into glasses.
Mai Tais are probably one of the more popular batch cocktails you can serve at a party. This tropical twist on a classic gives a refreshing blend of pineapple, lime, and orange flavors that is ideal for summer tailgating. Be careful though, they taste more harmless than they are!
Mojito Pitcher
Ingredients
Rum

Sugar

Lime Juice

Club Soda

Mint
Instructions
Combine granulated sugar, water, and mint leaves in a saucepan, and bring the mixture to a simmer.

Stir until the sugar fully dissolves, then simmer another 3 minutes without stirring.

Set up a mesh strainer over a large bowl, and pour the syrup through the strainer. Then let the simple syrup sit in the refrigerator to cool for about 30 minutes.

Pour the cooled syrup into a pitcher.

Mix in the rum and lime juice.

Then let the full pitcher chill in the refrigerator for at least an hour.
Let's be honest, no one is going to expect you to muddle mint and make a classic mojito at a party. It's too much work. However, including this essential tailgate item as a batch cocktail will be the talk of the party. Using the mint to create your simple syrup gives the perfect mint balance without the hassle of muddling each cocktail individually. It also won't overwhelm the flavor.
Cajun Lemonade
Ingredients
2

Cups

Light Rum

2

Cups

Citron Vodka

12

Oz

Can Frozen Lemonade Concentrate, thawed

1

Tsp

Hot Sauce

1

Liter

Club Soda, chilled

Crushed Ice

Lemon Slices and Sugarcane Sticks, for garnish
Instructions
Stir together first 4 ingredients in a pitcher. Add club soda just before serving. Pour mixture into 8 highball glasses filled with crushed ice. Garnish with lemon slices and sugarcane.
A common, and rather boring party "essential" is lemonade. This recipe will ensure your lemonade is a hit by adding some Southern Cajun spices! Surprise your guests with a mix of vodka and rum with lemonade and a splash of spice redefines homegate lemonade. These are perfect to serve with shrimp, gumbo, and cheesy grits.
Red, White, and Blue Big-Batch Cocktail
Ingredients
2

Cans

Light Coconut Milk, well shaken

3

Cups

Blue Curacao

1

Cup

White Rum

1

Cup

Coconut Rum or Coconut Liqueur

1

Cup

Pineapple Juice

3

Cups

Plain Seltzer, cold

Maraschino Cherries, for garnish
Instructions
Divide the coconut milk between 2 large ice cube trays. Freeze until very solid.

In a large pitcher, stir together the blue curaçao, white rum, coconut rum, and pineapple juice. Refrigerate until cold.

Stir the seltzer into pitcher. To serve, place a few coconut milk ice cubes into a short glass. Pour in cocktail and garnish with the cherries.
Everyone loves a pina colada. This play on a pina colada adds some patriotic flare with festive colors from red cherries, coconut milk ice cubes, and citrusy blue curaçao. A sweeter option doesn't need to be blended – just pour over ice and enjoy. It's a perfect way to cool down on a hot summer day.
Cucumber Tequila
Ingredients
750

ML

Bottle of Exotico Blanco Tequila

Half A Cucumber, sliced

1

Lime, sliced

10

Basil Leaves, plus more for serving

12

Oz

Can Frozen Limeade Concentrate

1.25

L

Bottle Sparkling Water

Edible Flowers, for serving
Instructions
Add cucumber slices, lime slices and basil leaves to a pitcher and gently muddle with the bottom of a wooden spoon.

Add Exotico Blanco Tequila, frozen limeade, sparkling water and ice. Stir to combine.

Divide into glasses. If desired, serve with basil sprigs and edible flowers.
Does your homegating team love refreshing, cool cucumber water? Surprise them at your next homegate with this delicious batched cocktail. The blend of tequila, cucumber, basil, and lime is a perfect summer drink for any event. Add a few cubes on ice and serve. Everyone will feel cool and relaxed.
STRAWBERRY WINE PUNCH
Ingredients
1

Bottle

Moscato Wine

10

Oz

Strawberry Daiquiri Mix

1/2

Liter

Sprite

Fresh Strawberries for Garnish
Instructions
Mix wine and daiquiri mix together in a pitcher, fill with soda and mix well.

Serve with ice if you wish and garnish with fresh strawberries
Have you excluded strawberry daiquiris from your homegates? This boozy punch has the daiquiri taste without the hassle of blending a drink. We recommend making a double batch and making some strawberry sliced ice cubes to dazzle your guests.
Vodka mint lemonade
Ingredients
4

Limes or Lemons, quartered and any seeds removed

Leaves from 1 medium sized bunch of mint

8

Cups

Cold Water

1/2-3/4

Cup

Honey or Sugar more or less to taste

8-16

Oz

Vodka

Ice Cubes

Lime or Lemon Slices to garnish
Instructions
Place the quartered limes or lemons in the blender with 2 cups of water, sugar or honey, some ice, and half of the mint leaves.

Blend until the limes or lemons are crushed, the mixture should be slightly foamy with a whitish color.

Strain the lemonade and add the remaining 6 cups of water.

Stir in the vodka or allow guests to add the vodka according to their preference

Serve with ice and garnished with the remaining mint leaves and lime slices.
Don't let the basic title trick you, this recipe has a couple of surprises to keep your guests drinking. The base is limes or lemons, fresh mint, honey or sugar, water, ice, and vodka, which you can add to the whole batch or let your guests add as they pour. This basic drink is perfect for any guest looking to watch their waistline but not be excluded from any of the fun!
Bourbon Rosemary Punch
Ingredients
1

Bottle Rosemary-Infused Aperol

12

Oz

Bourbon

6

Oz

Honey Syrup

6

Oz

Grapefruit Juice, freshly squeezed

1

Bottle Dry Sparkling Wine

1

Bottle Soda Water

16

Grapefruit Wheels, for garnish

16

Rosemary Sprigs, for garnish
Instructions
Combine the rosemary-infused Aperol, bourbon, honey syrup and grapefruit juice in a punch bowl and add large ice cubes.

For each serving, ladle 3 ounces of punch into a punch glass filled with ice cubes.

Top with a splash of sparkling wine and a splash of soda water.

Garnish with a grapefruit wheel and a rosemary sprig.
Bourbon is commonly overlooked as a cocktail ingredient but this boozy batch will become an essential for your whiskey-loving buddies. Enjoy a fresh drink with seasonal flavors and bright, beautiful garnishes, plus a whole lot of bubbles to make the whole thing feel more festive. The smokey herbal combination is perfect to serve as a complement to steak or prime rib.
Pineapple Party Punch
Ingredients
4

Cups

Pineapple Juice, chilled

1/2

Cup

White Rum or Coconut Rum

1

Bottle

Prosecco, chilled

2

Cups

Frozen Pineapple
Instructions
Pour pineapple juice, rum, and prosecco into a pitcher. Add frozen pineapple to keep it chilled. Serve the same day it's made.

Non-Alcoholic Version: skip the rum and prosecco. Use lemon-lime soda (regular or diet) or club soda instead.
Get ready to hear cheers of "Aloha!" with this tropical punch. Rum and prosecco meet pineapple in this bold batch guaranteed to be a hit at your next homegate. You can even elevate the drink with a few frozen pineapple cubes to replace the ice. Just make sure to keep extra ingredients on hand as these essential tailgate items go fast!
Sparkling Spiked Peach Lemonade
Ingredients
1

Cup

Granulated Sugar

1

Cup

Water

3

Large

Peaches

6

Cups

Sparkling Water or Club Soda

1

Cup

Freshly Squeezed Lemon Juice

1 1/2

Cups

Vodka

Ice
Instructions
In a small pot, combine the sugar and 1 cup of water. Bring to a simmer over medium heat, and simmer until the sugar is dissolved. Remove from heat and let cool completely.

Remove the skins from 2 of the peaches: Cut an "X" in the skin on the bottom of each one. Drop in a pot of boiling water for about 30 seconds. Transfer the peaches to an ice bath, and peel when cool enough to handle. Slice each peeled peach in half and remove the pits. Cut the peaches into cubes, place in a blender or food processor fitted with the blade attachment, and process until puréed. Pour into a large pitcher.

Add the cooled simple syrup, sparkling water, lemon juice, and vodka. Stir to combine. Add ice and stir again. Cut the remaining peach into thin slices. Stir a few of the slices into the lemonade and use the others to garnish the glasses.
What is your favorite part of summer? If you said peach season, you are not alone. Fresh peaches are refreshing and sweet. They are perfect for cooling down after being out in the heat all day. This batch of lemons and peaches is the refreshing item to spotlight any homegate event.
COCONUT LEMON SOUR PARTY PITCHER
Ingredients
4

Cups

Coconut Water, unsweetened

2 1/2

Cups

Vodka

1

Cup

Lemon Juice, fresh squeezed

3/4

Cup

Simple Syrup
Instructions
Combine lemon juice and simple syrup in a large pitcher.

Add vodka and coconut water, stir.

Top with ice before serving.

Garnish with a lemon slice or citrus peel.
Of all the lemonades on the list, this vodka-spiked drink adds tropical notes with coconut water perfect for those hot summer homegate parties. The coconut water adds a refreshing lightness to keep the party going. It's also a great option for people looking to avoid drinking their daily calories.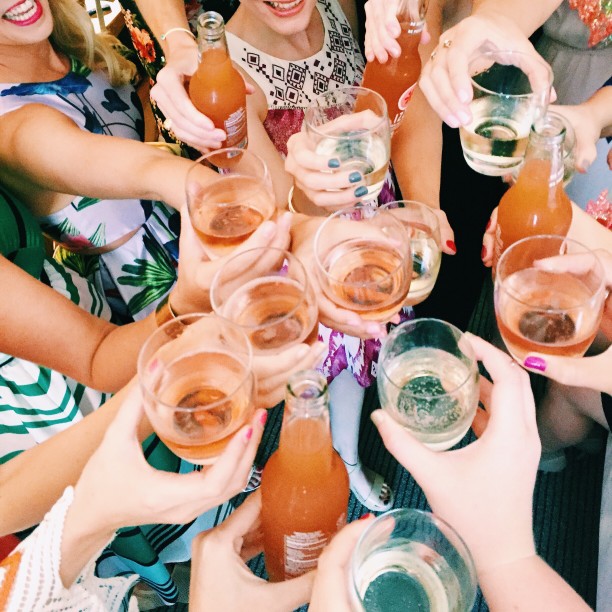 The best part about all of these batch cocktails is they can be made a day or two before your party. That is one essential tailgate item you can stop worrying about. Many of them even get better the longer they steep. You can make a couple of different ones so that your guests can have a choice. That being said, it's still never a bad idea to grab that 24-pack of beer for those who like a more classic beverage at their homegates.
For more ideas for your next homegate, make sure to follow us on Facebook, Twitter, Instagram and check out our Amazon Storefront. We offer the latest and greatest gear, recipes, and ideas. Let us know in the comments what your essential tailgate items are!