Last Updated on 04/15/2021 by Inside Tailgating
Our good friends at A History Of Drinking created a new website called A History Of Eating. They define themselves as wanting to "Explore the origins of your favorite foods".
Since I am good friends with those guys and I had some long form content that did not exactly fit here at Inside Tailgating, I wrote a six part series about restaurant recipes from New York City. I am very proud of these articles and want to link them here, as well as feature a few of the individual articles. Plus there are some great tailgating recipes in them. So if you are tailgating prior to a Jets, Giants, Yankees, Mets, Islanders, Rangers, Nets, Knicks and even a Fordham Rams game think of these.
NEW YORK CITY RECIPES: DISHES FROM AMERICAN CUT, NYC
Chili Lobster Chicken Wings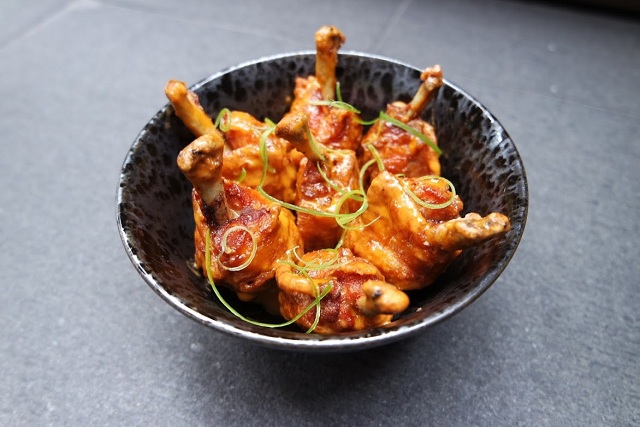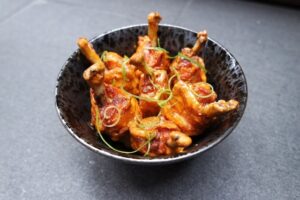 recipe and images courtesy of Chef/Partner Marc Forgione at American Cut, NYC

Chili Lobster Sauce:
INGREDIENTS
2 quart Lobster stock
1 bottle Sriracha
1 Pint Soy Sauce
1 cup Lime juice
½ cup Franks Red Hot
2 sticks Butter
DIRECTIONS
Add lobster stock, sriracha, soy, lime juice and red hot to a stainless steel pot. Bring to a boil
Emulsify butter into the sauce with an immersion blender
Thicken with rice flour, then transfer to a bain marie and ice to <40°
Store in quart containers with name/date labels
Store for up to 4 days under refrigeration
Final Assembly for Wings:
Toss fried wings in a bowl with 1 oz. of chili lobster wing sauce
Season with chili lime salt
Garnish with scallions
NEW YORK CITY RECIPES: CHEF MICHAEL FERRARO OF DELICATESSEN, NYC
Giorgio's Meatballs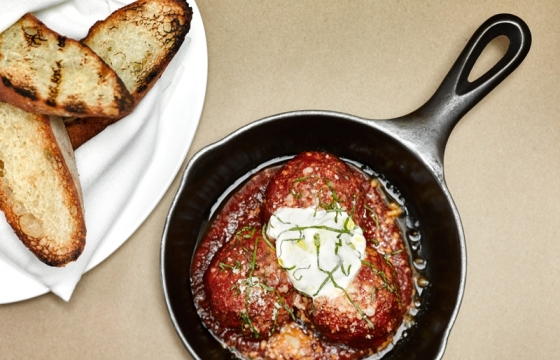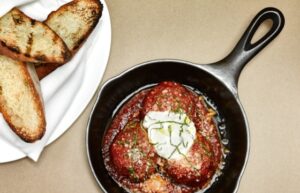 Recipe by Executive Chef/Partner Michael Ferraro, courtesy of Delicatessen.
INGREDIENTS
1 pound ground beef
1 ½ garlic cloves (minced)
1 egg
¾ cup breadcrumbs
1/3 cups parmesan cheese
½ tablespoons salt
1/8 tablespoons black pepper
¼ bunch parsley
½ bunch basil
1 ounce stock
½ cup water (for wetting hands)
½ cup pecorino cheese (grated for garnish)
DIRECTIONS
Hand mix all ingredients (except water, pecorino cheese and save ¼ bunch basil for garnish), making sure not to over mix
Wet your hands slightly and roll meatballs into 2.5 ounce balls
Lay meatballs evenly with a 1 inch gap on a sheet tray and bake in a preheated 350 F for 20 minutes
Serve in tomato sauce, pecorino cheese, 1 teaspoon parmesan cheese, with a side of pasta or toasted crostini
NYC EATS: CHEF JOE ISIDORI OF BLACK TAP CRAFT BURGERS & BEER
Spicy Mexican Avocado
Recipe and image courtesy of Chef/Co-Partner Joe Isidori of Black Tap Craft Burgers & Beer.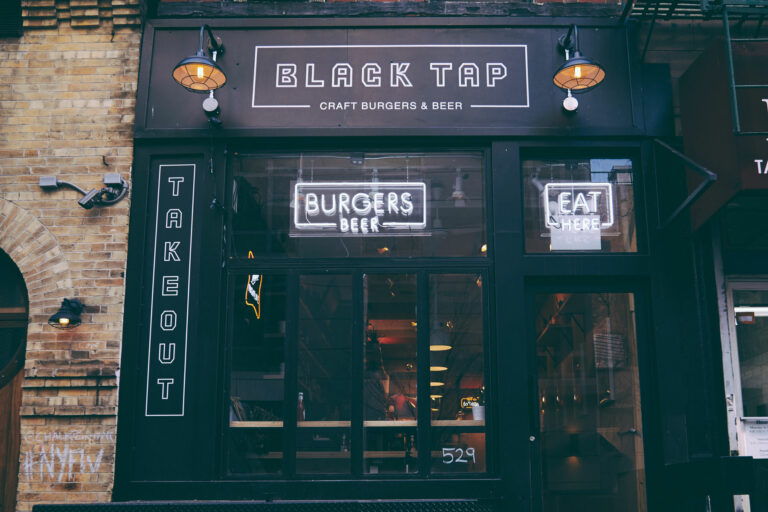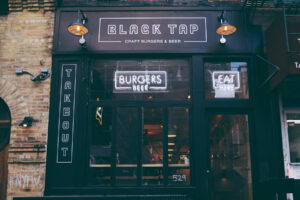 INGREDIENTS
1 Avocado
1/4 cup Pico de gallo (recipe below)
3 tbsp Apple Cider Vinegar
3 tbsp Olive Oil
Salt (to taste)
Pepper (to taste)
DIRECTIONS
Cut avocado in half and remove pit.
Large dice the avocado and scoop into medium sized bowl.
Add pico de gallo and gently mix together.
Add salt and pepper to taste.
Serve in a bowl.
NEW YORK CITY RECIPES: TAO DOWNTOWN AND FOUR SEASONS HOTEL NEW YORK
Chicken Wing Lollipops
Recipe and images courtesy of Executive Chef/Partner Ralph Scamardella of TAO Downtown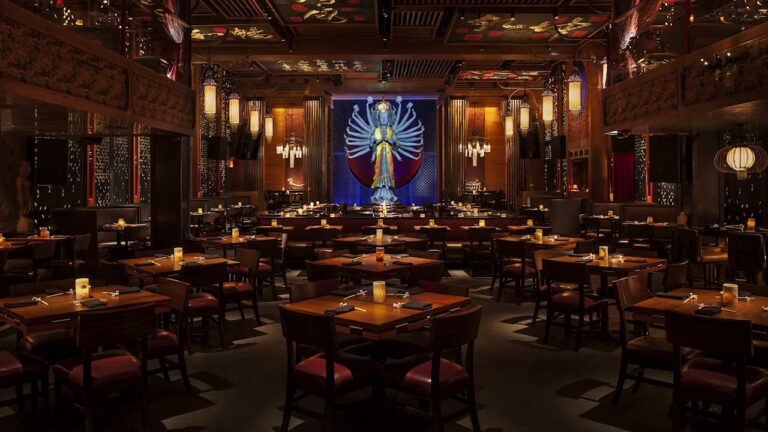 INGREDIENTS
12 Party chicken wings (Frenched)
4 Eggs
½ cup Soy sauce
2 cups Potato starch
½ tsp Seasoned Japanese pepper
1 tbsp Salt
1 tbsp Chopped peanuts (optional)
1 tsp Thai basil (optional)
DIRECTIONS
Whisk eggs and soy sauce together
Season wings with salt and seasoned pepper
Place wings in soy egg mixture and let marinate for 15 minutes
Dredge wings in potato starch, shake off excess starch and fry in 375 degree oil until crisp
Place in a medium mixing bowl
Toss cooked chicken wings with 2 oz. of the glaze
Garnish with chopped peanuts and thai basil
Refry to order until hot and crisp
Toss cooked chicken wings with 2 oz. of the Thai glaze
Garnish with chopped peanuts and Thai basil
Dinosaur Bar-B-Que Mutha Sauce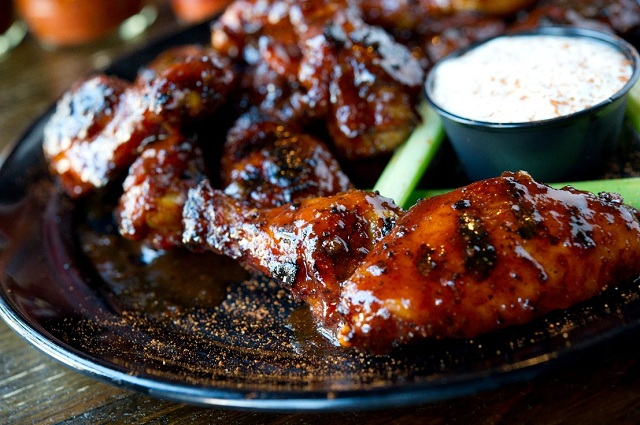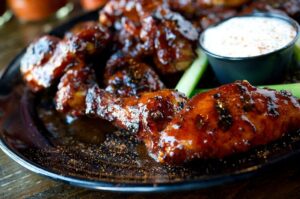 From the cookbook "Dinosaur Bar B Que An American Roadhouse" by John Stage and Nancy Radke, courtesy of Dinosaur Bar-B-Que.
INGREDIENTS
¼ cup vegetable oil
1 cup minced onion
½ cup minced green pepper
1 jalapeno pepper, seeded and minced
Pinch each of kosher salt and black pepper
2 tablespoons minced garlic
1 can (28 ounces) tomato sauce
2 cups ketchup (preferably Heinz)
1 cup water
¾ cup Worcestershire sauce
½ cup cider vinegar
¼ cup lemon juice
¼ cup molasses
¼ cup cayenne pepper sauce
¼ cup spicy brown mustard
¾ cup dark brown sugar, packed
1 tablespoon chili powder
2 teaspoons coarsely ground black pepper
½ teaspoon ground allspice
1 tablespoon Liquid Smoke (optional)
DIRECTIONS
Pour the oil into a large saucepan and set over medium-high heat.
Toss in the onions, green peppers, and jalapenos and give them a stir.
Season with a pinch of salt and pepper and cook til soft and golden.
Add the garlic and cook for 1 minute more.
Dump in everything else except the Liquid Smoke.
Bring to a boil, then lower the heat so the sauce simmers.
Simmer for 10 minutes.
Swirl in the Liquid Smoke and let the sauce cool.
Pour it into a container, cover, and store in the fridge til ready to use
NYC EATS – BODEGA NEGRA AND ARLINGTON CLUB
Taco Salad Summer Rolls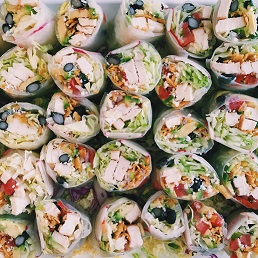 Recipe by Executive Chef Michael Armstrong, courtesy of Bodega Negra
INGREDIENTS
8 each Vietnamese rice paper spring roll wraps, 8-inch size
1 each 8 ounce organic chicken breast, cleaned and pounded thin
4 ounces iceberg lettuce, shredded
4 ounces red radishes, sliced in thin rounds
½ cup queso fresco, crumbled
½ cup canned black beans, rinsed clean
½ cup pico de gallo
4 ounces tortilla strips, thinly sliced and fried crispy
2 each avocados, pitted and sliced
2 each limes, cut in half for juicing
Salt and ground black pepper to taste
1 cup jalapeno ranch dipping sauce (recipe follows)
DIRECTIONS
Season chicken breast with salt and pepper, cook on a hot grill or grill pan until fully cooked. Allow to cool and slice into eight equal sized thin strips and set aside.
Mix black beans with pico de gallo and stir together, taste and adjust seasoning if necessary.
To begin the wraps, place all ingredients in small dishes on a large counter space. Take a wide shallow tray and fill with room temperature water.
Working one at a time, place the rice paper wraps in the water and gently soak until softened. It is important that the wraps are soft and pliable but not too soaked as they can rip easily.
Remove wrap from water and place on a clean and dry cutting board.
Build the wraps in the same order of ingredients for each one, placing them towards the center-bottom half of the wrap.
Start with the lettuce, then top with tortilla strips, chicken, black bean pico de gallo, avocado, squeeze of lime, season with salt and pepper, queso fresco, and slices of red radish across the top.
Fold up the roll, bringing the bottom part over the ingredients and folding it tightly together and folding in the sides and rolling tight upwards towards the top (similar to rolling a burrito). Be careful not to rip the wrapping, but try and keep them as tight as possible.
Set the wraps aside and continue one by one until all wraps are made. Slice in half on a slight bias and serve two wraps (four pieces) per portion. Serve the jalapeno ranch dipping sauce on the side.