Last Updated on 04/15/2021 by Inside Tailgating
[fblike style="standard" float="left" showfaces="false" width="450″ verb="like" font="arial"][twitter style="horizontal" source="@TailgateWithUs" hashtag="#tailgating" float="left"][hr]
Cincinnati, OH – September 4, 2013 (BBS Press Release)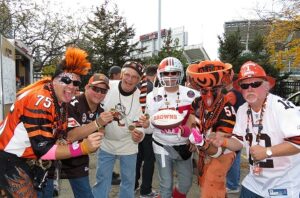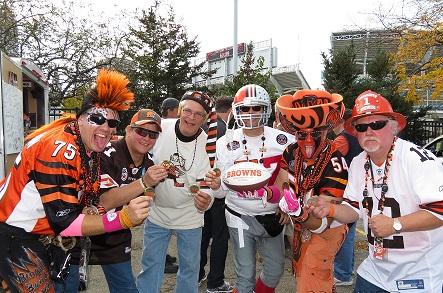 The Battle of Ohio in 2012 made kids the victors thanks to a couple tailgate groups.
Cincinnati tailgate icons the Bengal Bomb Squad teamed with Cleveland Browns tailgaters Old Man Jay, the PhoDAWGrapher, & Burnt River Bob, as well as the Burnt River Browns Backers, to raise funds for CancerFree Kids!
"Our teams are rivals, but tailgaters and fans like these are like family to us" offered John 'Big John' Robinson of the Bengal Bomb Squad. "We decided to let the rivalry do some good for CancerFree Kids and created our 'Smack Talk Football' fundraiser."
"CancerFree Kids' mission is to eradicate cancer as a life-threatening disease in children by funding promising research that might otherwise go unfunded," stated Ellen Flannery, Executive Director of CancerFree Kids.
In both Cleveland and Cincinnati, at the tailgates before the matchups of the Bengals and the Browns, guests at the home tailgate passed a football amongst themselves.
Guests were encouraged to sign the
ball with some "smack talk" for their team or against their home state rival. At the conclusion of the tailgate, the ball was auctioned off to fans as a keepsake. 100% of the proceeds
from the auction were donated to Cancer Free Kids. In 2012, its inaugural season, the "Smack Talk Footballs" raised $225!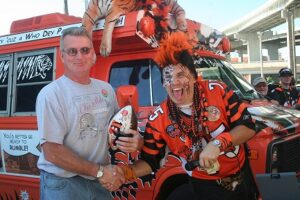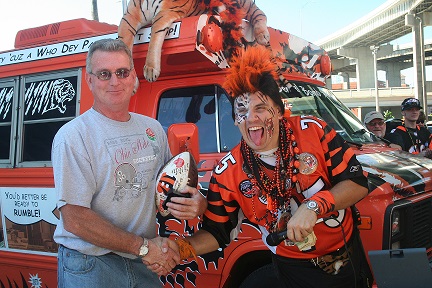 "We are so appreciative of these efforts by the Bengal Bomb Squad and their Cleveland counterparts," exclaimed Flannery. Not only are they helping us raise funds, but they are also helping raise awareness about childhood cancer."
"We plan to make this an annual fundraiser, always growing the donation & awareness! Our efforts will continue in 2013 and beyond!" added Robinson. Already in 2013, Bengal Bomb Squad members volunteered at one of the Punt, Pass, or Kick events held by CancerFree Kids as part of their "Tackle Childhood Cancer" efforts.
The Bengal Bomb Squad will be hosting a watch party for the season opener this Sunday (September 8) at BC Roosters in Springdale, Ohio, and will be returning to their tailgate home in Lot 1 (Central Ave. & Pete Rose Way) for the Cincinnati Bengals home-opener on Monday Night Football on September 16, 2013! For additional details as well as links to information for CancerFree Kids, visit www.BengalBombSquad.com.
For more information, contact John "Big John" Robinson (513) 256-1441.