Last Updated on 08/18/2021 by Inside Tailgating
At the end of July, our friends at Samuel Adams are releasing the first limited edition "Brewing the American Dream" variety pack, a 12-pack that is a collaboration with five different breweries across the country. Each of the five breweries are part of Samuel Adams Brewing the American Dream, the brewery's signature philanthropic program.
Sam Adams created the program nearly 10 years ago to provide loans and coaching to craft brewers and small business owners pursuing their passions and dreaming of starting their own businesses. All the profits from this collaboration pack will be donated to Accion, a non-profit program partner and small business lender which support loans to food and beverage entrepreneurs across the country.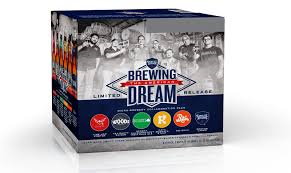 The pack includes Sam Adams' flagship Boston Lager as well as these five other brews: ThreeNinety Bock in collaboration with Roc Brewing Co. of Rochester, NY, a slightly roasted Maibock with a sweet toffee and light caramel flavor. Desert Kaleidoscope IPA in collaboration with Bosque Brewing of Albuquerque, N.M., a deep amber featuring a mixture of flavors including citrus, tangerine, pine and honey malt. Time Hop Porter in collaboration with ChuckAlek Independent Brewers of Ramona, CA, which has strong notes of citrus and pine balanced by a smooth, roasted malt character. Boston Tea Party Saison in collaboration with Woods Beer Co. of San Francisco, Calif., which is a bi-coasted twist on the classic Belgian style, combining Woods' yerba mate-infused saison with Sam Adam's wild yeast blend, Kosmic Mother Funk. And finally, Oats McGoats Stout in collaboration with Brewery Rickoli of Wheat Ridge, Colo., which is a full-bodied, moderately carbonated beer accented by earthy, spicy flavors and a hint of roasted coffee notes.
For more information on where you can get the "Brewing the American Dream" variety pack, visit their website.