Last Updated on 08/18/2021 by Inside Tailgating
In honor of the Atlanta Falcons' first regular season game at their swanky new Mercedes-Benz Stadium on Sunday night, when they host the Green Bay Packers in a great week-two matchup, why not serve up some "Dirty Bird" cocktails at your tailgate or watching party?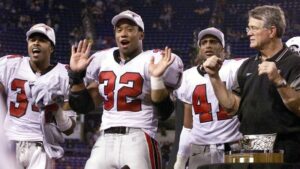 Former Falcons running back Jamal Anderson would be so pleased – he's the one who came up with the end zone dance in 1998 that the Falcons used to celebrate all the way to the Super Bowl before losing to John Elway and the Broncos. (Rolling Stone wrote a nice article last winter looking back at the origin of the dance.)
Now the Falcons are coming off their first trip to the Super Bowl since – a gut-wrenching collapse against the New England Patriots – and trying to make amends with a fresh start in a new stadium. As a bonus, it sounds like the Falcons will get their cool retractable roof to open in time for Sunday night's game too, if weather cooperates, according to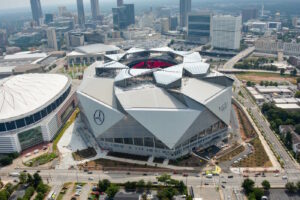 the Atlanta Journal-Constitution. The first-of-its-kind roof, inspired by the oculus in the ancient Rome Pantheon, is supposed to look like a camera lens opening, but it caused construction delays throughout the spring and summer.
So without further, ado, the recipe for the "Dirty Bird" cocktail, which truth be told is basically White Russian with a quick shake at the end. We adapted a version from www.thespruce.com.
Ingredients
1 ounce vodka
1 ounce coffee liqueur, a.k.a. Kahlua
3 ounces Half & Half
Directions
Pour the vodka and coffee liqueur in an old-fashioned glass filled with ice.
Fill with Half & Half.
Shake by placing a mixing tin over the glass and giving it one or two good shakes
Here's the video of one of Anderson's first "Dirty Bird" end zone dances, inspired by a Falcons fan calling some players "dirty birds" in the most complimentary way after a game, that made the nickname – and dance- resonate for almost 20 years.
[youtube https://www.youtube.com/watch?v=uUq8CajBN3I&w=560&h=315]