Last Updated on 08/18/2021 by Inside Tailgating
Arthur Blank, owner of the Atlanta Falcons and co-founder of Home Depot, knows a thing or two about customer service. So from the sounds of it, he's not going to leave tailgaters in the lurch with the opening of new state-of-the-art Mercedes-Benz Stadium this Saturday night where the Falcons and MLS Atlanta United will play in downtown Atlanta. The Falcons are hosting the Arizona Cardinals in an exhibition game, also known as a trial run for the new stadium.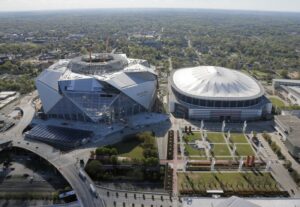 Mike Gomes, senior VP of fan experience for AMB Sports and Entertainment which is the parent company of the Falcons and Atlanta United, pointed out to the Atlanta Journal-Constitution that since the Falcons are moving less than 100 yards away from the Georgia Dome into their new home that "tailgating will fundamentally look the same."
Here are 3 things the Falcons and AMB are doing to ensure the tailgating vibe lives at the new stadium, according to this article on www.accessatlanta.com.
Mercedes-Benz will have two dozen parking lots where tailgating is allowed, including the "Gulch" – the tangle of lots and railways under Philips Arena, and along Northside Drive which all served the same purpose in years past.
After the adjacent Georgia Dome is demolished later this year, the Home Depot Backyard will be constructed including a 13-acre a park featuring an additional 800 tailgating spaces. It's scheduled to open by the 2018 season.
AMB has partnered with Waze to give patrons access to real-time information, including directions and availability in parking lots around the stadium on game days.
Fans can – and are encouraged to – purchase parking passes in advance from Parkmobile.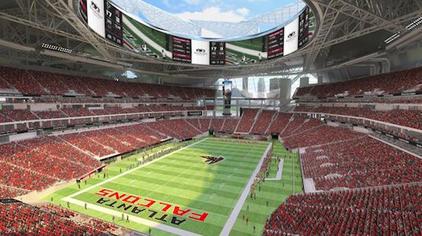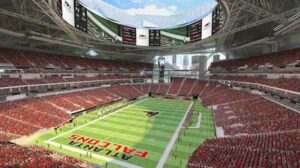 This is important to more than Falcons fans, by the way, because Mercedes-Benz is going to host big-time events for years to come, including a significant slate of events in the near future. This year the opening weekend in college football will feature powerhouses No. 1 Alabama taking on No. 3 Florida State there on Sept. 2, followed by Georgia Tech and Tennessee meeting up on Sept. 4. The college football season will close at Mercedes-Benz as well with the College Football Playoff national championship game there on Jan. 8.
And oh yeah, coming in 2019 will be the Super Bowl and in 2020 the men's NCAA Final Four.
Meanwhile, the Atlanta United open there on Sept. 10 and the Falcons' home-opener is Sept. 17 against the Green Bay Packers.
For a virtual look at what the stadium will look like on game day, check out this cool video from Mercedes-Benz:
[youtube https://www.youtube.com/watch?v=6ZriJc0Wwag&w=560&h=315]