Last Updated on 04/15/2021 by Inside Tailgating
Going to Cooperstown, NY for a Baseball Hall of Fame induction ceremony is like going to baseball heaven. I've done it twice now, and I've gotten the same feeling both times. It's like going to Augusta for the Masters. It feels almost surreal. The grass is a little greener, the sun a little brighter and everybody's spirits are high because you know you're there for something truly special: baseball immortality.
I say that as a former Atlanta Braves beat writer for the Atlanta Journal-Constitution. After covering baseball for 162-game seasons, through all the highs and low, the breaking news, the extra inning games, the rain delays, the travel and the grind, baseball writers get jaded and cynical. But even for writers, love of the game is restored at the Baseball Hall of Fame, where nobody wins or loses. You are there to celebrate the inductees accomplishments. I felt that when I went in 2014 to cover the inductions of former Braves Greg Maddux, Tom Glavine and Bobby Cox for the AJC and once again last weekend when I was there to see Braves third baseman Chipper Jones inducted.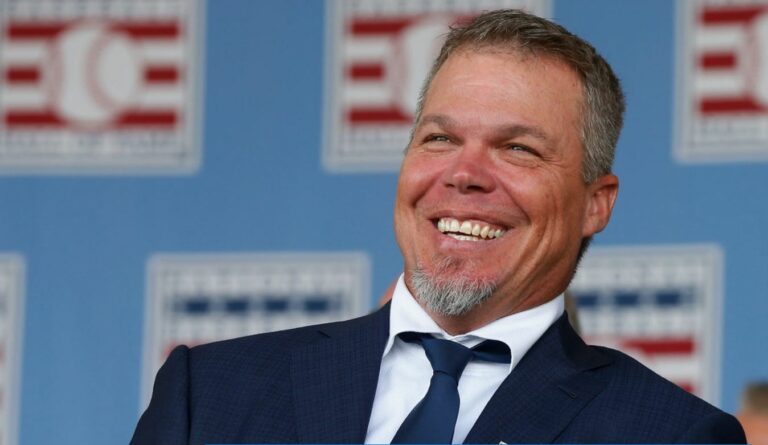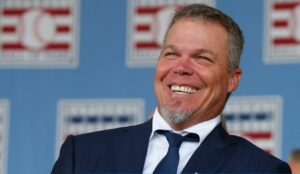 This time, though, I was there as a fan, really, so there wasn't much need to remain impartial or objective. I was there to witness history, and to enjoy my own little piece of it. I'd been lucky enough to get the opportunity to write Chipper Jones' biography Ballplayer, which came out in 2017, and through my relationship with Jones as a former beat writer and co-author of his book, he asked me to help him write his Hall of Fame speech. So in the midst of this idyllic setting nestled between the Catskill and Adirondack mountains,I got to witness the incredible job Chipper did delivering the speech of his life. And I got to have fun along the way.
We made a family trip out of it, making the two-day drive up from North Carolina with my husband, three young sons and my sister, and we met three of my husband's relatives from the northeast in Cooperstown. The day of the actual induction ceremony, though, it was just my husband, 2-year-old son and me. (We left our twin 9-month-old sons back at the lakeside cabin where we were staying to nap.) We had tickets for reserved seats so we didn't have to stake out a spot to set up a tent and chairs days in advance, but I have much respect for all the families who did, and as an editor for Inside Tailgating, I always keep my eye on the lengths people will go to to live it up in a tailgating setting. Sunday's ceremony in Cooperstown drew 53,000 fans on a sun-splashed afternoon. It was the second largest crowd ever for a Baseball Hall of Fame induction ceremony, next to the 73,000 who came in 2007 when Cal Ripken Jr. and Tony Gwynn were inducted.
Last Sunday, there were baseball jersey-clad fans stretched out as far as the eyes could see, pulling strollers and wagons loaded down with picnic food, coolers, and kids. There were fathers and sons playing catch while waiting patiently for the ceremony to start. We got in on the act with our own little mini-tailgate party, finding a nice little shady spot beneath a tree for an impromptu picnic with our 2-year-old son Wade It was a great way to catch our breaths after a busy weekend, and celebrate making some memories with our family. Stopping to create our own little spread gave us a chance to people-watch, to strike up conversations with other fans nearby and to run into some old friends who were Braves fans. All in all, it just added to the celebration – as all tailgates do – for an unbelievable sporting event. I'm so glad we went, and for those who ever get the chance, I highly recommend it!