Last Updated on 06/15/2021 by Inside Tailgating
You may have busted brackets but there are still ways to play!
STREAM LIVE MARCH MADNESS GAMES HERE
March Madness provides a great opportunity for sports bracket game novices and experts alike, to have fun and socialize around the NCAA Tournament. Here are five game styles to consider playing even with a busted bracket!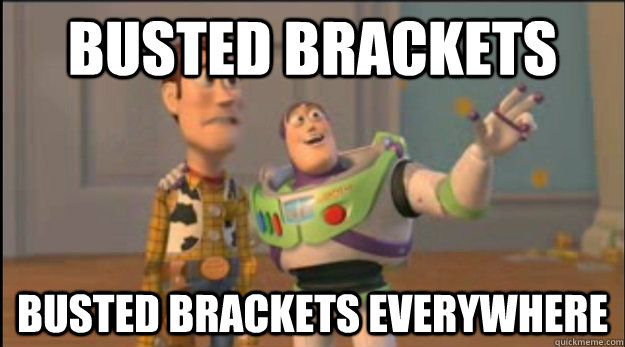 5 Games to Play Even With a Busted Bracket
Pick the Bracket – This is the most common and most popular game style. Everyone picks all the winners prior to the start of the tournament and gets points for each win. Scoring formats can vary quite a bit, but usually, the value for wins increases each round. There are always some perfect bracket contests that can be entered, but nobody has ever created a perfect bracket, just busted brackets.
Auction Teams – If you have a large enough group and want a good reason to have a few beers over Zoom before the next round, run an auction where people bid on each team. Go free market or assign a spending cap. Set the payouts so that teams that make the Final 8 are in the money and increase the % payout each round. Assign a % to team that is the biggest loser in the first round so that some money is spent on those teams.
Squares – This style is extremely popular at Super Bowl parties and for those with busted brackets. Create a 10 x 10 grid and draw numbers at random or just go straight 0 – 9 on the top and 0 – 9 down the side. We like to get people in the squares first and then draw the numbers at random. Pick one game each day of the tournament or do all 63 games. Doing all 63 games can really spread the pot thin.
Vegas Style Bankroll – If you can't make it out to Vegas and enjoy the sportsbook action, then play a bankroll game where play money can be wagered on point spreads and over/under. The person that accumulates the largest bankroll wins and forgets about their busted brackets.
Survivor – A popular format during the NFL Regular Season. It can be set up to pick one on each tournament day or one each tournament round. A team can only be picked once. With the field getting cut in half every round, it gets tricky pretty quickly. You don't want to be out of teams by the Final Four.
All the major sports websites offer a variety of contests for those with busted brackets, and many of them for free, too. If you simply cannot go on, here are 5 Steps to Help Cope With a Busted Bracket.
Best of luck and enjoy all the different brackets you create and game styles you play!