Last Updated on 01/05/2022 by Inside Tailgating
At Inside Tailgating, we independently select and write about stuff we love or want to try out and think you will too. As a participant in the Amazon Services LLC Associates Program, and other affiliate advertising programs designed to provide a means for sites to earn advertising fees by advertising and/or linking to their websites, such as Amazon.com, we may receive a commission on sales or other compensation through those links on this page. It is at no additional cost to you, but we gotta pay for our tailgates somehow…
Even though the traditional tailgate party has looked a little different this year, there's no reason to cut your tailgating season short when the weather starts to get colder. With a few additional tools in your arsenal, you can host an amazing tailgate or homegate and enjoy the last few games of the season in style. Check out our list of nine essentials for hosting or attending a cold-weather tailgate:
Essentials for a cold-weather tailgate party
1. Portable fire pit: Everyone always gravitates toward gathering around the fire pit during a cold day and this outdoor fire pit is easy to use and transport to any tailgate party. Get a fire going quickly without the need to transport firewood thanks to its efficient use of pellets. A portable fire pit is definitely a must-have for any tailgate once the weather starts to get chilly.
2. Heated jacket You'll be prepared no matter the weather with a Gobi Heat heated jacket that keeps you warm from the inside out. If the temperature starts to dip, just turn up the adjustable heating element and you'll be warmed up in no time. Don't worry about packing different jackets, one adjustable jacket will have you covered for any weather scenario.
Gobi Heat makes more than just amazing jackets. Visit their site for heated beanies, socks, gloves, vests and more.
3. Holiday sweater: Show off your team colors and your holiday spirit at the same time with a festive sweater that also has a built-in Bluetooth speaker. This is the perfect piece of team gear to wear this time of year and also makes a great gift for the sports fanatic in your life. Wear this sweater to a tailgate or a holiday party to show you're the jolliest fan around!
4. Coffee dispenser and insulated cup: Nothing hits the spot in cold weather like a nice warm drink, so make sure hot coffee is always supplied with a heated coffee dispenser. This one is large enough for a crowd and brews the coffee as well to make tailgating even easier. Complete your setup with some insulated mugs to keep your drink steaming warm all day.
5. S'mores supplies: The perfect companions to your portable fire pit are graham crackers, chocolate and marshmallows. Make sure you're stocked up on s'more supplies for an easy treat that's a huge crowd-pleaser. Don't forget the marshmallow sticks too!
6. Triple Crock Pot: Keep all of your dips, chilis and stews steaming hot in the cold with a handy triple crockpot. Three removable pots allow you to have a little bit of something for everyone and keep it hot throughout the day. Some favorite crock pot recipes for the cold weather are Irish stew, hot apple cider or mac and cheese.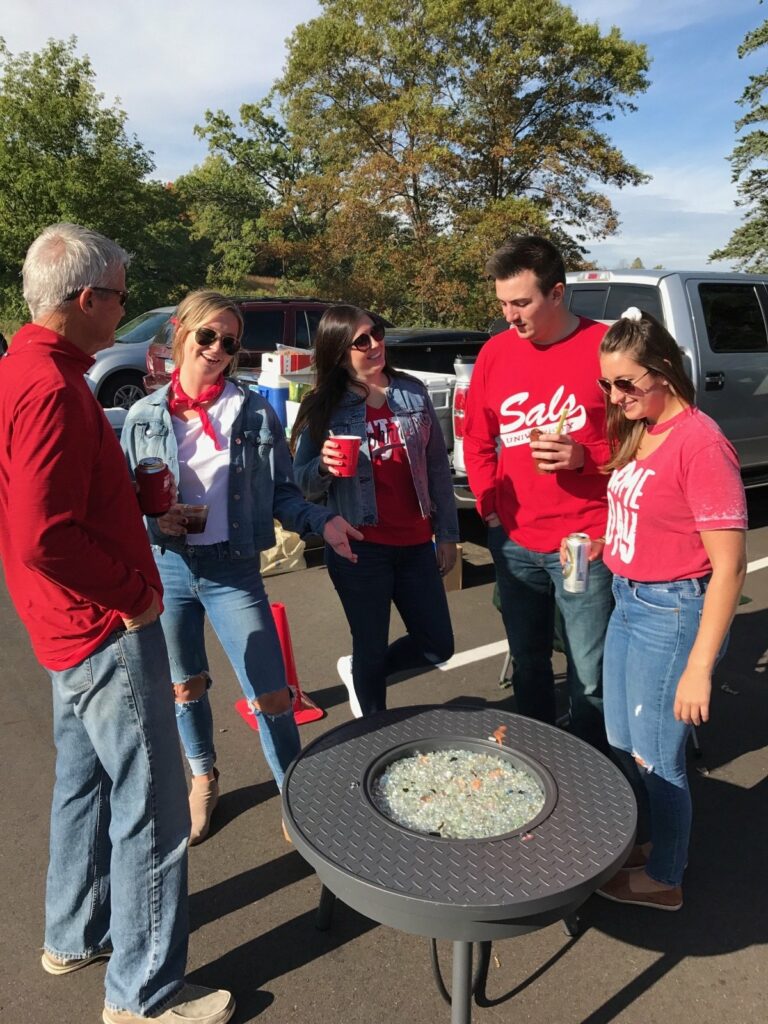 7. Cardboard or styrofoam: It sounds strange, but trust us on this one! Save the packaging from your next few online shopping deliveries and lay down the styrofoam or cardboard to stand on while you're tailgating. The material will give you an extra layer of insulation from the cold ground so you won't feel as cold while standing around at the tailgate. Don't knock it 'til you try it!
8. Tailgate games: Just because the weather is cold doesn't mean it's time to leave your tailgate games at home. In fact, now it's more important than ever to get up and move during your tailgate. Whether you bring Kan Jam, cornhole or another one of our favorites, keep everyone warm and having fun with some classic tailgate games during the cold weather.
9. The perfect versatile grill: Warm soup and coffee are great during a cold tailgate, but there's still nothing like a juicy burger or loaded bratwurst before a big event. We here at Inside Tailgating are huge believers in the ultra-versatile, easy to set up FIREDISC®. By grilling without grates, you can cook everything from stir fry to mac and cheese while managing an entire meal for a large gathering from one pot. As the FIREDISC® website explains: "Who needs an indoor kitchen when your FIREDISC® can bake, broil, blacken, deep fry, boil, grill, scramble, sauté, sear and steam?"
---
The Gobi Heat Giveaway has ended.