Last Updated on 06/24/2021 by Jennifer Rutzen
Every month we pick a "Select 6," sharing our expertise on all things tailgating, whether it's our favorite portable grills, RVs, coolers, barbecue sauces, burger recipes or seasonal beers. Then we turn it over to you, our readers to vote for your top pick. We will announce the results at the end of July. Meanwhile, as NFL training camps open up, MLB pennant races heat up, and college football inches ever closer, our own Danielle Maslany picks our Select 6 Tailgating Games.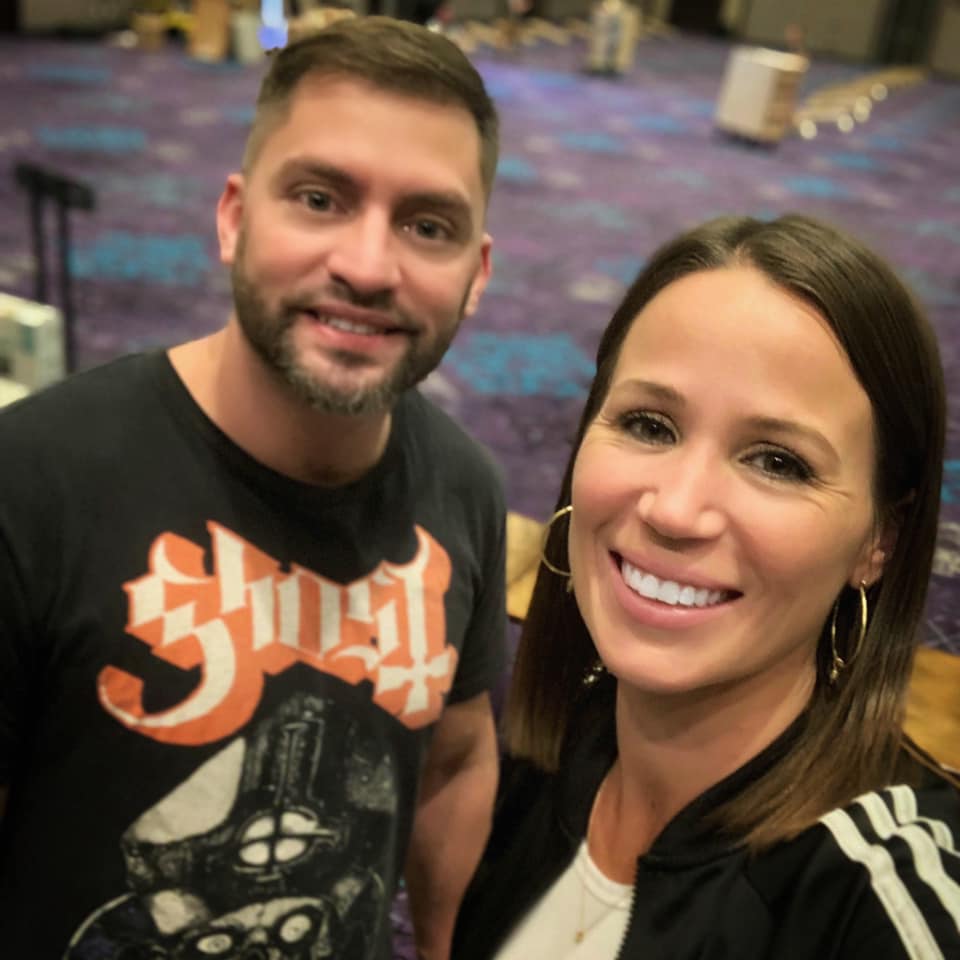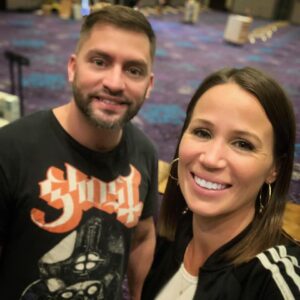 Maslany is our Social Media tailgater and co-host for the Inside Tailgating Lounge, our traveling tailgate party that accompanies the American Cornhole League to its championship events. Bottom line: she knows what makes a great tailgate party. She is also a Philadelphian, which means she's seen close up how much tailgating games set the tone at a tailgate.
"Philadelphia is special when it comes to tailgating," says Maslany, pointing out that all three professional sports venues in Philadelphia share the same complex, whether it's the Eagles at Lincoln Financial Field, the Phillies at Citizens Bank Park, and the Flyers and 76ers at the Wells Fargo Center. "The parking lots are always jam-packed and people are everywhere, trunks popped, campers set up, stacked grills and stocked coolers. But tailgating is more than just food and alcohol… right? It's socializing, hanging out with friends and getting to know new people. What better way to do that than over a tailgate game?"
Here are Maslany's Select 6 tailgating games and her reasoning for each one:
Flip Cup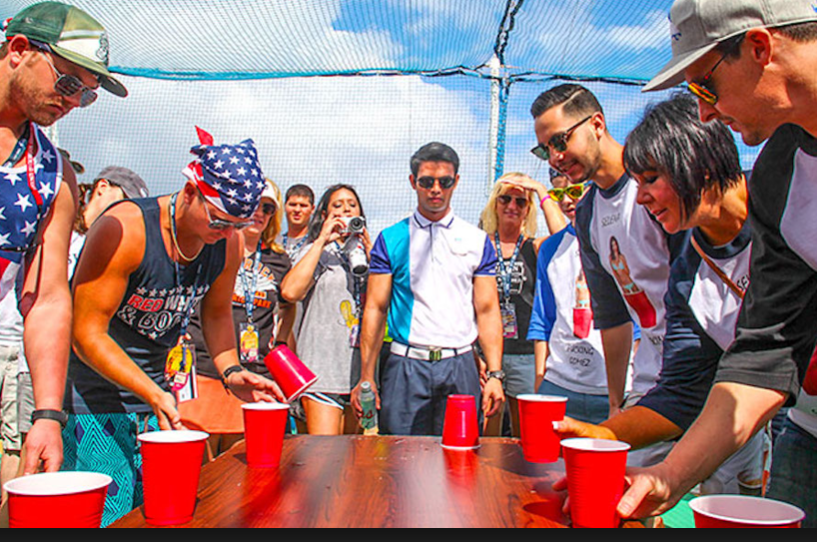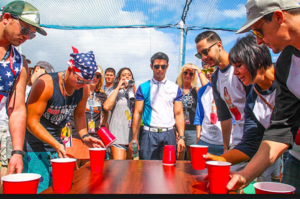 I love involving everyone. That's why Flip Cup is my all-time favorite tailgating game. We use a beer pong table to play it and jam as many people as possible on each side and play several rounds. The concept: line your team up across from your opponents,' each with a cup of beer filled about 1/4 of the way. One player on each team chugs the beer, places the cup upside down on the edge of the table and flips it with his or her fingers until it lands right-side up. Once it lands correctly, the next player starts chugging and flipping. The round continues until one team finishes first.

Beer Pong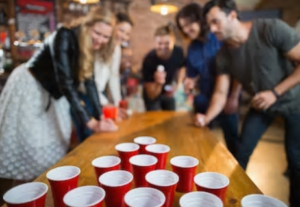 Beer pong is always fun at tailgating. It is limited to four people at a time but our tailgates are known to have a "guest shooter" or two as the day progresses. Rules often differ based on where you are from, but the basic concept is two teams of two people play. Each team takes turns throwing a ping pong ball down the table into the other team's cups, which are set up in a triangle of six or 10 cups. Once a ball lands in a cup, the cup is removed and the opponent has to drink the contents of the cup. If both teammates hit cups, you bring it back and shoot again. The first team to eliminate all of the other team's cups wins.

Dizzy Bat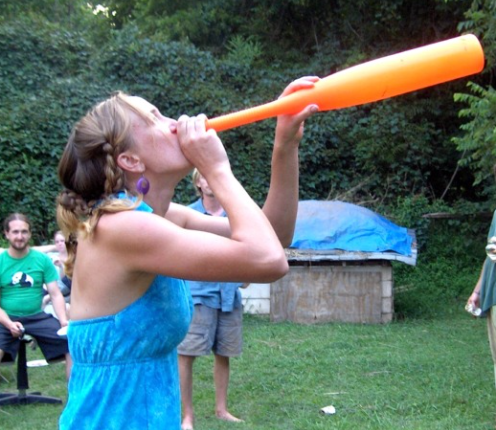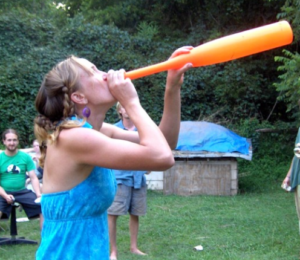 This can get dangerous, but it is so much fun. We played this all the time in college. You take a whiffle ball bat and cut off the bottom portion near the handle. You fill the bat with beer, chug it and then place the bat on the ground standing upright, rest your forehead on the bat, spin around three times and then someone pitches (usually a crushed beer can) or a ball and you try to hit in. BE CAREFUL THOUGH! I've seen so many people fall.

Football Buckets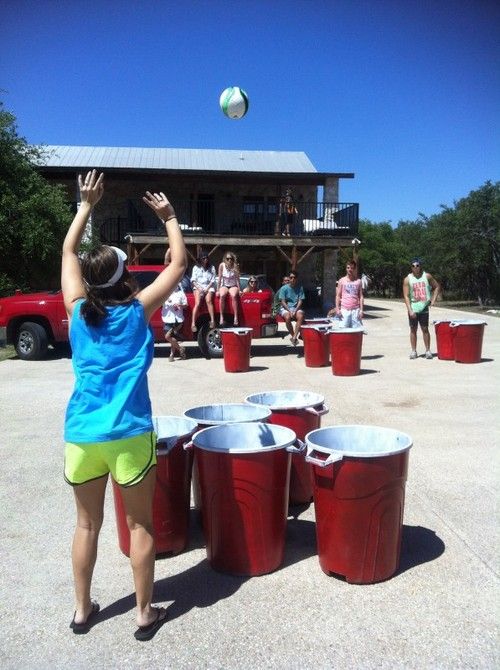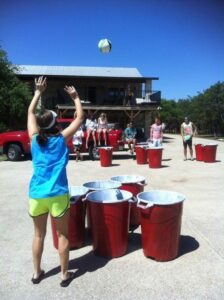 It's played much like beer pong but with a football and a large circular trash can as your target rather than a series of cups. You can play one-on-one or in teams. The goal is to get the football into the trash can. We make up our own rules, but they always involve alcohol.

Cornhole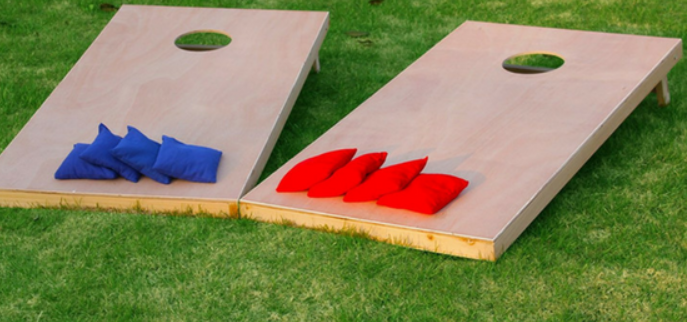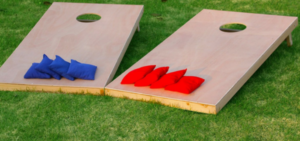 Cornhole is a tailgate staple. It's where I was first introduced to the game, and I've never been to a tailgate where I haven't seen people playing. People of all ages and skill level can play it, and you don't need to be drinking to enjoy. This one is family friendly!
KanJam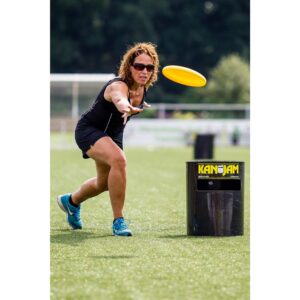 This sometimes gets messy depending on the amount of alcohol consumed and how big your tailgating space is… as well as how Kool your surrounding tailgaters are. The game has two cans with open tops and a larger slit on the front that's slightly wider than the frisbee. The fans are set about 50 feet apart. You can modify teams as you see fit, but we play with two teams of four using one Frisbee. The goal is to get the Frisbee into the front slot. There are a number of variations to obtain points as well.