Last Updated on 04/14/2021 by Inside Tailgating
CES, the large annual consumer electronics show starts today in Vegas. I will be there so I plan on tailgating in the parking lot. Here is what i will be grilling up:
Italian Sausage Sandwiches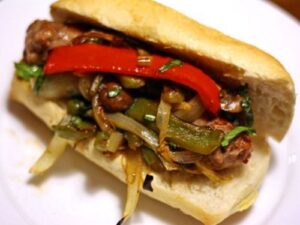 Ingredients:
1 package (4-5 count) Italian Sausages
1 package sandwich rolls
2 red peppers, sliced and grilled
½ c. basil pesto
¼ c. pine nuts
shaved Parmesan cheese
Directions:
Prepare Italian Sausages and peppers on the grill.
Fill each sandwich roll with approx. 2 Tbsp. pesto, 1 Italian Sausage, red pepper slices, pine nuts, and fresh shaved Parmesan cheese.