Last Updated on 08/18/2021 by Inside Tailgating
The NASCAR season kicks off this Sunday with the 59th running of the Daytona 500, and you don't have to be in Florida to enjoy the fun, at least not anymore. The Texas Motor Speedway is hosting a Daytona 500 watch party where fans can tailgate inside the Fort Worth, Tex. speedway, camp out over the weekend, and watch the race on "Big Hoss," a 12-stories tall, high definition TV that is in the Guinness book of records for being the world's largest TV. It's nearly half an acre of TV viewing along the back stretch..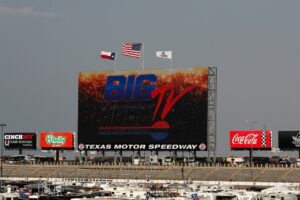 Nearly 3,000 tailgaters had signed up for the event as of Thursday, as well as some 400 RVs. That's not far off from the number of RVs that will be parked on the infield at the Daytona International Speedway. They've got live music and a cornhole tournament to boot. We at Inside Tailgating are giving our Texas friends a tip of the Stetson on this one. Well done!