Last Updated on 01/05/2022 by Inside Tailgating
Is there anything that says tailgating more than a perfectly cooked hot dog fresh off the grill? That first snap when you bite into it is heaven on a bun. Whether you love to smother your dogs in chili or just like a light dollop of mustard, mastering the perfect hot dog is an essential tailgating skill. At Inside Tailgating, we'd had our fair share of perfectly cooked hot dogs before a big game. So we thought we'd share some of the tips we've learned over the years to help you perfect this ultimate tailgating food.
Learn The Basics Of Cooking A Hot Dog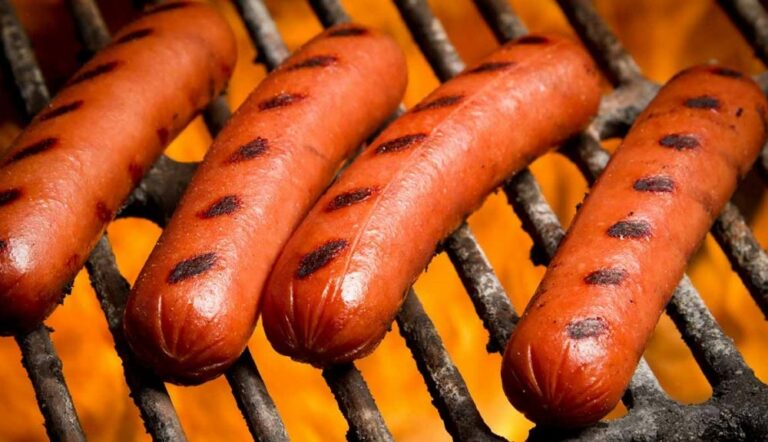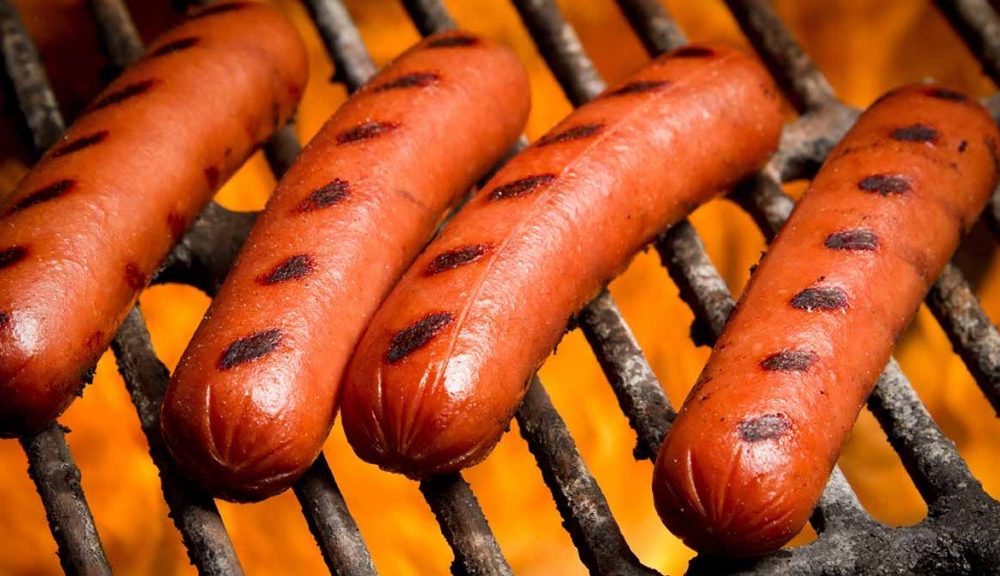 It doesn't matter if you are cooking a savory ballpark dog, a classic Coney Island dog, or even a vegetarian hot dog. How you cook your hot dog makes all the difference in flavor. For a basic grilled hot dog, it is really simple.
Did you know that there are at least fifty-four brands of hot dogs out there?! What is the best way to grill them? Are there any secrets there or is it pretty easy?
● Make sure your grill is clean. No one wants leftover food from the last event sticking onto their dog.
● Preheat the grill.
● Check the ends of the dogs to see if they start to split. If they do, you are done.
Sure it is simple, but don't overcook or burn your dog. That would not be ideal. Enjoy!
Once you get the basics down, you can start getting a little experimental. You can work on things mastering the perfect even grill lines or getting the perfect crispy skin.
Upgrade Your Hot Dog Cooking Tools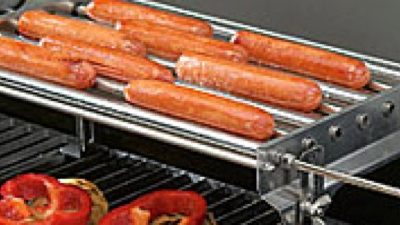 Sure, all you need to make the perfect hot dog is a grill. However, you can definitely level up your tailgating food game with a few cool tools. If you are feeding a large crowd, a great option is to get a motorized hot dog griller.
Food is really a wonderful thing with so many functions and facets. Grub comes in all shapes, sizes, colors and textures, and can be composed of natural ingredients or a bunch of chemicals nobody can pronounce. Chow is also displayed in a wide variety of ways, whether on a dish, a bun or a tortilla. But one food method seems to trump all, especially late at night coming home from a night on the town — spinning food.
The Motorized Hot Dog Griller assuredly was inspired by the 7-Eleven rotisserie cooker's irresistible powers over hungry customers at 2:53 a.m. The design allows you to plop the gadget right on your grill teeth, providing an upper deck of rolling goodness. The electric motor causes the hot dogs or sausage to cook evenly by keeping the food in constant motion, so you can continue to sit on your duff and drool over the bratwurst that you're about to inhale. Gone are the days of cold patches and burn marks that no amount of ketchup or relish can hide.
The griller measures 8.5" x 12.5" giving you enough room to safely cook 10 dogs at once, and fits nearly every model of grill. Unlike the unsanitary "meat" products rolling around next to the Slurpee machine, this griller can easily be cleaned. Sadly, nobody knows if the convenient store cooker can also be scrubbed, because nobody has been courageous enough to actually attempt to clean it. For more information, connect to Brookstone.com.
This is the easiest way to cook hot dogs for a crowd, but there are some other fun options you can get into as well.
Make Hot Dogs Even More Fun!
Hot dogs are definitely a food for fun. That's why they are served at everything from games to family reunions to arcades. So why not grab an accessory that will make the process of cooking your dogs extra fun. We present the Swashbuckling BBQ Sword.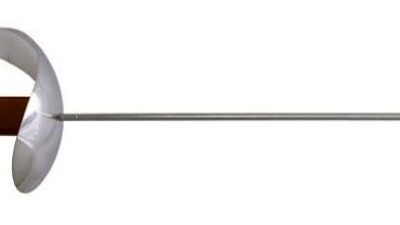 "Hello. My name is Inigo Montoya. You killed my father. Prepare to die."
This famous quote from The Princess Bride is hilarious in the context of the film, but the phrase does not carry the full weight when said by somebody NOT carrying a sword. And because most tailgates frown upon including weapon-wielding maniacs, this creates quite a quandary. But not if you have the Swashbuckling BBQ sword on hand.
Measuring 19 inches long, and weighing less than a pound, this meat skewer forms the shape of a giant fencing sword. The only difference in appearance is that this BBQ sword has two prongs on the end for rolling hot dogs and sausages while being able to lift any meat in need of being turned over. And its wooden handle protects you from the heat while providing a stable grip for when you lightly prod your other guests when it's time to leave for the game.
"Inconceivable" you say, although I don't think it means what you think it means. The strong steel construction makes it worthy for any size grill and comes with a free musketeer mask. Now you can hide your identity if you accidentally overcook your burgers, and it's also perfect if you're in Lubbock, Texas and are honoring the school's beloved masked rider mascot.
So now if you see a six-fingered man at your next tailgate, just say what Inigo Montoya would say.
For ordering information, connect to Amazon.com.
Let's Talk Hot Dog Techniques
If you are a toppings lover, you have got to try the slot dogs. Slot dogs are a super easy way to prepare your hot dogs while keeping all your toppings in the bun.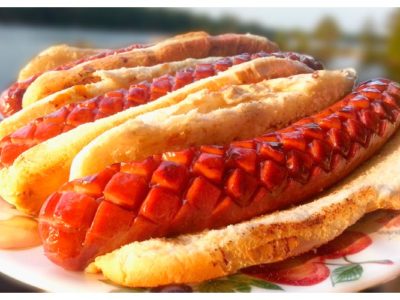 No more drippy ketchup. No more melted cheese mess. SLOTDOG is your new hotdog solution for both neat and tasty hotdogs. SLOTDOG is the kind of handy culinary tool that will revolutionize a tailgate classic. Simply press SLOTDOG on each side of your hotdogs, grill and voila, the dogs are extra plump and juicy without being overcooked, and feature a criss-cross design that's ready for your favorite toppings.
Check out this video from Ryan Alessio to see the SLOTDOG in action. Do try this at home!
To Bun Or Not To Bun?
We're not all bun lovers. That doesn't necessarily mean we've gone low carb. Some of us love pigs in a blanket, where the bun is just simply built-in. If you love pigs in a blanket, we've got something that may be of interest to you.
"Pigs in a Quilt" which is way more fun than the ol' blanket variety. Check out this recipe we found on Delish.com and throw it together this weekend for your friends and family! Did we mention that it looks complicated in the photo but turns out to be easy?! See for yourself in the video in the link.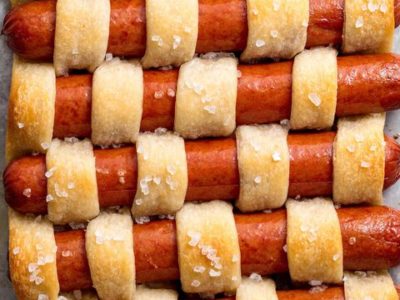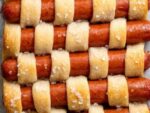 Print Recipe
Pigs In A Quilt
Ingredients
1

Tube

Pillsbury French Bread Dough

8

Hot Dogs

Cooking Spray

Melted Butter

Coarse Sea Salt

Yellow Mustard
Instructions
Preheat oven to 375°. On a lightly floured surface, roll out French bread dough into a large rectangle. Cut into 8 thin strips.

Transfer strips to a lightly oiled baking sheet. Fold back every other strip and lay down first hot dog. Bring strips back over hot dog and fold back alternate strips. Lay down second hot dog and repeat weave process until you've reach the end of the strip (about 6 hot dogs).

Brush dough with melted butter and sprinkle with salt.

Bake until deeply golden, 20 to 25 minutes. Slice into squares and serve with yellow mustard.
With the right technique, tools, and toppings you'll be sure to perfect this ultimate tailgating food. Comment below or tag us on social media with your recommendations so we can try them at our next tailgate.
Be sure to sign up for our newsletter and follow us on Facebook, Twitter, and Instagram for more tailgating tips, recipes, and fun!