Last Updated on 04/14/2021 by Inside Tailgating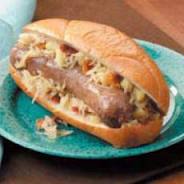 When we get a craving here in the office (The Shed), we enjoy looking up different tailgating recipes and trying it out. Here's one that I found awhile back that I haven't shared yet and thought It would be perfect because not only does it have beer in it, it has brats. A hot brat is perfect in the lots during the fall! If you have a tailgating recipe that you would like to share shoot me a message at [email protected]. If you have a picture of your recipe, that would be awesome so feel free to send that too!
Enjoy!
Beer Simmered Brats
Serves 6
Ready for Beer Simmered Brats? They are easy and delicious!
2 12-oz. cans of beer
2 large onions, thinly sliced
6 uncooked bratwurst
6 good quality hot dog buns or small submarine rolls
1 1-lb. bag refrigerated sauerkraut, drained
Brown Mustard
Pickle Relish
Oil for the grill racks
Heat a gas grill using all burners on high and with the lid closed for 10 to 12 minutes.
Combine the beer, onions, and brats in a large saucepan. Set over medium high-heat and bring to a boil (use your grill side burner if you have one). Reduce the heat to low and simmer until the brats are just cooked through, about 8 minutes.
Remove the brats from the pot and place them on the grill. Grill the brats for 8 to 10 minutes,turning them frequently to brown them evenly on all sides. When they're done, slide them into the buns and top with mustard, sauerkraut, or relish.
CREDIT:
Fred Thompson, from Barbecue Nation (Taunton, 2007)
The Best of Fine Cooking, Tailgating 2010