Last Updated on 06/24/2021 by Inside Tailgating
As much as you might want to hang on to the tailgating culture in its purest form – back of the car, case of beer, burgers and buns – and we do!….what sports and entertainment entrepreneurs are coming up with for pre-and-post game activities around Major League Baseball and other pro sports is pretty awesome. Texas Live! in Arlington, Texas is the latest impressive example. (Think Ballpark Village adjacent to Busch Stadium in St. Louis, The Battery Atlanta next to SunTrust Park.) Sometimes you've just got to throw in the towel: if you can't beat 'em, join 'em?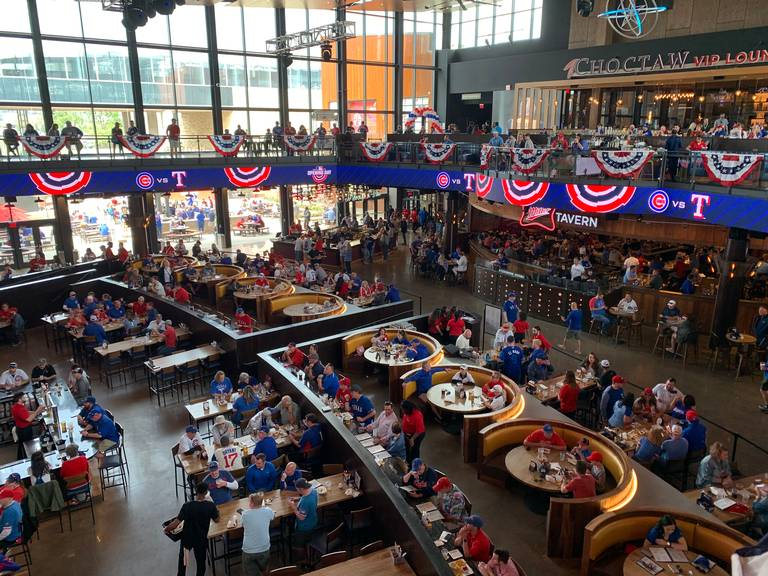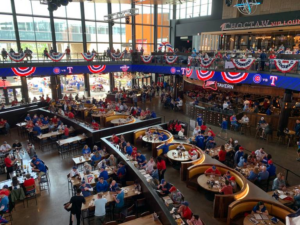 Built adjacent to where the new Texas Rangers' ballpark will open next season, and across the parking lot from AT&T Stadium where the Dallas Cowboys play, is a $250 million sports and entertainment complex that features local food and beverage, live music, from both national and local acts, and air-conditioning – which in Texas in the middle of the summer is no small matter. Fans can take turns riding a mechanical bull or swinging in a golf simulator, play foosball and more.
Texas Live! opened last August as the Rangers were finishing up their season. It was back in full swing for the Rangers' home opener last week, when Texas started its final season at The Ballpark at Arlington (they're calling it Globe Life Park now.)
"It's tailgating on steroids," Jim Watry, chief operating officer at Texas Live! told the Fort Worth Star-Telegram before the Rangers' opener against the Chicago Cubs. "It's everything you need for tailgating but with more amenities. We have a great mix of families and couples, and a mix of Cubs and Rangers fans."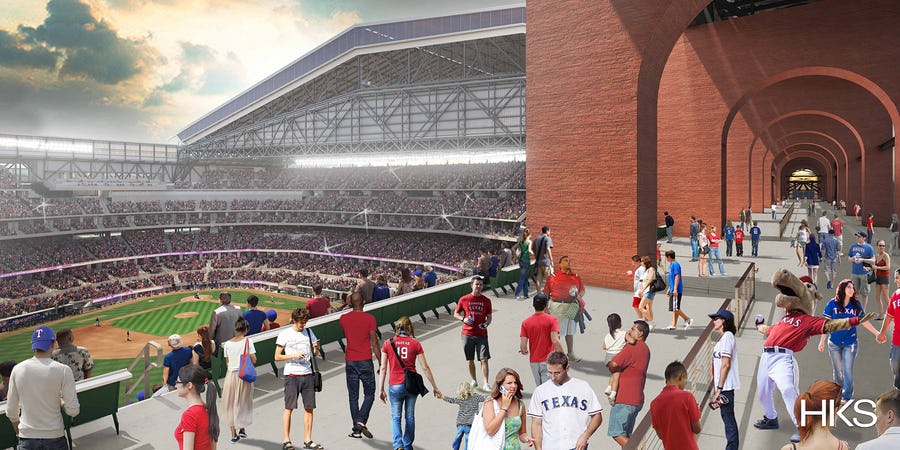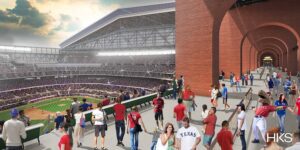 The Rangers will move into new Global Life Field in 2020. I'm one of those old school baseball people who think the Ballpark at Arlington was a beautiful place and a perfectly good ballpark even at 25 years old. But it's hard to argue with a retractable roof for the Texas triple-digit heat in July and August, not to mention a pretty understandable impetus to keep the stadium in Arlington instead of rumored moves to Dallas.
As a former baseball beat writer for the Atlanta Journal-Constitution, I covered an occasional interleague game in Arlington when the Braves played the Rangers. One year I flew in for one game – a makeup game – and to make travel turnaround easier I stayed in a hotel night next to the stadium. Man, do I wish there had been something like this setup then. There wasn't a whole lot going on before. Let's just say that's not an issue now!
[youtube https://www.youtube.com/watch?v=6wKCA9gU3RU&w=560&h=315]