Last Updated on 04/14/2021 by Inside Tailgating
Here at Inside Tailgating we love our meat. But sometimes you can tailgate with other options.
No, I'm not talking about becoming a vegan or something like that. But just try offering other options for your guests.
First up is an easy veggie kabob recipe, adapted from Taste of home:
Ingredients
2 tablespoons orange juice concentrate
2 tablespoon reduced-sodium soy sauce
4-1/2 teaspoons honey
1 teaspoon canola oil
1/4 teaspoon salt
1/8 teaspoon crushed red pepper flakes
2 medium red potatoes, cut into 1-1/2-inch chunks
1 teaspoon water
1 medium zucchini, cut into 1/4-inch slices
1 medium sweet yellow pepper, cut into 1-inch pieces
14 cherry tomatoes
Directions
In a bowl, combine the first six ingredients; set aside. Place potatoes and water in a 1-1/2-qt. microwave-safe bowl. Cover and microwave on high for 3-4 minutes; drain.

On metal or soaked wooden skewers, alternately thread the potatoes, zucchini, yellow pepper and tomatoes. Grill, uncovered, over medium heat for 8-10 minutes or until tender, turning and basting frequently with orange juice mixture.

Yield:

7 servings.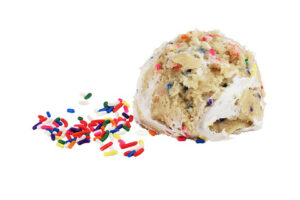 Second, why not try out some cookie dough from our friends at Edoughble. They offer 10 one-of-a-kind, deliciously sinful flavors to choose from. I would tend to go with the "Chocolate Chip Off The Ol' Block", but "Birthday Bash" is certainly festive. . No baking. No scary raw egg. Just pure, doughy, unapologetically sugary, spoon-ready deliciousness made with the best ingredients and mix-ins.