The biggest race in NASCAR is almost here! On May 29, racers from all over will take to Indianapolis Motor Speedway. They'll race head-to-head for 500 miles and we'll be glued to the track for all the action. However, watching drivers race for 500 miles can sure make you hungry. So before you gear up for the race, you better plan some tasty tailgate party food to snack on while you watch the race.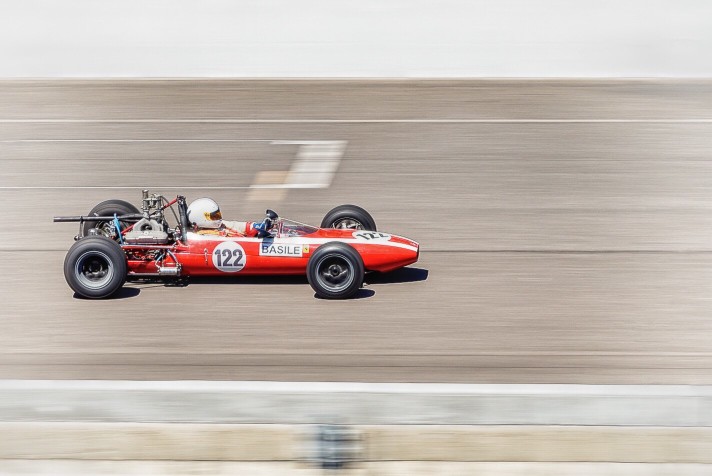 To help you plan your menu, we put together a list of some of the most famous NASCAR-inspired foods. Some of these dishes have a long history with the game. Others are favorites around Indianapolis where the race is held. We also included some dishes inspired by the NASCAR Refuel station for those who love the stadium favorites but can't make it to the race this year. Let's get started:
Give Your Tailgating Pit Crew A Flying Start
All great tailgate party food starts with a large spread of tasty appetizers. Here's what we're serving up:
ST. ELMO SHRIMP
Ingredients
St Elmo Steak House Shrimp Cocktail Sauce
Instructions
Fill a pot with 4 quarts of water and bring to a rolling boil. (It's important to use a full 4 quarts for this step)

Fill a medium size bowl with 4 cups of ice and 1 cup of water.

Set a timer for 2 minutes and 15 seconds.

Carefully put shrimp in boiling water and remove from heat.

Start timer. Stir shrimp.

When timer is complete, immediately remove the shrimp with slotted spoon and place into bowl of ice water.

Toss shrimp in ice water for 3 minutes or until completely chilled. Shrimp may be stored in a sealed container in refrigerator for up to 2 days.
Elmo Langley was a famous NASCAR driver from the 1950s. He drove with the number 64 and placed in the top at almost as many races. However, beyond his illustrious career, he left another legacy behind. His St. Elmo's hot sauce. Paired perfectly with shrimp, this is an essential NASCAR tailgate party food dish.
Marc's Race Day Dip
Ingredients
8

Oz

Package Cream Cheese

14

Oz

Jar Pizza Sauce

2

Cups

Shredded Mozzarella Cheese

4

Oz

Can Diced Green Chile Peppers, drained

6

Oz

Can Sliced Black Olives, drained

1

Jalapeno Pepper, sliced

12

Oz

Sliced Pepperoni, chopped
Instructions
Preheat the oven to 325 degrees F (165 degrees C).

Spread the cream cheese in a layer in a 9 inch square baking dish. Spread a layer of pizza sauce over the cream cheese, followed by layers of shredded cheese, green chilies, black olives, jalapenos, and pepperoni.

Bake for 25 minutes in the preheated oven, until heated throughout.
There's probably nothing more popular at NASCAR than pizza. Pizza is the perfect food for watching the race. It's easy to eat without mess, tastes fantastic, and keeps you full the whole race. If you're watching the race from home, try this race day pizza dip as an appetizer. You may eat so much, you don't need anything else!
Fully Loaded Deviled Eggs
Ingredients
12

Eggs

1

tsp

Vegetable Oil

1

Small

Onion, chopped

1/4

Cup

Sour Cream

2

Tbsp

Mayonnaise

1

Tbsp

Ranch Dressing

1 1/2

Tsp

Dijon Mustard

1/2

Tsp

Garlic Powder

1/2

Pinch

Onion Powder

1/8

Tsp

Lemon Pepper Seasoning

1

Tbsp

Bacon Bits

1

Cup

Finely Shredded Sharp Cheddar Cheese

1/4

Tsp

Paprika
Instructions
Place eggs into a large pot and cover with lightly salted water. Bring to a boil and reduce heat to medium; boil eggs for 10 to 12 minutes. Drain the boiling water and fill pot with cold water. After 2 to 3 minutes, pour off water and replace with more cold water. Repeat until eggs are fully chilled, 10 to 15 minutes. Peel eggs.

Heat vegetable oil in a small skillet over medium heat and cook and stir onion until translucent, about 5 minutes. Remove from heat and let cool.

Slice eggs in half lengthwise and scoop yolks into a bowl; transfer egg white halves to a plate. Mash egg yolks with a fork; stir in sour cream, mayonnaise, ranch dressing, Dijon mustard, garlic powder, onion powder, and lemon pepper seasoning until yolk mixture is smooth. Stir in sauteed onions, bacon bits and Cheddar cheese.

Generously fill egg halves with filling and sprinkle each deviled egg with paprika. Refrigerate until chilled before serving.
Deviled eggs are a perfect tailgate party food. Easy to make, no mess, and can be served with a napkin. However, deviled eggs can get a little plain. However, these deviled eggs have spices, cheese, and even bacon! They're a great starter!
Keep Your Pit Crew Full For 200 Laps
For main dishes, we're sticking with all the NASCAR favorites. Here's what to make:
Hoosier Pork-Tenderloin Sandwich
Ingredients
2

Lbs

Center-Cut Boneeless Pork Loin

2

Large

Eggs

2

Cups

Buttermilk

2

Cloves

Garlic, crushed

Salt and pepper

1/4

Tsp

Cayenne Pepper

2

Sleeves

Saltines

2

Cups

Instant Flour

Peanut Oil, for frying

4

Hamburger Buns, split

1/3

Cup

Mayonnaise

3

Tbsp

Yellow Mustard

1/2

Head

Iceburg Lettuce, shredded

2

Tomatoes, thinly sliced

1

Red Onion, thinly sliced

4

Half-Sour Dill Pickles, thinly sliced
Instructions
Cut the pork crosswise into 4 equal pieces. Put each piece flat on a cutting board and slice horizontally almost in half (stop about 1 inch from the other side). Open like a book. Sprinkle each piece with water, place between 2 pieces of heavy-duty plastic wrap and pound to 1/4 inch thick with a mallet or heavy skillet.

Whisk the eggs, buttermilk, garlic, 1 teaspoon each salt and black pepper, and the cayenne in a shallow bowl. Add the pork, cover and refrigerate at least 4 hours or overnight.

Pulse the crackers into coarse crumbs in a food processor, then transfer to a shallow dish. Put the flour in another dish. Remove each piece of pork from the marinade, letting the excess drip off. Dredge both sides in the flour, dip in the buttermilk marinade again, then coat with the cracker crumbs.

Heat 1/4 to 1/2 inch peanut oil in a large heavy-bottomed skillet over medium-high heat until a deep-fry thermometer registers 360. Fry the pork in batches until golden and cooked through, about 3 minutes per side. Drain on paper towels.

Spread both halves of each bun with mayonnaise and mustard. Layer the lettuce, tomatoes and onion on the bottom halves. Add a piece of pork and a few pickle slices. Cover with the bun tops.
There's probably no more famous Indy 500 sandwich than the pork tenderloin sandwich. Served at the NASCAR Refuel, it's a must-have for the race. A giant breaded tenderloin sits on top of a soft bun with lots of pickles. Top with a little hot sauce and it's like you're at the race.
Daytona Speedway Firecracker Dog
Ingredients
2

Tbsp

Olive Oil

8

Hot Dogs, grilled

8

Hot Dog Buns, steamed
For Spicy Jalapeno Coleslaw
1/3

Cup

Mayonnaise

1/4

Cup

Red Onion, slivered

2

Tbsp

Apple Cider Vinegar

2

Tbsp

Olive Oil

1/4

Tsp

Salt

1/4

Tsp

Pepper

16

Oz

Coleslaw
For Peppy Pickled Pepper Relish
6

Vlasic Pickle Spears

1/4

Cup

Roasted Red Bell Peppers

1/4

Cup

Banana Pepper Rings
Instructions
Spicy Jalapeno Coleslaw
Combine all ingredients in a large bowl, tossing to coat. Cover and Chill.
Peppy Pickled Pepper Relish
In the bowl of a food processor add all ingredients. Pulse until finely diced.

Place hot dog in a warm bun, top with coleslaw and finish with a drizzle of pickled pepper relish.
Another famous Daytona meal is the firecracker dog. Though it may just seem like a loaded hot dog, it is so much more. It is a beef dog served with homemade jalapeno coleslaw and pepper relish. You can find some other great NASCAR recipes like this thanks to our friends at the Food Channel.
Triple-Decker Grilled Cheese
Ingredients
6

Slices

Sourdough Bread

4

Tbsp

Salted Butter, softened

2

Oz

Goat Cheese

4

Oz

Sharp Cheddar

4

Oz

Fresh Mozzarella
Instructions
Preheat the oven to 350°F. Line a baking sheet with parchment paper.

Spread 1 tablespoon softened butter on a piece of bread. Spread 1 ounce goat cheese on the other side. Heat a cast-iron skillet over medium-high heat. Place the bread, butter side down, in the pan.

While the bread toasts, sprinkle 2 ounces sharp cheddar on top of the goat cheese and then top with another piece of bread. Place 2 ounces fresh mozzarella on top of the second slice of bread.

Spread 1 tablespoon butter on a third slice of bread, then place it, butter side up, on top of the mozzarella. When the first piece of bread is golden brown, flip the sandwich over and toast until the other side is golden brown.

Transfer the sandwich to the prepared baking sheet. Repeat the process with the remaining bread, cheeses and butter. When both sandwiches are assembled on the baking sheet, transfer the sandwiches to the oven and bake until heated through, 5 minutes. Cool slightly before eating.
That's right. Three, count them–THREE–layers of grilled cheese! The triple-decker grilled cheese uses delicious sharp cheddar, creamy goat's milk, and stringy mozzarella cheese to make the perfect cheesy combination.
Pastrami Burger Bomb
Ingredients
20

Oz

Fresh Ground Beef, about 20% fat

1/4

Cup

Mayonnaise

2

Tbsp

Ketchup

1

Tsp

Sugar

2

Tsp

White Vinegar

2

Tsps

Sweet Pickle Relish

1/2

Lbs

Pastrami, sliced very thin

4

Burger Buns

Salt and Pepper

4

Slices

Swiss Cheese

1 1/2

Cups

Creamy Cole Slaw
Instructions
Divide beef into four even five ounce portions, gently pressing each into a patty about 4 1/2 inches wide. Cover with plastic and refrigerate until needed. Meanwhile, combine mayonnaise, ketchup, vinegar, sugar, and relish in small bowl. Stir with spoon until smooth. Set aside.

Place as much pastrami as can fit in one layer in a 12-inch non-stick or cast iron skillet or griddle and place over medium high heat. Cook until pastrami is well-browned and crisp on first side, about 3 minutes. Flip and cook until browned on second side, about 45 seconds longer. Transfer to paper towel-lined plate. Repeat with remaining pastrami, placing directly on hot skillet, using as many batches as necessary (you'll probably need about three batches). Set pastrami aside until needed.

Return empty skillet to heat (leave the pastrami fat) and add two buns, cut-side down. Toast until golden brown, about 1 minute. Repeat with remaining buns. Set aside.

Return pan to heat. Season burger patties generously with salt and pepper and add to pan. Cook until well browned on both sides and center of burger reads 130°F on an instant-read thermometer for medium rare, about 5 minutes total, flipping and adding cheese halfway through cooking. While burgers are cooking, divide mayonnaise mixture and coleslaw evenly between bottom buns. Top with cooked burgers, crispy pastrami, and bun tops. Serve immediately.
Ready to try a new topping on your burger? Layer up the pastrami. It adds a smoky, salty, tangy kick to a basic burger. Pile it with some coleslaw for an Indy 500 favorite. This burger is easy to make and offers a fun NASCAR-themed twist your guests will love!
Prime Rib Sandwich With Au Jus
Ingredients
1 1/3

Lbs

Prime Rib, thinly sliced

1

Tbsp

Butter

1

White Onion

1/4

Cup

Beef Stock

4

Hoagie Rolls

8

Slices

Havarti Cheese

Salt and Pepper

Leftover au jus (or two cups beefs stock simmered with two Tbsp flour)

Horseradish Sauce
Instructions
If you have leftover au jus, simply heat it in a small pot over medium-high heat. Reduce the heat to low to keep warm.

Melt butter over medium heat in a saute pan. Add sliced onions and stir into the butter. After a couple minutes the onions will soften slightly. Season with salt and pepper and continue stirring. Continue cooking over medium heat until onions turn a nice, golden brown, 5 minutes. Add ¼ cup of beef stock and allow onions to soak up. Saute an additional 3 minutes and remove from heat.

Place the hoagie buns with the inner side facing up on a baking sheet. Preheat oven broiler to high. When warm, place buns in middle rack and toast, watching carefully, until golden brown. They will go from barely toasted to burnt in a hurry, so watch closely.

Remove buns and turn off broiler. Next, preheat oven to 400°.

To assemble sandwich, split about ⅓ of a pound of leftover prime rib between the top and bottom bun. Top one side with a spoonful of sauteed onions. Top each side with a slice of havarti cheese. Toast open face until cheese melts, about 5 minutes.

Remove pan from oven. spread (or squeeze) horseradish sauce over top of sandwich and press top and bottom together. Serve immediately with warmed au jus in a small side cup for dipping.
Probably second only to the fried tenderloin sandwich, the prime rib sandwich is NASCAR must. Served with a savory au jus dipping sauce, it's a messy but heavenly NASCAR main dish. Make sure to layer up the Havarti for the perfect gooey melt.
Doughnut Bacon Cheeseburger
Ingredients
2

Slices

Bacon

1

Glazed Doughnut

1/3

Lbs

Ground Beef

1/8

Tsp

Salt

2

Slices

American Cheese

Black Pepper
Instructions
Gather the ingredients. Begin by frying the bacon in a cast iron skillet. Turn the heat to medium and cook the bacon until crispy. Remove the bacon and place it on a paper towel, saving the rendered bacon grease in a small container.

Next, slice your donut in half, being careful not to crush or remove any of the exterior glaze. Drizzle a little of the reserved bacon grease in the skillet and add the sliced doughnut halves, interior side down. Toast the doughnut halves until golden brown. Remove them from heat and set them aside.

Meanwhile, start shaping your beef patty into a ball and sprinkling the outside with salt and pepper. Heat the cast iron skillet with the rendered bacon fat to medium-high and add the seasoned ball of beef. Let the beef ball cook for 3 to 5 minutes until crispy and golden brown. Flip the ball and smash slowly so the burger stays together.

Let the burger cook for a few more minutes until the desired doneness is reached, about 5 to 10 minutes. Flip the burger one more time, add the cheese, and then remove it from the heat. Cover it for 2 minutes until the cheese has melted.

Add the bacon to the top of the cheese cheeseburger patty then place it into the toasted doughnut. Serve immediately and enjoy.
We never would have thought about putting a burger on a doughnut, but we're glad someone did! The combination of the sticky sweet doughnut goes perfect with the smokey salty of the burger. To make it a proper NASCAR meal, make sure to load it with bacon and cheese! Be warned though, you may never want to go back to normal buns.
Creamy Baked Mac and Cheese
Ingredients
1

Lbs

Dried Elbow Pasta

1/2

Cup

Unsalted Butter

1/2

Cup

Flour

1 1/2

Cups

Whole Milk

2 1/2

Cups

Half and Half

4

Cups

Shredded Medium Sharp Cheddar Cheese

2

Cups

Shredded Gruyere Cheese

1/2

Tbsp

Salt

1/2

Tsp

Black Pepper

1/4

Tsp

Paprika
Instructions
Preheat oven to 325 degrees F and grease a 3 qt baking dish (9×13"). Set aside.

Bring a large pot of salted water to a boil. When boiling, add dried pasta and cook 1 minute less than the package directs for al dente. Drain and drizzle with a little bit of olive oil to keep from sticking.

While water is coming up to a boil, shred cheeses and toss together to mix, then divide into three piles. Approximately 3 cups for the sauce, 1 1/2 cups for the inner layer, and 1 1/2 cups for the topping.

Melt butter in a large saucepan over MED heat. Sprinkle in flour and whisk to combine. Mixture will look like very wet sand. Cook for approximately 1 minute, whisking often. Slowly pour in about 2 cups or so of the milk/half and half, while whisking constantly, until smooth. Slowly pour in the remaining milk/half and half, while whisking constantly, until combined and smooth.

Continue to heat over MED heat, whisking very often, until thickened to a very thick consistency. It should almost be the consistency of a semi thinned out condensed soup.

Remove from the heat and stir in spices and 1 1/2 cups of the cheeses, stirring to melt and combine. Stir in another 1 1/2 cups of cheese, and stir until completely melted and smooth.

In a large mixing bowl, combine drained pasta with cheese sauce, stirring to combine fully. Pour half of the pasta mixture into the prepared baking dish. Top with 1 1/2 cups of shredded cheeses, then top that with the remaining pasta mixture.

Sprinkle the top with the last 1 1/2 cups of cheese and bake for 15 minutes, until cheesy is bubbly and lightly golden brown.
Finally, perfect as a main or a side if you'd like, this creamy baked homemade mac and cheese will definitely power you through the race. It uses two kinds of cheese cooked into a thick roux. Then the elbow mac is smothered and baked to have a crunchy top. It's a dense and delicious way to watch the race.
Take Your Victory Lap With These Sweet Finishes
Once the game is over, it's time to celebrate with a little dessert. We've put together two dessert options. One for kids and one for adults:
This recipe takes a variety of different candies and makes little cars. Kids will love these. They'll race them around the track before carefully eating them one part at a time. Honestly, adults will love them too because who doesn't love candy.
Boozy Salted Caramel Milkshake
Ingredients
8

Oz

Vanilla Ice Cream

1/2

Oz

Half and Half

2

Oz

Caramel Sauce

1 1/2

Oz

Jack Daniels

1/8

Tsp

Salt

Whipped Cream, Cherry, Caramel Sauce – For Garnish
Instructions
Chill a tall glass in the freezer.

Mix the ice cream, half and half, caramel sauce, bourbon and salt in a milkshake machine or blender.

Pour mixture into chilled glass. Top with whipped cream, drizzle with a bit of caramel sauce and top with a cherry. Serve with a tall spoon and a straw.
The Victory Lap milkshake is always how we finish off the Indy 500 at the stadium. It's a heavenly salted caramel milkshake topped with a chocolate chip cookie with a special surprise: Fuzzy's Vodka. This creamy boozy concoction is the perfect way to cool down after the race has been won.
Hopefully, this list of recipes helps you prepare your tailgate party food for the NASCAR 500. Many of these recipes are linked to the rich history of NASCAR and are crowd favorites for a reason. Let us know in the comments what you'll be making, we'd love to hear! If you're looking for more recipes for tailgate party food, check out our food section. We scour the internet for tasty recipes perfect for tailgating. Also be sure to follow us on Facebook, Twitter, and Instagram.