Last Updated on 01/05/2022 by Inside Tailgating
There is nothing more refreshing on a hot day at tailgate than a cold beer. However, sometimes in all the festivities, we sometimes lose our beers. It's really a shame. Don't worry though, when it comes to the best tailgating equipment, we've got you covered. Here is a lineup of coozies that will not only keep your cold ones cold, but will ensure that you don't lose track of your beer.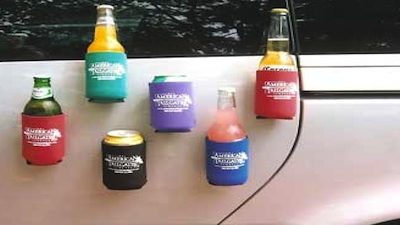 Magnetic Coozies
We found quite a few options to solve this age-old problem. Up first are magnetic coozies! We've all been there. Just seconds after you've opened your beverage of choice during a parking lot tailgate, nature calls. There are several options you can choose when this occurs, but none are too pleasant.
Wetting your pants is the least desirable option, not only for you, but also for the poor guys or gals sitting next to you at the game. You can leave the drink on the table, hoping nobody "accidentally" takes it, spills it, or throws it away. And of course, you can carry the drink with you in hopes that you can find a few inches somewhere in the filthy port-o-john to place your beverage on. If only there were another way…
And now there is. The magnetic coozie from American Tailgater Company is the perfect way to stow a beverage, as you can stick it right on the frame of your car. But these magnetic coozies aren't just a storage device. Not only does it keep the liquid inside the beverage cold, as is the main function of the coozie, but it also can describe who you are. Whether it's fanatical NFL fan, comedian, or artist you are trying to display, you can design whatever logo you want on the outside of the coozie for an additional charge.
In addition to offering all 32 NFL teams, there are 16 college teams available for purchase. The good folks at ATC even sell Velcro straps to tighten the coozie more snugly around the can or bottle for maximum coolness, both literally and figuratively.
For more information, connect to American Tailgater.com.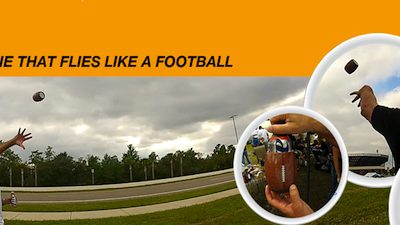 Flying Coozies
We love anything that makes our tailgating experiences more fun. Who would have thought that a coozie could provide so much entertainment, while also keeping our beer safe. Although it's not football season yet, the NFL Draft is just a few weeks away. If spending a perfect spring weekend watching talking heads speculate how 20-year-olds are going to perform in five years doesn't keep you entertained, here's something that will – The Amazing Flying Coozie!
Billed as "The Drink Cooler that flies," this contraption is the perfect companion to your tailgate. Not only does it keep your beverage ice-cold, but it also doubles as a perfect football to throw around the parking lot.
Soon these coozies will be available with college team logos, but they still have a ton of cool designs to choose from right now. They can also be used as promotional tools to brand your company. And unlike your Nerf football that gets ruined when your buddy Dave makes an errant toss into the nearby swamp, this extremely durable coozie also floats, saving you from an uncomfortable fishing expedition.
You don't need to be a master of aerodynamics like Revenge of the Nerds javelin contest heroes Harold Wormser and Lamar Latrell to throw this coozie as far as Jets QB Mark Sanchez can toss a real football. And just like a bona-fide pigskin, it has an area for laces that lets you line up your fingers to throw a perfect spiral. So even though you'll never have three Super Bowl rings and a supermodel wife like Tom Brady, you'll still be able to throw spirals like the Patriots legend.
For more information, connect to Flying Coozie.com.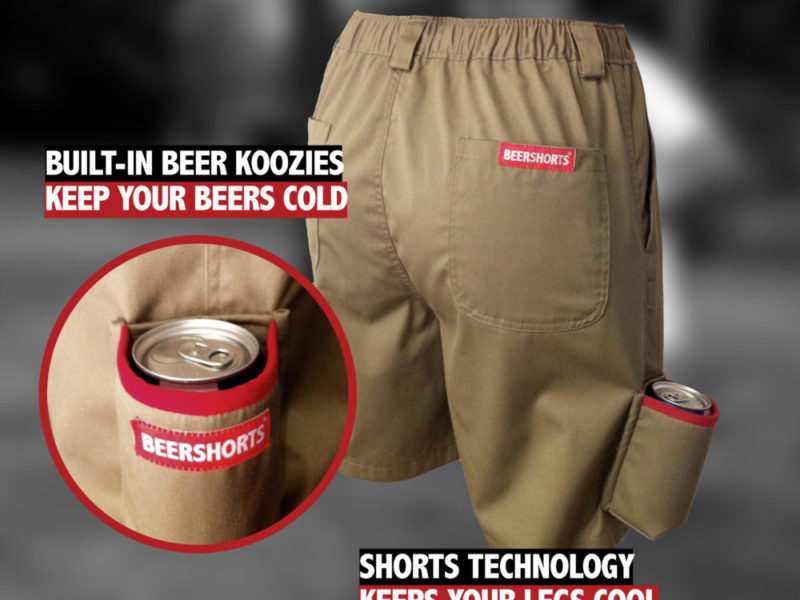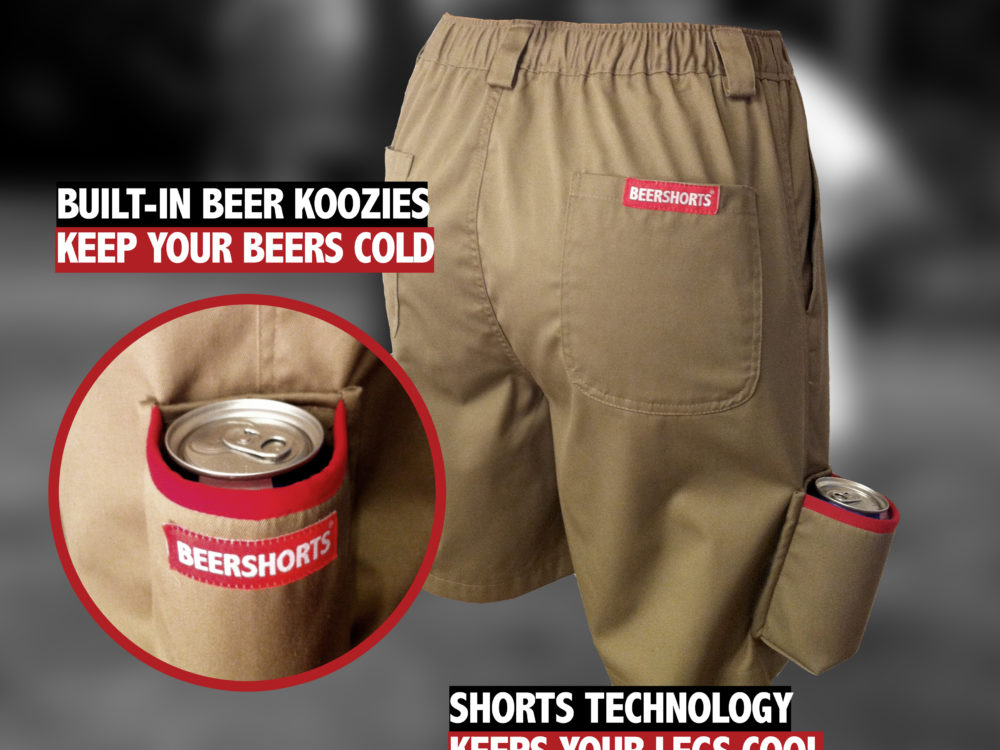 I Wanna Hold Your Cans: Beershorts
When dressing for the game, we usually wear a standard uniform of our favorite team apparel. What if there was a clothing article that could match your jerseys but also protect your beer? We've got a freakin' genius idea to keep you cool and refreshed this summer: BEERSHORTS. Remember all those hot days in the tailgating lots wishing you had a hands-free way to stay cool and stash your beer? Dream no more.
Beershorts keep you and your extra beers cool. These work-friendly khakis boast built-in neoprene koozies on both sides and a self adjusting waist to prevent any Janet Jackson wardrobe malfunctions. They even included a quick-release zip fly for easy access to your evacuation unit! Invented by a couple of tailgating knuckleheads in Michigan, these suckers are new to the market. Grab a pair of Beershorts for yourself. You'll thank us!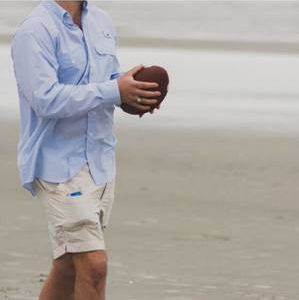 If you're looking for a more subtle option, COAST apparel company has created the perfect apparel for a warm weather tailgater: angler shorts with a pocket that doubles as a koozie. It's one of those inventions that makes you say, "Why didn't I think of that?"
Well, they did, and kudos to COAST, a clothing company based in Greenville, S.C. that combines a modern day preppy style with a tailgating purpose. Even if it's not shorts weather anymore where you are, what a great Christmas idea for the tailgater in your life! The shorts are 100 percent nylon which means they dry quickly, which works for fishing as well as trying to play Cornhole with a beer in your pocket. They run for $59.50 apiece.
For more information go to COAST's website.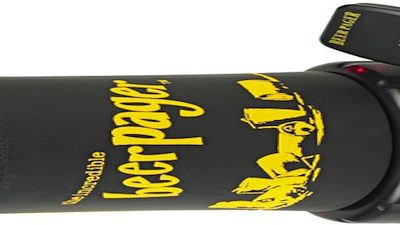 Beer Pager
It's funny to think about using technology to track our beers. However, it's a great idea! Since even the most responsible of us tailgaters have lost a beer or two over the years. Whether it's theft, forgetfulness or just plain drunkenness, it's bound to happen. But now you can be sure that your beer will never go missing, thanks to this clever invention from Kotula's (The Guys with the Goods).
The "incredible" Beer Pager will locate any beer within a 20-yard radius with the click of a button, and the signal can even go through walls! And no matter how long you have gone without your precious beverage, the included coozie will make sure you're drinking cold liquid.
Not unlike the flashing disc you stare at for 53 minutes before your table is ready at Olive Garden, the Beer Pager has a disc that you set your beverage and coozie on top of. When you have misplaced your drink, simply click on the remote control button and you'll hear a "satisfying burp" and the red lights will also flash.
The Beer Pager runs with four AAA batteries (not included), but there is a battery in the remote. Just make sure you shut the device off when you're done playing hide-and-seek, or you will be spending much more on battery replacements than beer replacements.
For more information, connect to Kotula's.com.
Hopefully these options will ensure you never lose your beer again. For more on the best tailgating equipment, be sure to sign up for our newsletter and follow us on Facebook, Twitter, and Instagram. Our team at Inside Tailgating highlights the best tailgating equipment from grills to coolers to even the latest in coozie technology. We're here to make sure you have the best time at your tailgates.