Last Updated on 08/18/2021 by Inside Tailgating
Yep, we are serious. We have had a lot of gear and a lot of gadgets come across our radar here at Inside Tailgating. Want to keep your beverages cold? We've got you covered. Your grill portable and easy to clean? Yep we can do that too. We can recommend a hitch for your SUV that you can turn into a cooler, a table or a cooler and a table. But before today, we had never seen something about how to butter your corn. Introducing the Butter Once corner butter knife.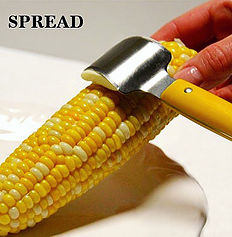 Yes, we might be a little punchy, as we wrap up a weekend of watching football with the Dallas Cowboys taking on the Arizona Cardinals on Monday Night Football, but we wanted to share this with you. Because I, for one, happen to be a huge fan of grilled corn on the cob. Granted, I generally butter the corn raw, add salt and pepper and roll it in aluminum foil before I had it off to my husband to place on the grill, but he invariably reaches for the butter and butter knife to butter that corn some more after it's cooked and he's unwrapping it on his plate. This gadget will make that practice a lot neater proposition, not to mention keep the surface around wherever he chooses to do the spreading cleaner – whether it's the kitchen table, the back deck, or the tailgate at a Duke football game. And he'll get more butter for his buck.
Here's how the "Butter Once" people explain the perks:
Smothering butter on the corn cob can turn into a failed science experiment and getting it around the entire cob without butter sliding off is nearly impossible. Not anymore, thanks to Butter Once – this gadget is perfectly engineered with a curved knife to hold butter without it sliding off. The knife grabs just the right amount of butter each time and stays on until butter is perfectly applied.
What more do we need to say to convince you? ….Yep, didn't think so.