Last Updated on 07/08/2021 by Inside Tailgating
No we're not kidding. We here at Inside Tailgating have upped the stakes for our monthly giveaway just in time for the holiday season. For the next 12 days, we are offering up the chance to win a FREE DISH Playmaker!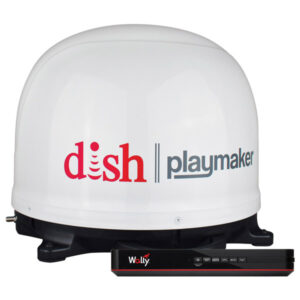 The portable satellite antenna, with recently-expanded HD coverage, is an incredible feature for any tailgate, whether it's an RV or a couple of tents hoisted by old college friends. These bad boys are retailing for $239 right now on Amazon.com and we are giving you a chance to take one home for free just in time for bowl season, the College Football Playoff and the NFL playoffs! Because it's a tremendous gift idea and because tailgating is heating up in a huge way at the end of December, we are moving up our deadline to enter. You've only got until noon (ET) on Sunday, December 16 to enter this contest. Don't miss this chance!
The folks at Winegard, developer of the Playmaker, and DISH, announced in September that any Gen 2 Playmaker, which were first introduced in Sept. 2017, would offer HDTV coverage across the country with a simple software update.
"The ability to access 61.5 on the east coast will mean more HD local channel options, which is ideal for tailgating this football season," said J.D. Hoffman, Winegard satellite product manager. "Many of the major games are broadcast on CBS, ABC, FOX and NBC, and this update will allow for more customers to watch those games in HD….It also offers a better look angle than the 129 satellite offers in some areas of the country for greater coverage in the Northeast. Even though the Playmaker is the lowest-priced automatic antenna on the market, it's important for us to offer the best features as well."
For more information about the models that are compatible and the software update, visit the Winegard website.
[youtube https://www.youtube.com/watch?v=9z5-7ptQlBw&w=560&h=315]