At Inside Tailgating, we independently select and write about stuff we love or want to try out and think you will too. As a participant in the Amazon Services LLC Associates Program, and other affiliate advertising programs designed to provide a means for sites to earn advertising fees by advertising and/or linking to their websites, such as Amazon.com, we may receive a commission on sales or other compensation through those links on this page. It is at no additional cost to you, but we gotta pay for our tailgates somehow…
Whether you are hitting a stadium or hosting a series of homegates, one thing is for sure. March Madness is going to be a blast this year. After being canceled in 2020 and limited access in 2021 because of COVID-19, 2022 is set to be a great year for fans. So in anticipation of all the tailgate and homegate parties, we put together a list of the best basketball tailgating games. These games will keep your crew entertained pre and post-game.
Host A Bracket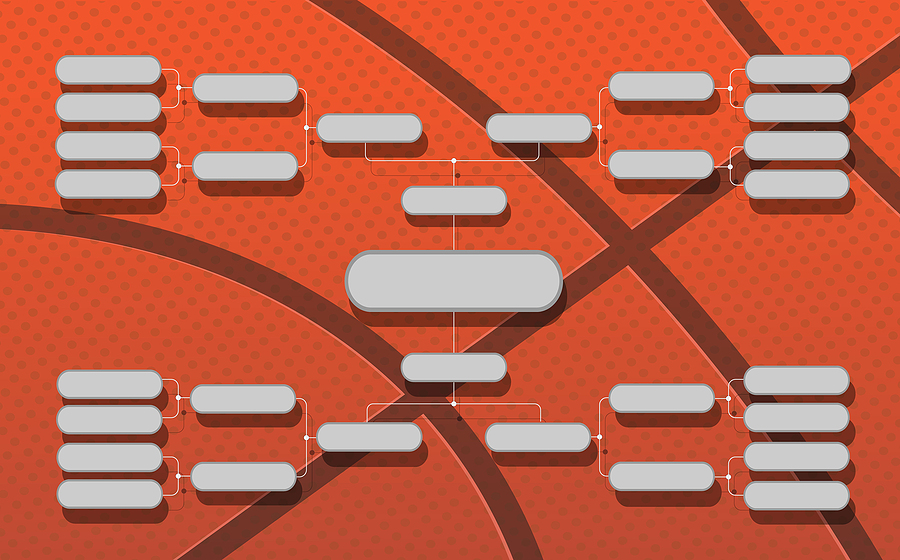 The ultimate tailgating game for March Madness is a bracket. You gather your team and you all pick who you are backing to make it to the final four. You can play with as many people as you want or even by yourself. CBS has a great digital platform for designing your bracket. You can check that out here. This program makes it super easy to plan. You can also get a whiteboard bracket here that is perfect for tracking the season.
Now you just have to decide your picks. Will you do a deep dive into player and team stats? Stay loyal to your alma mater? Leave it to the universe and flip a coin? Doesn't matter how you get there, we just hope you take home the win. You can make a bracket even more competitive by having winner and loser trophies. You can also add some sub-competitions like the team with the most dunks for the season or the most number of fouls. Mix it up and have fun!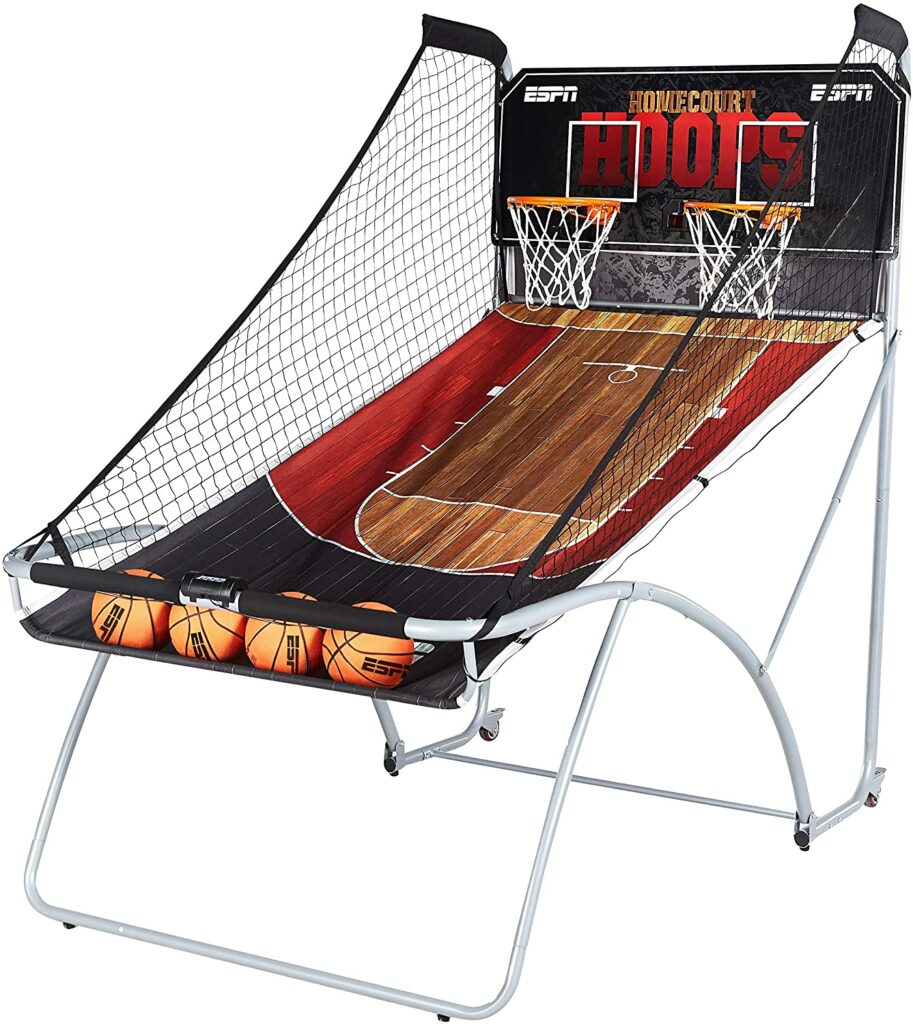 A great option for any basketball fan is a basketball arcade game. Designed just like the ones you'd find at a carnival (just not rigged), the ESPN basketball arcade game comes with eight different ways to play. It has an LED scoreboard that keeps count and can be played by multiple people depending on the game. This game tests your tailgating crew's shooting skills.
Even more fun, it will also test how you'd perform under pressure like the athletes in the Final Four. These arcade games are also more affordable than you may think and are a perfect addition to your man cave or she-shed.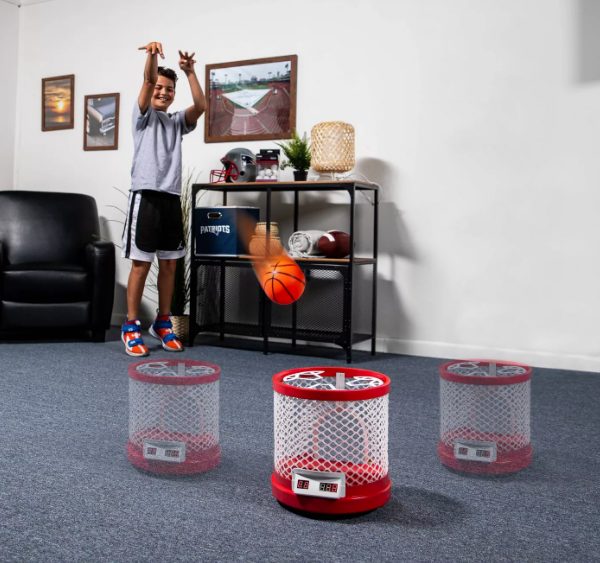 Great for outdoor and indoor entertainment, this sports runaway floor basketball is perfect for any tailgate. Imagine a basketball hoop attached to a Roomba. You and your team are given small basketballs and aim to sink a basket into this moving target.
Deceptively simple, this game is actually surprisingly challenging. It also makes for some hilarious comedy. We definitely recommend grabbing a few extra mini basketballs so more of your team can play at the same time. If you are feeling really ambitious, you can order a set with custom fonts or logos in any color.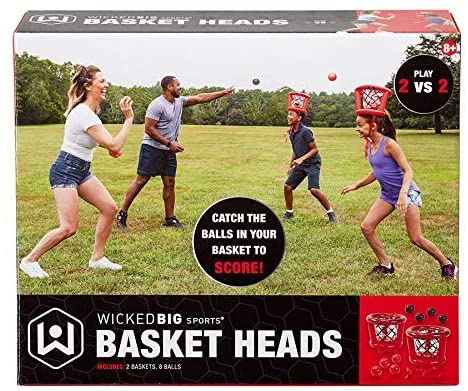 This tailgating game is an absolute laugh riot. Instead of the basketball hoops mounted to a wall, you wear them like hats. Designed for four players in teams of two, the goal is for one team to get more baskets than the other. You can also play one-on-one to see who can make the most baskets. Don't worry, the balls are small and lightweight, so even kids ages 8 and up can get in on the action. If you're hosting a big crowd, we recommend grabbing a couple of sets. Everyone will love playing this game.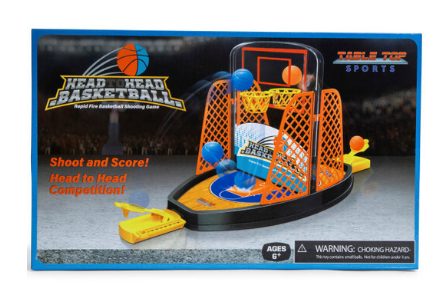 If you're looking for something smaller, this tabletop game is great. For only five dollars, it's a must-have for your March Madness tailgates. This desktop game is a rapid-fire game for two players. Both players try to make as many baskets as they can before time runs out.
This is a great game to keep kids entertained when the real game is on. It's also fun to turn into a drinking game for adults. In fact, there's a drinking game version that includes six built-in shot glasses. You can grab that for $25 here. Another tabletop game you should consider is Foosketball. It's a blend of pop-a-shot and foosball, so you can play both offense and defense. You can find it here.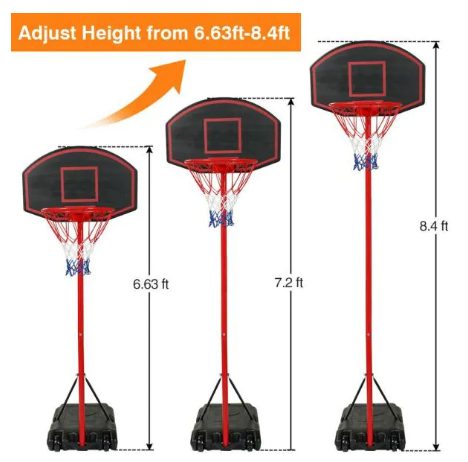 Now, this is a shorter basketball hoop. In fact, it's a kid-sized hoop, but it does extend to a max height of 8.4 ft. However, what we love about it is that it is a perfect tailgating game. It weighs just under 19 pounds and easily folds down to fit into a standard trunk.
To set it up, you simply fill the base with water. With this hoop at your tailgate, you can play all the classic backyard basketball games. HORSE, knock-off, around the world, and anything else you and your team can imagine. To take it home, simply empty out the water and pack it up like you would the rest of your tailgating gear.
Any of these tailgating games will add some extra fun to your March Madness tailgate parties. The best part is all of them can be played with as many or as few people that want to get in on the action. If you really want to get into the spirit, you can host your own March Madness tailgate tournament with your friends. Whatever you decide, we're sure you'll have a blast.
If you are looking for more ideas for tailgating games, Inside Tailgating has it all. We have tailgating and homegating game ideas for every sport in the activities section of our website. Also be sure to follow us on Facebook, Twitter, Instagram and check out our Amazon Storefront. We find and review all the best tailgating games on the market to help you and your tailgating team have a blast together.
Happy shooting and we'll see you on the court!