Last Updated on 04/15/2021 by Inside Tailgating
When it comes to outdoor cooking with family and small groups of friends, the backyard grill has been working overtime, and frankly, the rotation of burgers, steaks, and ribs is getting a little tired. The creators of the portable propane cooker, FIREDISC® elevate plow disc cooking, changing how you grill.
Two brothers, Griff and Hunter Jaggard of Houston, Texas, have introduced a tradition known as plow-disc cooking from the American Southwest to the mass market, teaching grill enthusiasts of all skill levels the benefits to cooking on what amounts to an oversized cast iron skillet.
By grilling without grates, you can cook everything from stir fry to mac and cheese while managing an entire meal for a large gathering from one pot. As the FIREDISC® website explains: "Who needs an indoor kitchen when your FIREDISC® can bake, broil, blacken, deep fry, boil, grill, scramble, sauté, sear and steam?"
FIREDISC® customers are serving up everything from beer brats to fried fish, tacos to steak and fries. Inventors Hunter and Griff Jaggard have personally used their disc cooker to pop popcorn for their kids and entertain a tailgate with a five-gallon vat of queso dip.
"We really wanted to get something that allowed you to cook all of the cool stuff you're doing out of your kitchen out at the tailgate," Hunter Jaggard said. "It's really taken off."
FIREDISC® Cookers are now being shipped directly to consumers in 44 different states and available in stores like ACE Hardware and True Value.
Listen to the full interview below:
FIREDISC® inventors share passion for tailgating and outdoors
Hunter and Griff Jaggard grew up tailgating with their father, Steve Jaggard, a former Hall of Fame cornerback for Memphis State, now the University of Memphis. The brothers continued cultivating that passion while attending Texas Tech, as well as on hunting and fishing trips long after they graduated.
They share a love for the outdoors, as well as a knack for entrepreneurship. Growing up, Hunter and Griff learned the art of the deal by fishing golf balls from a lake on a neighborhood golf course and then selling them three for $1. They spent their early proceeds on a longer ball retriever.
"We saw an opportunity, and we capitalized," Griff Jaggard said.
The same goes for FIREDISC®, which the brothers first created in 2010. By 2016, the business had grown to the point where both Griff and Hunter both felt comfortable enough to leave full time careers in commercial real estate to pursue.
Even before they came up with the idea for the FIREDISC® Cooker, Hunter and Griff knew the potential they had working together as a pair. Back when Griff was still in college, he was diagnosed with multiple sclerosis. Hunter was by his side throughout the diagnosis and in the months to follow when the duo decided to team up to ride in the 150-mile MS charity bike ride from Houston to Austin. Since then, the team they created has helped raise more than $1 million to help beat MS.
"That led Hunter and I to figure out we can really build something," said Griff, who said he was able to catch the onset of his MS early and manage his symptoms with daily medication. "Everybody's got issues they have to deal with in life. You've just got to hit it head on. But thankfully I had very supportive parents and a brother that supported me through it."
What is plow disc cooking?
Plow disc cooking dates back more than a century to the Southwest, where railroad workers from Asia looked for ways to simulate wok cooking, according to the L.A. Times. The Jaggards trace using the tractor tilling accessory for cooking to its agricultural roots in the Southwest. Farmers both north and south of the Mexican border used "discados" to cook for their farmhands.
Hunter Jaggard got his first makeshift plow disc as a gift from his farmer father-in-law. He and his brother Griff took it to the next step, re-imagining what a plow disc could do when attached to a small propane tank. No cooking over coals required.
"One napkin drawing led to another and then it just grew from there," Griff Jaggard said. "We had a lot of excitement from our friends, like, 'Man, that thing is cool; where do you get it?' Hunter and I looked at each like, 'Well, I guess you really can't.'"
Advantages to Outdoor Cooking with FIREDISC®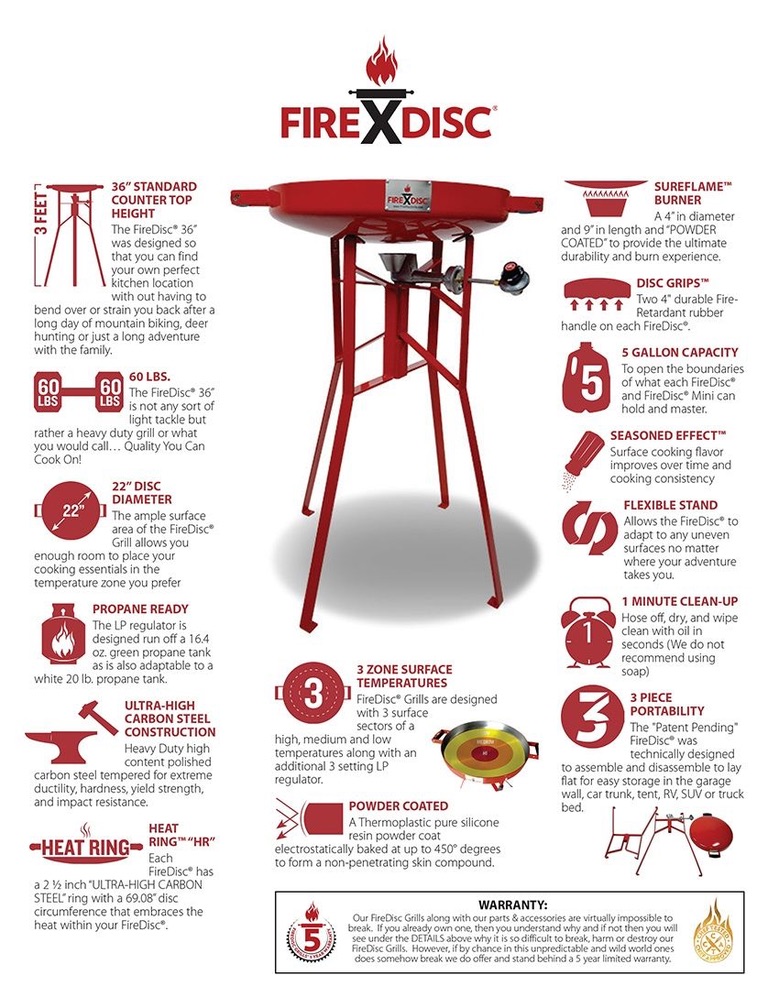 Versatility
FIREDISC® Cooker features three temperature zones, with the hottest area in the center, getting progressively cooler as you move to the outside of the disc. That heat variation makes it easy to sauté vegetables in the hot zone, grill beef and chicken in the medium zone, and warm tortillas in the outer area.
It's one-pot cooking at its best. Its 22-inch diameter disc features five-gallon capacity, meaning you can not only serve directly out of it but serve a crowd.
"It was made to cook fast and for a lot of people," Griff Jaggard said. "The portability aspect is perfect for tailgating. (It's the) largest cooker on the market that works on a small green propane tank. That's huge for tailgating."
Not only is it versatile enough to cook an entire meal out of but to vary what you cook throughout the day. It runs off a 16.4-ounce "green" propane tank, which gives you 10 cooks over a span of 2 ½ to 3 hours. That means you can move from breakfast tacos to chili for lunch and steaks for dinner.
"You may be cooking all day," Hunter said.
Easy to use, minimal setup, durable
One person can buy a FIREDISC® Cooker at a store, transport and set it up alone, without so much as a screwdriver. It comes in three pieces and weighs 55 pounds for the 24-inch tall model and 60 pounds for the 36-inch one.
Easy setup and durability were both musts to Griff Jaggard, who said he'd had enough of cheap and faulty grills. He once had to borrow food to serve from his neighbors after the stand on his three-legged charcoal grill fell apart, spilling hot coals everywhere.
"We just wanted to make something super portable and durable because we'd had all the cheap grills in the past where something would rust or fall off or a nut or would strip," Griff said. "So we designed something that does not have any nuts and bolts and is powder coated and won't rust. It's built like a tank. Literally we wanted something that people could hand down for generations."
Cleaning is a cinch
Easy cleanup is great for the pre-game tailgate, when you're in a rush to get inside the stadium. It's not bad for the backyard either.
For routine cleaning, Hunter Jaggard said you can wash the FIREDISC® with water and wipe it clean with a dry towel. For deeper cleans, the FIREDISC® website outlines heating the cooker for eight minutes, pouring in ice water, letting it boil and cool, then wiping the disc clean.
Easy cleaning also makes it simple to transition from one recipe to the next.
"You go right from cooking chili to then putting some hotdogs on," Hunter Jaggard said. "That's pretty hard to do on a grated grill."
Circular shape draws people together
Something as simple as the circular shape of the FIREDISC® Cooker makes it the kind of grill that brings people together. Think outdoor cooking over a campfire.
"It's circular, so it creates that social atmosphere," Griff Jaggard said. "People can gather round and serve yourself right over the disc. At one tailgate we made an entire FIREDISC® full of queso and people were coming around with chips and dipping out of there."
The experience, as much as the food, is what the FIREDISC® inventors are trying to create.
"It really created an experience that brings families together," Hunter said. "Everyone always remembers the first time they tailgated. When you were a young kid and your dad taught you how to cook his famous brats or corn. We wanted our product to play a little part in that."
Eager to see what the FIREDISC® is all about like these happy customers? Try it at your next outdoor event, whether it's a virtual tailgate, homegating for an upcoming game, or a fishing trip with buddies. It's cooking outdoors with fewer restrictions on what's possible.
FIREDISC® Cooker Recipes to Try
Beer-battered Fish
Check out our recipe for Beer Battered Fish and get cookin', don't forget to get your Diane's Secret Seafood Seasoning.
Check out this recipe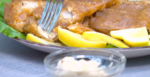 BBQ Chicken Wings
Check out or BBQ Chicken Wing Recipe featuring our Bodacious Beef Seasoning!
Check out this recipe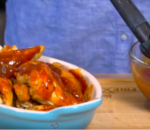 Cooking With FIREDISC® 411