Last Updated on 07/22/2021 by Inside Tailgating
Inside Tailgating has invited contributor, Jason Bales, a Washington football fan first and vegan second, to share his tips on four delicious ways to dress up a veggie burger.
November 1st is World Vegan Day, which kicks off World Vegan Month, established by The Vegan Society, to highlight, educate and celebrate the vegan lifestyle. Whether it's for health or environmental reasons, or a passion for animals, more and more people are choosing vegetarian or vegan lifestyles. How can you tell? Even sports stadiums are getting in on the act.
Don't look now but vegan hot dogs and hamburgers are being served up in stadiums across the country. There's no reason why you can't offer both healthy and delicious vegan options at your tailgate too, whether it's for yourself or vegan guests or you just want to broaden your culinary horizons.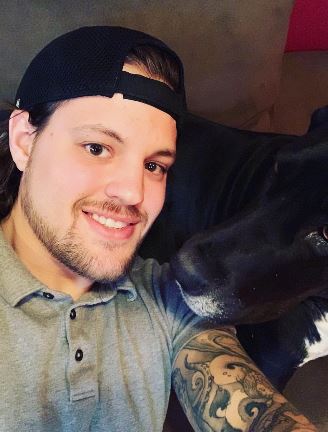 Even just a few years ago, tailgating as a vegetarian or vegan was an oxymoron. If I was heading down to Lincoln Financial Field with my family to watch the Philadelphia Eagles play, I packed a peanut butter sandwich. But times are changing, and companies like Beyond Meat and Impossible Foods are making it a breeze to find grillable vegan meet like Beyond Burger and Beyond Sausage.
Most supermarkets offer an array of choices in the refrigerated meat section. Eating a plain vegan burger or sausage might've been acceptable in 2017, but there's no reason you can't spice things up in 2019.
Here are four ways to dress up your game day veggie burger. My personal favorite is the Southwestern Style veggie burger (sorry, Philly!)
1. Philly Style Veggie Burger
Despite various alterations (most notably the West Coast variation, which adds grilled bell peppers) a true "Philly Style" meal is topped with Cheez Whiz and grilled onions. That's it. In this recipe, the ciabatta roll mimics the praise-worthy, fresh Italian loaf. Even Philadelphia cheesesteak connoisseurs will approve of this simple East Coast veggie burger.
Ingredients: Ciabatta Roll, Cheez Whiz, Grilled Onions
Best Burger Option: The Impossible Burger most closely resembles the traditional Philly shaved ribeye beef. Questlove's vegan cheesesteak, which is featured at the Philadelphia Phillies' Citizens Bank Park, uses the Impossible Burger as a meat substitute, so it's already Philly-approved.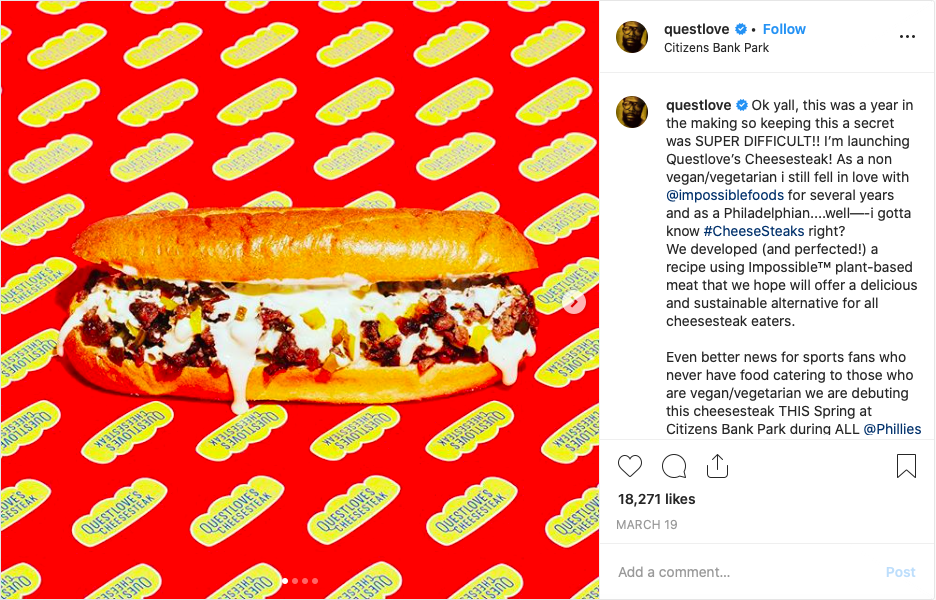 Make It Vegan: Ciabatta bread is already vegan! Omit the Cheez Whiz, or find a vegan variation like this butternut squash-based recipe from Healthful Pursuit.
Spice It Up: Add grilled mushrooms and bell peppers for an umami boost and hint of sweetness. Want something more creative? Try topping this Philly Style veggie burger with a dijon-Worcestershire dressing. Combine equal amounts of Worcestershire (there are vegan options in most supermarkets,) soy sauce, balsamic vinegar, and dijon mustard.
Four tablespoons of each yields one cup of dressing. Adjust accordingly. Sprinkle with salt, pepper, garlic powder, and red pepper flakes.
2. Chicago Style
This Chicago Style veggie burger is based on the Chicago-style hot dog, and it comes "with everything," as the Chicago natives say. The sesame seed hamburger bun replaces the traditional poppy seed hot dog bun. Pickled sport peppers might be difficult to find outside of the Midwest, but pepperoncinis make a great replacement! If tailgaters want a more authentic Chicago experience, bake homemade poppy seed hamburger buns and add blue food dye to the pickle relish to create a more neon green color.
Ingredients: Sesame Seed Bun, Yellow Mustard, Chopped White Onion, Sweet Pickle Relish, Dill Pickle Spear, Tomato Slices, Pickled Sport Pepper, Celery Salt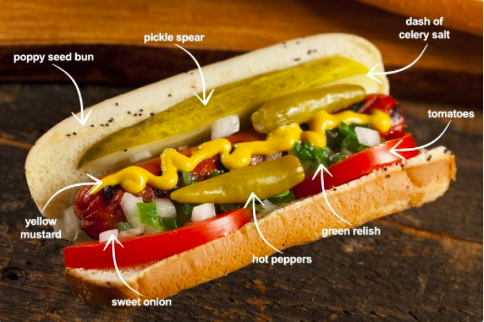 Best Burger Option: Mimicking hot dog flavors is a must for the Chicago Style burger, and Smithfield Foods' vegan range, Pure Farmland, offers a simply-seasoned ground beef alternative. It's the perfect flavor canvas.
For best results, marinate the ground beef alternative overnight in one cup of vinegar, one-half cup of soy sauce, a teaspoon of liquid smoke, a tablespoon of garlic and onion powder, a squirt of mustard, and a pinch of paprika.
Make It Vegan: Ensure the sesame seed bun isn't made with a milk wash. This recipe doesn't require cheese, making it vegan without effort!
Spice It Up: This Chicago Style Veggie Burger definitely doesn't lack flavor, but for an added pop, brush the burger with brown beer before grilling, or add the beer to the marinade.
3. Garden Style
Tailgating doesn't have to include a bloated stomach and heartburn. For a healthier alternative, try a Garden Style veggie burger. In lieu of a bun, iceberg lettuce serves as a wrap to hold the burger and toppings together without unnecessary refined carbs. Enjoy the wholesomeness of the burger's salad-like toppings with the flavor of a flame-grilled burger patty.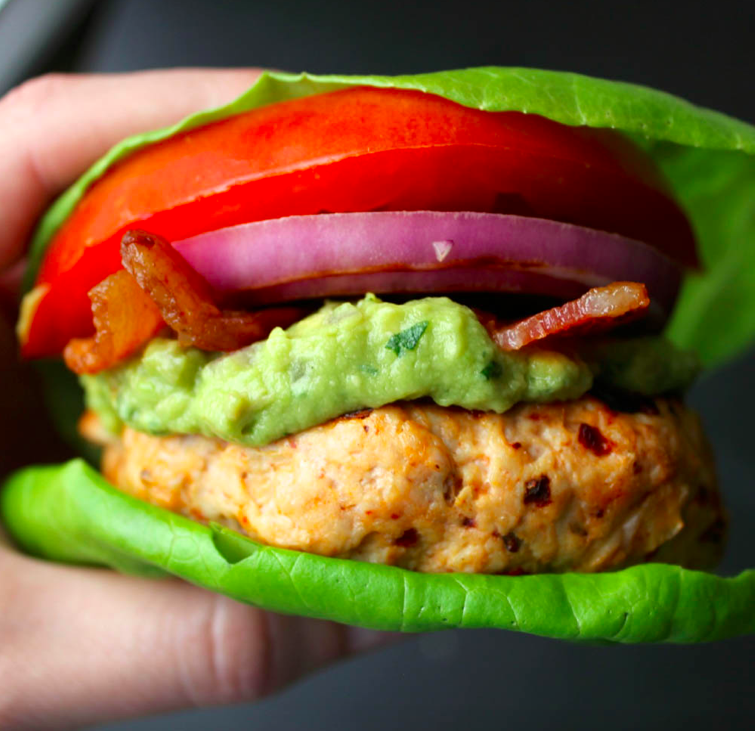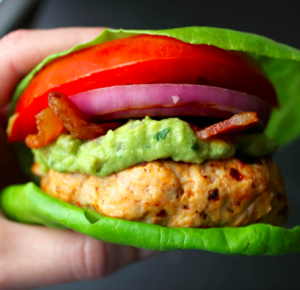 Ingredients: Iceberg Lettuce, Avocado Slices, Red Onion Slices, Tomato Slices, Russian Dressing
Best Burger Option: Gardein's garden veggie burger is quick-cooking, healthy, and grillable!
Make It Vegan: Replace the mayonnaise in the Russian dressing with a vegan version, such as Hellmann's vegan mayo. Worcestershire sauce, which is also used for Russian dressing, traditionally includes anchovies, but there are plenty of vegan versions readily available.
Spice It Up: Kick this veggie burger's flavor up a notch with a sprinkle of crushed croutons. It'll add a punch of garlic and herbs. Most organic garlic and herb croutons are naturally vegan.
4. Southwestern Style Veggie Burger
The flavor profile of this Southwestern Style veggie burger will make tailgaters completely forget about tacos. OK, maybe not, but tacos aren't grillable! The toasted potato roll is simultaneously soft and crispy like a fried flour or corn tortilla, and spicy pepper jack cheese complements the black bean burger perfectly. Incorporate chipotle peppers for an added heat profile and top like a traditional taco.
Ingredients: Toasted Potato Roll, Pepper Jack Cheese, Chipotle Peppers in Adobo Sauce, Shredded Lettuce, Pico de Gallo, Sour Cream, Cilantro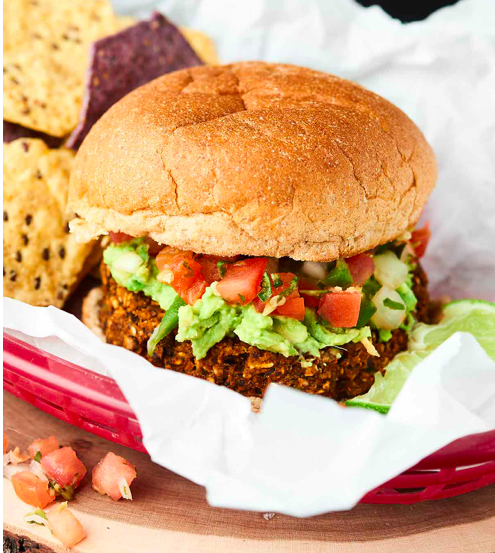 Best Burger Option: Forget about the meat alternatives for this Southwestern Style burger. A simple, grillable black bean burger works great!
Make It Vegan: Replace the pepper jack cheese with a vegan version. Daiya's plant-based pepper jack style shreds are a great choice! Substitute the sour cream as well. Tofutti's Better Than Sour Cream is currently the best on the market.
Spice It Up: Sprinkle a few ears of corn with salt and paprika, and add to the grill. Once finished, cut the corn off the cob and mix with the Pico de Gallo. The corn will add a hint of sweetness, while the paprika provides a little extra heat.
As an avid sports enthusiast, Jason Bales has always enjoyed the camaraderie involved in watching sporting events with friends and family. Driving down to Lincoln Financial Field, Citizens Bank Park, or Wells Fargo Center in Philadelphia with his dad and brothers is an ongoing tradition.
Tailgating outside the stadium always includes good food and conversations. After a few years of studying animal ethics at West Chester University of Pennsylvania, Jason decided that the vegan lifestyle is a must for him. Fortunately, tailgating is not only for meat eaters! Over the last couple of years, Jason learned a few tips and tricks for veganizing the pre-game party. He hopes to help others like him enjoy the sports fan and vegan lifestyles simultaneously.