The Final Four is just around the corner and we're gearing up for the homegate of the season. If the games so far are any indication, it's going to be a really exciting showdown this year to see who makes it to the championship. We decided that for this year's Final Four homegate, we'd plan a time-honored collegiate tradition. We're serving shots! Three-pointer basketball shots, aka shots made with just three ingredients.
Serving Shots In Style
Before we get into the three-pointer shots we love, we figured we'd share some of our favorite ways to serve shots at a basketball homegate party: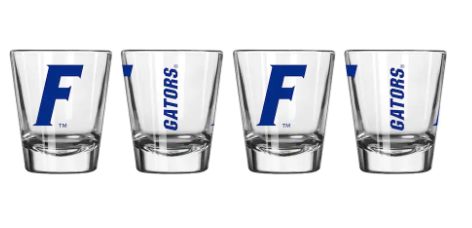 If your alma mater, state, or favorite team is playing, consider grabbing some NCAA team-branded shot glasses. You can usually buy these directly from the college swag shop itself. However, you can also grab them from Fanatics or some other stores online. It's an easy way to support your team while you turn up.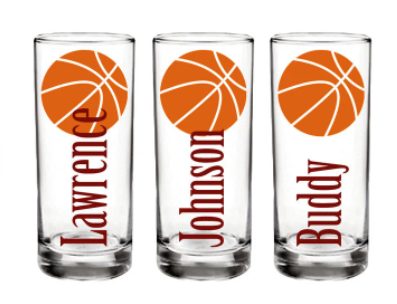 Another fun option is to get everyone their own branded shot glass. These are great because it gives your guests a souvenir from the party. You can also get a little creative and put some funny nicknames on them—especially for your friends that are rooting for the opposing team. We love these ones we found on Etsy because even the color and type of font can be customized.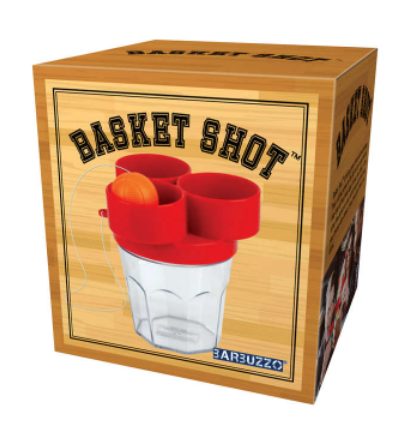 If you wanna add a little fun to your shots, a drinking game is always a fun option. Inspired by the game cup-and-ball, the game fits on top of a drinking glass. As the game description says: "Pour a drink, screw on the lid, and try to get the ball into one of the three cups. In one, you drink, in the other the person on your left drinks, and in the third, you choose who drinks. If you miss all of them, you drink." Let the good times roll!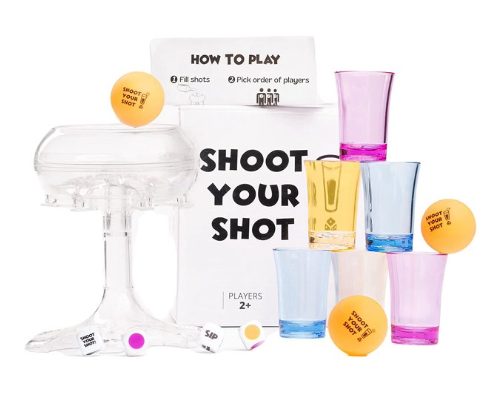 Another drinking game option is this fun basketball shot game. It's basically a tabletop basketball game with a set of shot glasses. Generally, if you make it, your opponent. If you don't make it, you take a shot. However, you can mix up the rules and make the game as simple or as complicated as you want.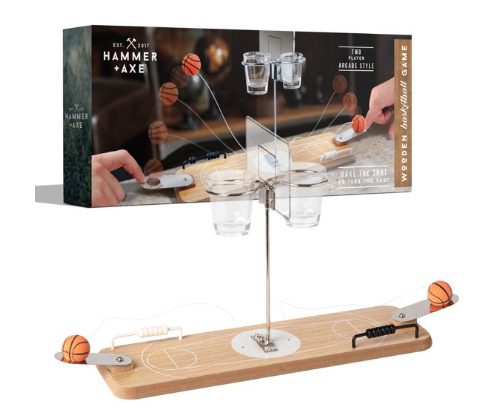 Now if you want to raise the stakes and go for some one-on-one action, this tabletop basketball drinking game is perfect. The baskets are shot glasses. The goal is to get six balls into the shot glass. Once you do, the other person has to take a shot. This game isn't just fun to play, it's fun to watch!
Three-Point Shots To Serve At Your Homegate
Not that you have a plan to serve the shots, here are some that you should consider making:
Jello Shots
Ingredients
3

Oz

Jello (any flavor)

1

Cup

Boiling Water

1/2

Cup

Cold Water

1/2

Cup

Vodka
Instructions
Spread out the plastic Jello shot cups you'll be using on a baking tray (and make sure there's a spot large enough for the tray in your fridge). Set the tray to the side.

To a large heat proof bowl, add the Jell-O powder. Pour the cup of boiling water into the bowl, and whisk until the powder has dissolved.

Add the 1/2 cup of cold water, and whisk to incorporate.

Add the 1/2 cup of vodka, and whisk to incorporate.

Either pour the mixture into a liquid measuring cup (with a spout and handle) or use a turkey baster to evenly transfer the mixture to the plastic cups.

Refrigerate for 1 1/2 hours to 2 1/2 hours, or until the Jello shots have set. Store them in the refrigerator until you're ready to serve them.
If we were to guess what type of shot is the most popular at college parties, we'd guess it's Jello shots. They are super tasty and very easy to make. Jello shots are made with gelatin mix, water, and alcohol. Most people use vodka because it has a neutral flavor that pairs with any flavor of Jello. However, you can use any type or blend of liquors you love. You can also add two more ingredients and make these basketball jello shots.
Superman Shot
Ingredients
1/2

Oz

Cherry Liqueur

1/2

Oz

Banana Liqueur

1/2

Oz

UV Blue Vodka
Instructions
Pour the banana liqueur slowly over the back of a bar spoon. It will sink below the cherry liqueur, creating a small yellow band at the bottom.

Float the UV Blue Vodka on top of the cherry liqueur by pouring it slowly over the back of the spoon to create the blue layer on top.
Now we're not going to argue if Dwight Howard or Shaq is the real Superman of basketball, but we do know that we've seen plenty of players fly. In honor of those players, we're making the Superman. This layered shot is attractive and tasty. It uses VU Blue, banana liquor, and cherry liquor.
Melon Ball Party Shooter
Ingredients
1/2

Oz

Vodka

1/4

Oz

Melon Liqueur

1/4

Oz

Pineapple Juice
Instructions
In a mixing glass or small pitcher, pour the vodka, melon liqueur, and pineapple juice.
Maybe it's just us, but we definitely remember drinking a lot of melon ball shots in college. This sweet blend of Midori, pineapple juice, and vodka goes down smooth. We also remember that under the sweet taste, this shot is deceptively strong. Make sure to give yourself a little time before you take a second one.
Kamikaze Cocktail Shot
Ingredients
2

Oz

Vodka

1

Oz

Triple Sec

1

Oz

Lime Juice
Instructions
Combine ingredients in a shaker with ice and shake.

Divide into two shot glasses.
If you're a fan of the Oregon Ducks, you may remember when they were the Kamikaze Kids. This blend of vodka, triple sec, and lime juice has nothing to do with the team that made the Final Four in 2017, but it's a fun reference. This shot was initially designed as a pregame for disco parties, but it's a great option for people who don't like their shots too sweet.
Woo Woo Shot
Ingredients
1

Oz

Vodka

1/2

Oz

Peach Schnapps

1/2

Oz

Cranberry Juice
Instructions
Combine vodka, peach schnapps, and cranberry juice in a shaker with ice. Shake well.

Strain mix into a shot glass.
One of the greatest players of college basketball was Willie "Woo Woo" Wong. He got his nickname because whenever he'd play, fans would shout "Woo! Woo!" He was recruited to play for the University of San Francisco and was the first Chinese American to ever play at Madison Square Garden. Again, nothing to do with this tasty shot of vodka, cranberry juice, and peach schnapps, but a great story to tell when you serve it.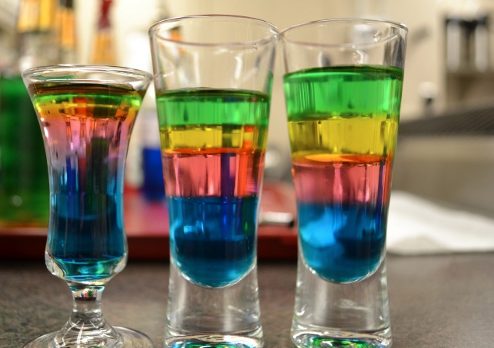 If you're feeling creative, why not make a layered shot with your team's colors. Layering shots are simple, you just need to put the densest liquor at the bottom and build up to the least dense. This handy chart from the Cocktail Hunter makes it easy. It outlines the density of different liquors and their colors so you can start planning your layered shot.
B52
Ingredients
2/3

Oz

Kahlua

2/3

Oz

Baileys Original Irish Cream

2/3

Oz

Grand Marnier Liqueur
Instructions
Pour coffee liqueur in the shot glass.

Carefully and very slowly pour Baileys Irish Cream over back of cold bar spoon positioned over the glass.

Similarly pour Grand Marnier over Irish Cream and serve with stirrer
Looking for something on the sweeter side? Perhaps a shot that tastes like dessert? This layered shot is a tasty blend of Kahlua, Bailey's, and Grand Marnier. It's perfect for finishing out the game or just for those of us that don't like our shots to be too strong.
We're probably going to serve more than one round of shots at our homegate. If you'd like to as well, just make sure you set up your guest room or designate a DD. Otherwise, be sure to follow us on Facebook, Twitter, Instagram and check out our Amazon Storefront. Our team at Inside Tailgating are experts on hosting the perfect homegate party and we're here to help you plan a great time with your friends.
You'll find recipes, gear recommendations, and some fun games to make your homegate a memorable time.