Last Updated on 04/15/2021 by Inside Tailgating
While sheltering in place with family, Carroll Walton tries her hand at a grilled cheese recipe from Eddie Jackson's "Game-Day Eats: 100 Recipes for Homegating Like a Pro" cookbook
At Inside Tailgating, we independently select and write about stuff we love or want to try out and think you will too. We are a participant in affiliate advertising programs, including the Amazon Services LLC Associates Program, which is designed to provide a means for sites to earn advertising fees by advertising and linking to Amazon.com.So, we may receive commission from sales or other compensation from links on this page, at no additional cost to you. We gotta pay for our tailgates somehow…
Homegating in place with family
Here we are, turning the page on six weeks of sheltering in place, and if you're like me, you've desperately been searching for something new to do and new to eat! I'm a stay-at-home mom, so any activity that gets us cooking, doing something fun together as a family, and having a meal both planned and executed? Bonus all the way around.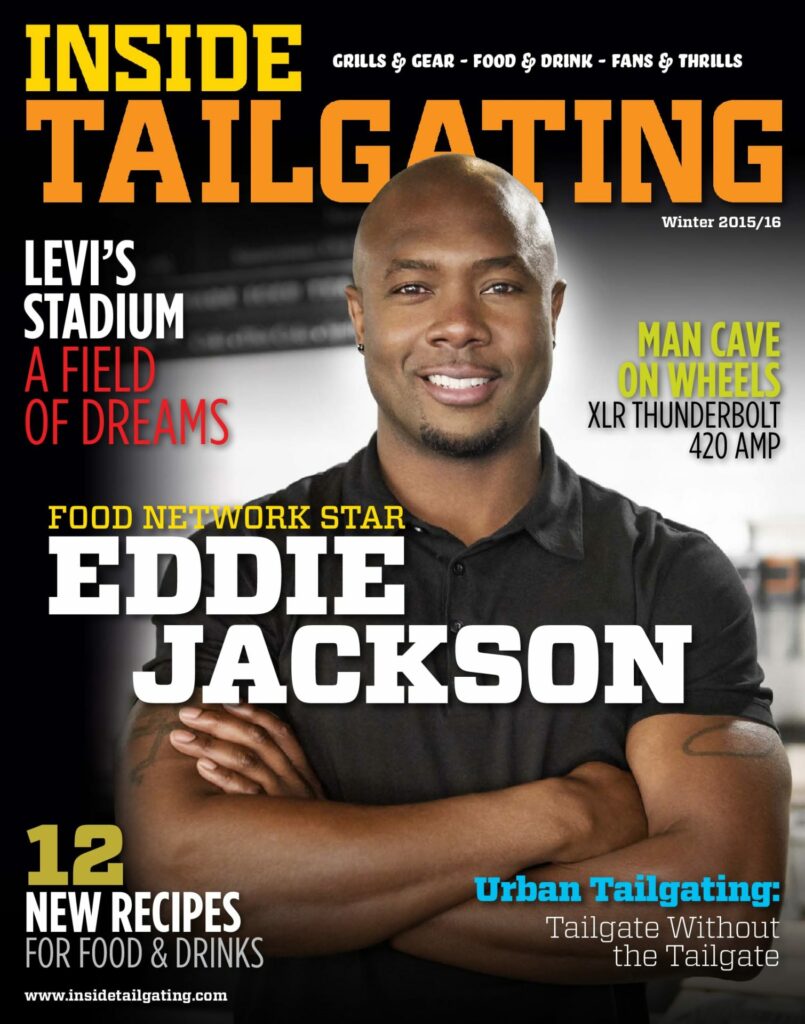 To get some ideas, I turned to one of our most trusted resources, here at Inside Tailgating: Food Network Star winner and homegating expert Eddie Jackson. We've featured the former NFL player-turned celebrity chef twice in cover stories for Inside Tailgating magazine because:
a) he knows tailgating and cooking in such a unique way and
b) because he came out with a new cookbook, called "Game-Day Eats. Recipes for Homegating like a Pro!"
If there was ever a time to call in a pro, this is it!
Choosing a homegating pro recipe
I started thumbing through Eddie's cookbook, looking for something that didn't require a ton of ingredients (grocery shopping is complicated) something that was easy to pull off (just because I write about tailgating food doesn't mean I'm any good at cooking it!) and something the whole family would love. My husband and I have three boys, ages 4 and twins who are 2. They were going to want something simple and familiar.
My final four choices came down to Chorizo Con Queso Dip, IPA Brats, Mac and Cheese Cups and Brown Butter Grilled Cheese. I went with Brown Butter Grilled Cheese because the recipe called for a grand total of four ingredients (14 oz butter at room temp., 7.5 oz tub of garden veggie cream cheese, sourdough bread, 20 thin slices of cheddar cheese!) And the boys loved grilled cheeses their dad made for them some Sunday afternoons. Eddie's recipe looke d fairly simple even for somebody like me. (Get the recipe in full when you purchase "Game-Day Eats." You can get the idea, though, by following along here.)
Once I started cooking, I realized pretty quickly that key to the whole operation was melting the butter – brown butter was in the recipe name after all. You melt about 6 ounces of butter on medium heat in a small saucepan, swirling occasionally to keep from burning. The butter turns foamy and yellow, then golden, then brown and right as it starts to smell a little nutty, it's time to take it off! I followed the instructions to a tee, and it was like Eddie was standing there next to me making sure I didn't mess it up! Got it on the first try!
The Process
From interviewing Eddie and from watching his cooking shows, I know his signature is taking traditional recipes and jazzing them up with a little twist or a special ingredient. For these sandwiches, that ingredient was garden veggie cream cheese. You whisk the melted butter into veggie cream cheese in a heat-safe dish and then set it aside.
I got my 4-year-old son Wade to help me with the butter spreading and the slapping on of cheddar cheese to make it fun. (You spread plain butter on one side and the butter-cream cheese combo on the other.) I probably should have straightened out some of his cheese slices to make the cheese thickness a little more even, but I wasn't going to over-manage Wade on this like I tend to do everything else! LOL. (That was another thing I really liked about this recipe, by the way. I can't stand American cheese. Cheddar, I love.)
When it came to the cooking part, I was a little nervous. Like I said, Daddy usually cooks grilled cheese sandwiches. I can be trusted more with peanut butter and jelly! But following Eddie's cues, I heated up the skillet to medium and cooked them two to three minutes each side. Even I nailed it on the first try.
I did learn that the longer you have the cast iron skillet heated up the faster it grills the sandwiches, so the last few sandwiches didn't need as long on the heat as the first few. A couple of the sandwiches were a little bit toasty. But ultimately the cheesy-goodness outweighed a little extra crunch. Next time I make them, I'll keep that in mind to get the perfect golden brown.
How it turned out
In the end, the sandwiches might not have been absolutely perfect, but they were delicious. I have to confess, it just so happened that the night before we made these sandwiches, we'd had to wake our boys up and drag them out of bed at 10 p.m. to take them to the basement hallway for a tornado warning. The good news was the storm never got bad. The bad news was by lunch time the next day, our boys were exhausted and just shy of totally melting down when I sat them down in front of three grilled cheese sandwiches. I didn't get quite the reception I was hoping for. They needed naps more than lunch. (Anybody who has parented toddlers knows you can't predict what you're going to get, especially when they're sleep-deprived!)
But Daddy and my sister, who dropped by for lunch that day, devoured them. Word got to my mom about them too, so I sent one home to her for her dinner and she loved it. I fed them again as leftovers to my boys the following night for dinner and got a little more action this time – even after reheating them. Next time I'll make sure my little guinea pigs are extra rested!
The take home
The take-home here is that there will be next times, not only with this recipe but others. I learned that Eddie's homegating expertise is simple and easy enough that even a rookie like me can pull them off!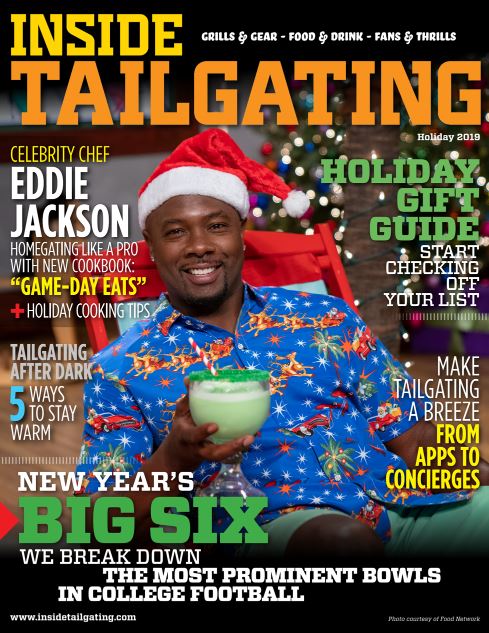 To read more about Eddie Jackson, and get more of his homegating recipes, check out the issue of our 2019 holiday magazine, and to read about his Food Network Star experience and transition from NFL star to celebrity chef, read another of our cover stories about him here.
Share any of your own recipes and homegating experiences when posting on social media by tagging us or use #tailgatewithus and we might just give you a shout out or feature you in the future! You can also contact us anytime.